15
Please sign in to like the event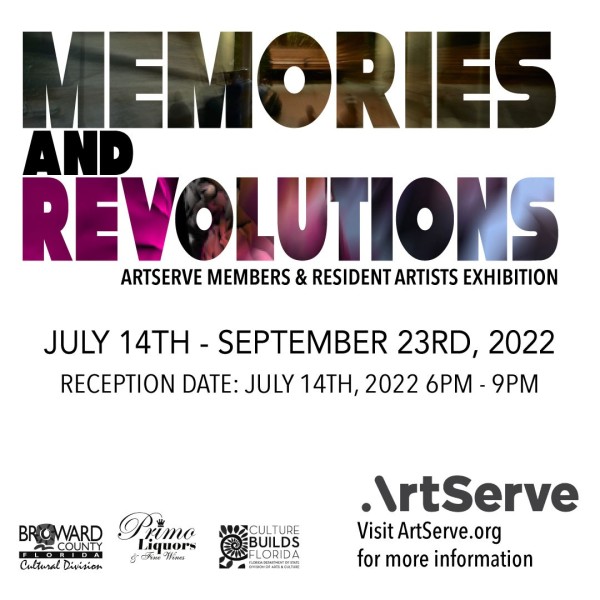 Visit Website
Facebook
Instagram
Tell a Friend About this Event!
Join Free for Exclusive Benefits!
Memories and Revolutions
Thu 07/14/2022
ArtServe Members & Resident Artists Exhibition

ArtServe is a multidisciplinary and transdisciplinary exhibition and production space that fosters different artistic expressions where the exchange between experimentation and innovation is encouraged and celebrated.

Curated by Sophie Bonet, this collective exhibition features selected works by ArtServe Artists, each of whom shares their distinctive artistic perspectives through contemporary and experimental approaches.

ArtServe's Memories and Revolutions will be on view from July 14th through September 23rd, 2022.

With practices ranging from painting, photography, sculpture, and installation, participating artists propose dynamic expressions of time, space, memory, nature, and technology. Here, the viewer is immersed in multiple and diverse currents, revolving around a collective narrative that questions the existing reality in a context of artistic, social, and cultural transformation.

Among the sixteen artists in this exhibition is Deborah Perlman, whose paper sculptures push boundaries and depict spaces somewhere between authentic and imagined, offering an ambiguous world that slides in and out of reality. Sheila Elias's work is, in her own words "about the layers of life and history, seeking in its connections between art aesthetics and social consciousness". YES SIR, a multi-media installation by Guillermo Gambini, examines the freedom of speech, suggesting that contravening the powerful can be dangerous and even deadly. Tanira Kane offers a space for human connection and participation through visceral performances and autobiographical installations. Dr. Sara Schesser Bartra's Glassy Jewels use mixed-media and scientific instruments to represent microscopic organisms in a macroscopic form. Photographer Paul McDermott offers a simple yet profound view of underwater life, providing an opportunity for awareness of the time and space continuum, evoking an emotional response. Yenny Carruyo's metal sculptures aim to inspire self-reflection and processes of transformation and acceptance.



Price FREE
Time 6-9pm
Venue

ArtServe

Address 1350 East Sunrise Boulevard
Fort Lauderdale, FL 33304 GET DIRECTIONS

Phone Number 954.462.8190