Art Deco, MiMo, Mimosas & More in Miami, Miami Beach, and The Palm Beaches
By: Sharon Geltner
|
04/18/2023
|
Mixed Arts
The World Art Deco Congress that takes place in Miami and Miami Beach from April 20 - 27 and in Palm Beach County from April 28-30, will be a way to reflect on locals' huge accomplishments in preserving the town's unique history and introducing some new discoveries.

Miami Beach was the site for the first World Art Deco Congress in 1991 and is the only city in the world to host the convocation twice.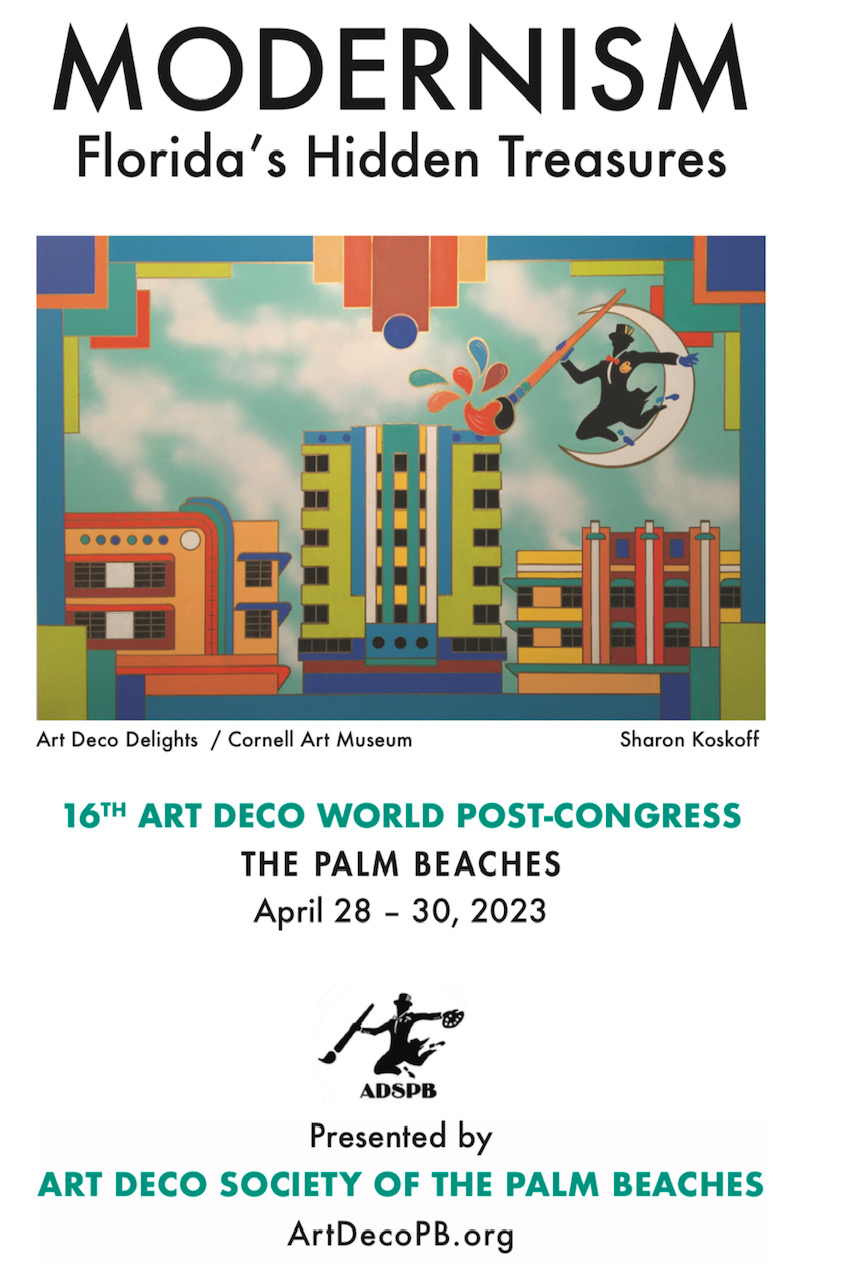 Since the inaugural confab, global aficionados have met in New York, Havana, Los Angeles, Buenos Aires, Cape Town, Melbourne, and more. But Miami Beach's triumph in saving most of South Beach's hotels from the wrecking ball and preserving the neighborhood as a national historic district which greatly boosted tourism and economic revitalization is a world-class example of what can be done.
And the work continues today. Just two weeks ago, Miami Design Preservation League Executive Director Daniel Ciraldo was in Tallahassee to save architectural treasurers for future generations, which means stopping developers from demolishing and destroying them.
"Our mission is to preserve, protect and promote! he said.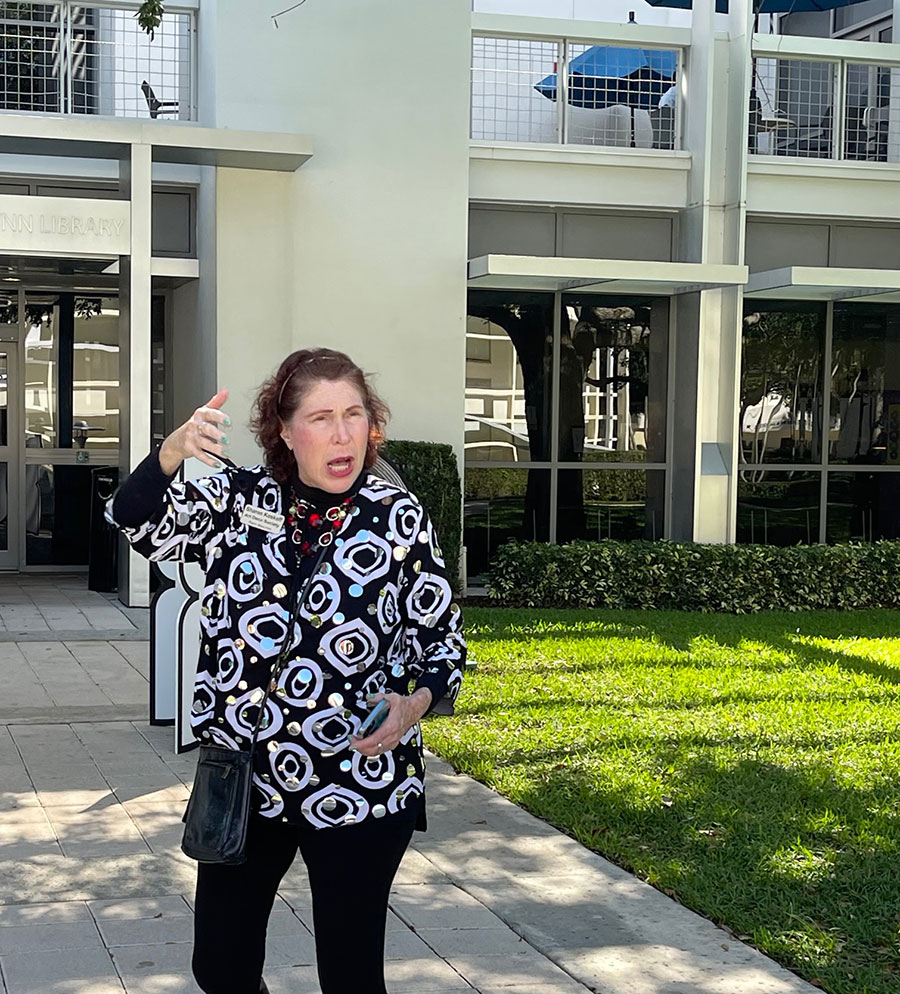 Andrew Capitman, son of local resident Barbara Baer Capitman, who led the charge to getting Miami Beach's Art Deco District on the National Register of Historic Places, will lecture on how she (and fervid supporters) saved the area's art and architectural heritage. (April 22, Jewish Museum - FIU.) Capitman is a lifelong preservationist beginning his career in Miami Beach redevelopment and is now on the board of trustees of Preservation League of New York State.
As for inaugurating events, this year the attendees will explore what used to be the "Versace Mansion," now the Casa Casuarina. It was built in 1930 by Alden Freeman, who inherited a fortune from his father, a top official of The Standard Oil Trust. It is modeled after the oldest home in the western hemisphere, the residence that Christopher Columbus' son built in Santo Domingo. Fashion designer Gianni Versace bought it in 1992 (along with the old Revere Hotel next door) and was murdered there five years later.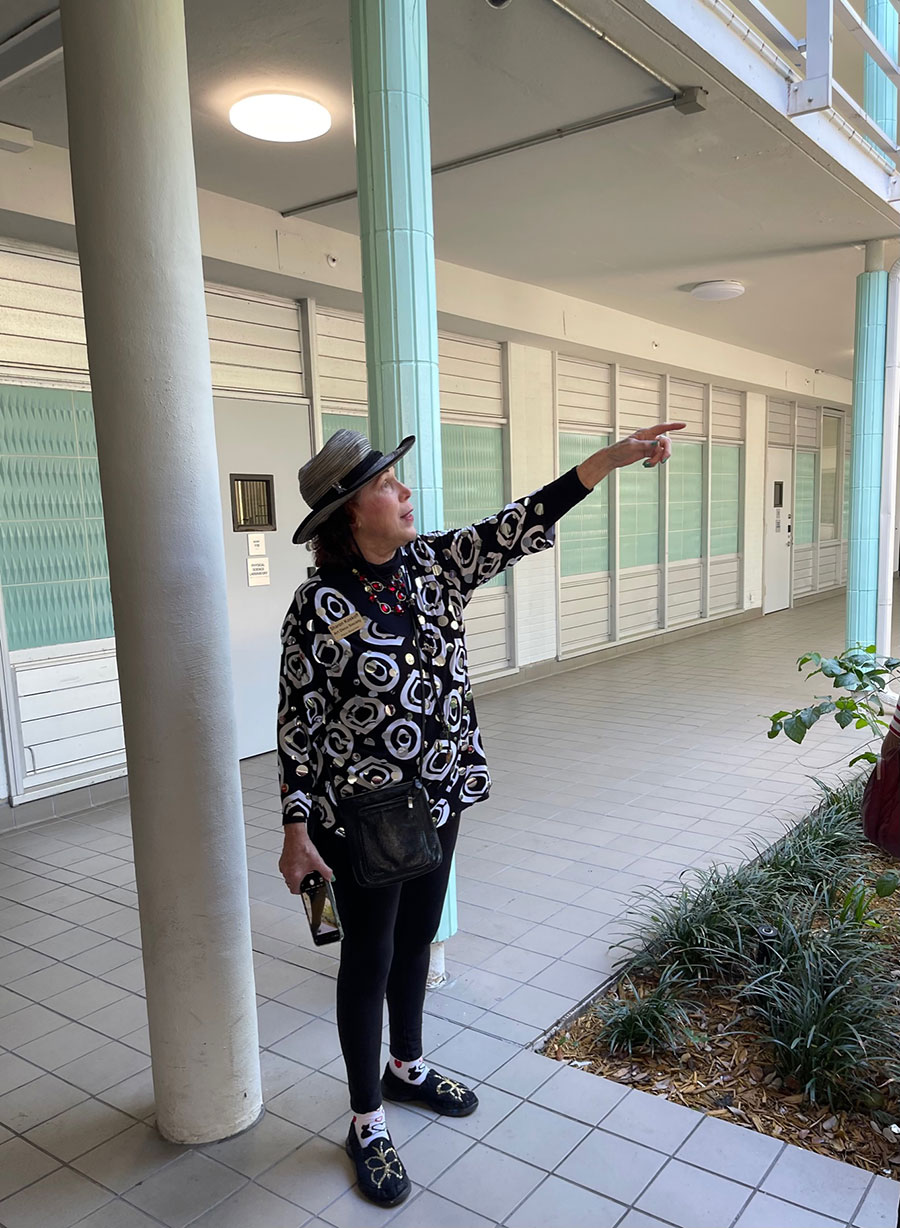 The World Art Deco Congress is expanding its mission into identifying and preserving valuable Mid-Century Modernism art and buildings (many of which are endangered.) In this case, "MiMo" stands for Mid-Century Modern and also Miami Modern.
This global conference also marks the first time that attendees will explore the Palm Beaches, including "Mimo and Mimosas" tours.
"In Miami Beach, Art Deco is all about hotels. In the Palm Beaches, Art Deco is in museum design," Koskoff said. "That's why our, 'Modernism: Florida's Hidden Treasurers' tour is so exciting. We are discovering secrets behind the public spaces and private places."
Indeed, in planning the itinerary, Susan Gillis of the Boca Raton Historical Society, alerted Koskoff to rare MiMo samples at a private college, Lynn University. Then Koskoff learned of Brutalist construction by a Bauhaus architect at the nearby Boca Raton Innovation Campus.
Koskoff said, "We are still making new architectural discoveries in the Palm Beaches."
Helpful links:
Miami Design Preservation League lecture passes for locals:
https://www.miamibeachfl.gov/event/miami-design-preservation-league-presents-lecture-pass-world-congress-on-art-deco-3/
World Art Deco Congress:
https://www.16thworldcongressonartdeco.com/
Art Deco Society of the Palm Beaches: