Orchestra Miami celebrates a Miami Musical Legend at The Miami Woman's Club
By: Press Release
|
11/07/2022
|
Music
As the only major metropolitan city founded by a woman, Miami is not lacking for strong female figures. Orchestra Miami's next concert will honor an important female-run organization which laid the groundwork for many of the City's important civic and social development, as well as a pioneering musician who composed hundreds of pieces, including operas, ballets, vocal works, chamber music and piano pieces. Discover Miami Through Music brings a special concert to the newly-renovated Miami Woman's Club on Biscayne Bay, where we will celebrate and discover the music of one of Miami's musical pioneers, composer Mana-Zucca.
On Sunday, November 6, 2022, at 4 PM, Orchestra Miami will celebrate the legacy of Mana-Zucca, a legend in Miami's music circles and a pioneering composer. Prior to moving to Miami, Mana-Zucca was a celebrated concert pianist and singer who performed leading roles in musical comedies. After her move to Miami, she became a prolific composer, composing over 400 works, and holding weekly musicals in her home "Mazica Hall". She was also the teacher of Miami-born concert pianist and pioneer Ruth Greenfield, whom Orchestra Miami will honor at the concert.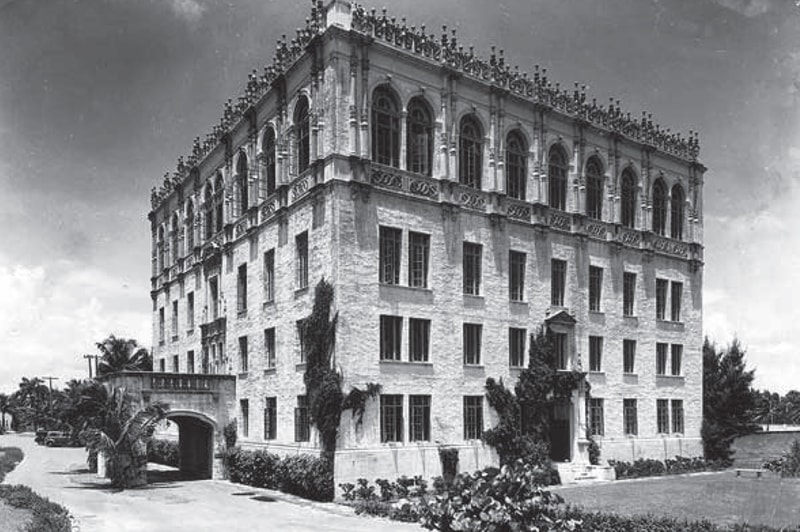 The Miami Woman's Club was founded as The Married Ladies' Afternoon Club in 1900, just four years after Miami was incorporated. With help from oil-and-railroad magnate Henry Flagler, it quickly became "the intellectual powerhouse behind Miami," says historian Paul George. It has been indispensable in the social and educational development of our city, and has maintained an impressive record of service to South Florida. The Miami Woman's Club established the City's first library and is credited with founding the present public library system. The Miami Woman's Club also founded the Travelers Aid Society, organized the Dade County Blood Bank and began the City Curb Market. Members pushed for public parks when developers threatened to devour the city and advocated for schools when education was a low priority. Their newly renovated home was designed in 1925 by August Geiger, one of the most prominent American architects in South Florida at the time, and had its grand opening in 1926 as the Flagler Memorial Library and Women's Club. The building was added to the National Register of Historic Places in 1974.
Born Gizella Zuccamanof (later Zuccaman) on Christmas Day, 1891 to Polish immigrants, Mana-Zucca changed her name to simplify her stage life. She was a piano prodigy, composer, actress, and one of the most recognizable faces from numerous ad campaigns. According to Florida International University, which is the holder of her archives, Mana-Zucca was one of the most photographed women of her time. When she was eight, Mana-Zucca made her debut with the New York Symphony Orchestra (the former rival to the New York Philharmonic), playing Beethoven's first piano concerto. In 1914, she made her stage debut with a soprano role in Franz Lehár's The Count of Luxembourg. She studied piano under Ferruccio Busoni, Leopold Godowsky, and Alexander Lambert, and composition under Hermann Spielter.
When she was a teenager, she and her sister Beatrice sailed across the Atlantic and eventually settled in Berlin, where her performances were very popular. She teamed up with Spanish violinist Juan Manon, eventually signing a contract to play sixty concerts with him over a three-year period in Germany and Russia. After her stint in Europe, Mana-Zucca returned to the United States, eloping with Irwin M. Cassel. The couple split time between her home in New York City and his in Miami, Florida. After the birth of their first and only child in 1926, they put down permanent roots in Miami. In the 1930s and '40s, Mana-Zucca reigned as Miami's grand dame of music. She and her husband hosted musical luminaries at Saturday Musicales in Mazica Hall, their stately stucco home on 17th Street near Biscayne Bay.
"I remember going to her house as a child to perform for Mana-Zucca", said Orchestra Miami's Artistic Director Elaine Rinaldi. "We were assigned several of her piano pieces to perform in the annual Guild music exams. It was a real honor to be asked to go to her house to perform." Rinaldi said that she also remembers taking her Guild auditions at the Miami Woman's Club. She added, "Bringing Mana-Zucca's rarely performed music to the Miami Woman's Club really feels like coming home".
The November 6th program includes many rarely-performed gems, including the Tocccata for Vioin & Piano, Sonata for Cello & Piano, Op. 223, Hakinoh for Violin & Piano, Op. 186, Ballade et Caprice for Cello & Piano, Op. 28, Fisherman's Wharf for Violin & Piano, Op 228, Trio for Violin, Cello & Piano, Op.40, Rachem for Voice & Piano and her most famous composition, I Love Life, which was widely recorded.
The performers include Orchestra Miami principal Cellist Aaron Merritt, Violinist Karen Lord-Powell, baritone Philip Kalmanovitch, and Orchestra Miami's Artistic Director Elaine Rinaldi on the piano. Tickets are priced at just $30 General Admission for Adults, $25 for Seniors over 65 and $5 for Students with ID. The Miami Woman's Club has valet parking only available for $20; metered street parking may be found along Bayshore Drive, or park in the Omni Garage on NE 15 Street. For more information, please visit www.OrchestraMiami.org or call (305) 274-2103.
What: Discover Miami Through Music: The Music of Mana-Zucca at the Miami Woman's Club
When: Sunday, November 6, 2022 at 4:00 PM
Where: The Miami Woman's Club, 1737 North Bayshore Drive, Miami, FL 33128
How Much: Tickets are $30, $25 for Seniors (65 & up) and $5 for Students with ID, General Admission Seating