New World Symphony Kicks Off its 36th Season in September
By: Press Release
|
09/13/2023
|
Music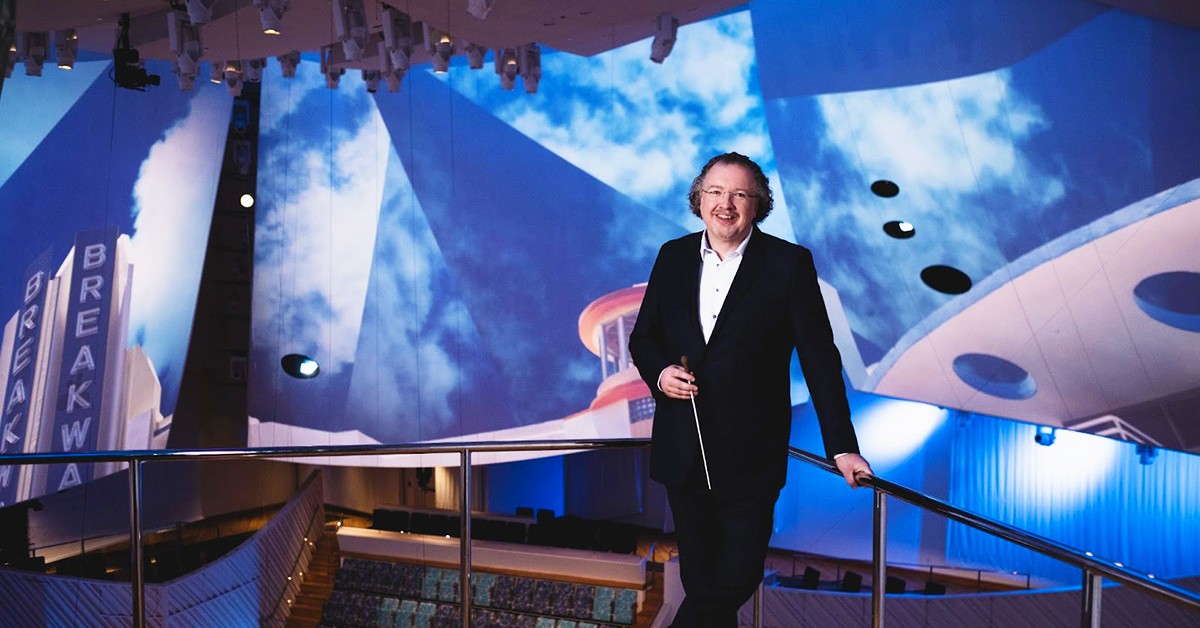 Season-opening concert launches Denève's first full season as Artistic Director
The New World Symphony (NWS), America's Orchestral Academy, will kick off its 36th season on Saturday, September 16 under the baton of Stéphane Denève in his first full season as Artistic Director. Inspired by Miami's landscape, Denève has curated an evening of imaginative video art and symphonic seascapes from Debussy, Britten, and more. Denève will lead the Fellows in Jacques Ibert's Escales (Ports of Call), Benjamin Britten's Four Sea Interludes from Peter Grimes, and a performance of Claude Debussy's La Mer, complemented by visuals inspired by poetry and paintings. Chinese-born conductor and composer Molly Turner, NWS's first-ever female conducting fellow, will open the program with Adolphus Hailstork's An American Port of Call.
"It is with immense gratitude and excitement that I begin my first full season as Artistic Director of New World Symphony," said Denève. "It is a great privilege to lead NWS and its gifted Fellows, and share the podium with Conducting Fellow Molly Turner for our opening concert that draws inspiration from the beautiful city of Miami and the blue color of its splendid skies and sea."
"This opening concert of Stéphane's first full season tells us he is a risk taker as he partners with Clyde Scott our Creative Director of NWS Media in the creation of a multi-disciplinary experience of Debussy's La mer," said President and CEO Howard Herring. "He will be guiding an orchestra of aspiring Fellows who make music with a winning combination of youth and excellence. He will begin his musical embrace of the Miami community, ready to share the music with as many people as possible. We are thrilled to have him as our Artistic Director."
Pay-What-You-Wish Concerts
NWS continues to deliver on its vision to redefine, reaffirm, express, and share the traditions of orchestral music with as many people as possible. Ticket prices often present a barrier to those who are new or curious about classical music, and NWS is committed to ensuring that its programming is accessible and without financial burden for anyone who wishes to experience the arts. Available the first time for an in-person concert, tickets for the season-opening concert on September 16 were available on a pay-what-you-wish basis, meaning that ticket buyers could name their own price, beginning at just $5. Pay-what-you-wish tickets are also available for the concert on September 30 with Michael Tilson Thomas and Leif Ove Andsnes.
Nearly 30% of NWS's 60+ performances within the New World Center are free to the public. With offerings like WALLCAST® Concerts both in SoundScape Park, as well as Mobile WALLCAST® Concerts that travel throughout the community, all those who wish to enjoy the symphonic arts will have multiple opportunities to do so.
A Digital Exploration of Debussy's La Mer
With the extraordinary flexibility afforded by its home at the New World Center and the continued support of the John S. and James L. Knight Foundation to expand NWS's pioneering work in the integration of technology with music performance, the New World Symphony continues to prioritize artistic expressions that integrate sight and sound to enhance the listening experience.
As part of Denève's season-opening program, the concert hall's curvilinear acoustical "sails'' will come alive with visuals to accompany Debussy's La Mer. The visuals are inspired by an excerpt from the poem, Correspondences from the collection Fleur du Mal (Flowers of Evil) by French poet Charles Baudelaire that reflects Baudelaire's fascination with the interconnectedness between the physical and metaphysical realms. The expressive graphics will feature several paintings of the ocean, including The Great Wave off Kanagawa, by Katsushika Hokusai, which was known to be an inspiration for Debussy.
"Our vision is to find that deep and tenebrous unity between sight and sound, where the music is paramount, and the visual elements contribute subtly and meaningfully to enhance the listening experience," said Denève.
The NWS Fellowship Experience
The New World Symphony is a global leader in orchestral and artistic training. Talented musicians, aged typically between 22-30, are awarded three-year fellowships that consist of a robust curriculum of musical, entrepreneurial, and community engagement training. Each season, Fellows are mentored by over 250 visiting faculty members and guest artists, and design and execute their own entrepreneurial projects. Approximately 87 Fellows in various stages of their three-year fellowship make up the orchestra each season. NWS has over 1,250 alumni transforming communities in over 30 countries.
Eighty-seven Fellows comprise the 2023-24 class at New World Symphony across 17 instruments and three non-instrumental positions. The Fellows are selected for this highly competitive opportunity based on their musical achievement and promise, as well as their passion for the future of classical music. The 37 new Fellows selected to join the 2023-24 class represent 13 U.S. states and eight countries around the world.
PROGRAM DETAILS:
Saturday, September 16, 2023 at 7:30 PM
SOLD OUT
New World Center, Michael Tilson Thomas Performance Hall
John S. and James L. Knight Foundation Stage
Conducted by Stéphane Denève
Conducted by Molly Turner
Adolphus Hailstork
An American Port of Call
Jacques Ibert
Escales (Ports of Call)
- Calme
- Modére très rythmé
- Animé
Intermission
Benjamin Britten
Four Sea Interludes from Peter Grimes
- Dawn: Lento e tranquillo
- Sunday Morning: Allegro spiritoso
- Moonlight: Andante comodo e rubato
- Storm: Presto con fuoco
Claude Debussy
La mer (The sea)
- From Dawn to Noon on the Sea
- Play of the Waves
- Dialogue of Wind and Sea
Single tickets to the season can be purchased online beginning September 1 at 5 p.m. ET, or by calling 305-673-3331 or visiting the the box office beginning Tuesday, September 5 at 10 a.m. ET. Subscriptions are now on sale ($24 - $480) for the best seats, subscriber perks, and most flexibility. Programs, artists, dates, prices, and availability are subject to change.
Upcoming Concerts
NWS's 2023-24 season spans centuries and the globe, and features both classics and contemporary works, from Beethoven's monumental Ninth Symphony in celebration of Billy Childs' saxophone concerto Diaspora. Performances take place at the New World Center, NWS's Miami Beach campus designed by Frank Gehry, as well as the Adrienne Arsht Center and throughout the community.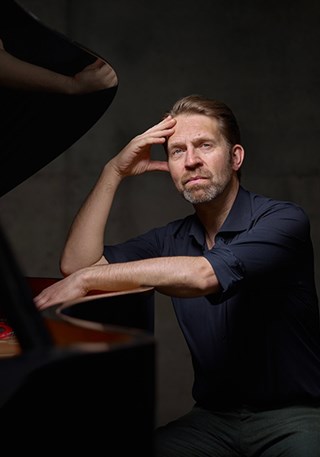 September 30, 2023
Artistic Director Laureate Michael Tilson Thomas returns to kick-off a season-long series of performances alongside renowned pianists and dear friends. Known for his fresh interpretations of Ludwig van Beethoven's piano works, Leif Ove Andsnes shines in the composer's final, majestic concerto, "The Emperor." With roaring percussion and brass, Olly Wilson pays homage to the Nigerian god of thunder. For a whirlwind finale, Brahms' Piano Quartet was given a symphonic makeover in the hands of Arnold Schoenberg, who dubbed it "Brahms' Fifth Symphony."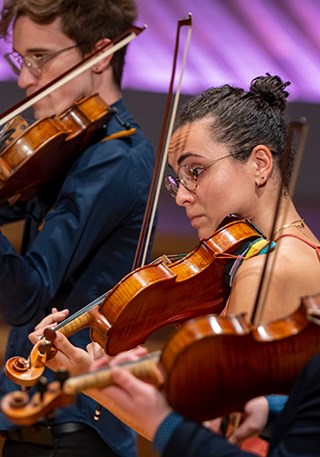 October 8, 2023
NWS's chamber music series opens with a musical homecoming as NWS Fellows and Artistic Director Stéphane Denève are joined onstage by select NWS alumni. The light wind serenades of parties past get a grand makeover by classical music's favorite prodigy, Wolfgang Amadeus Mozart. Olly Wilson found inspiration from spirituals and the Boogie-Woogie for A City Called Heaven and Romanian composer George Enescu dedicates his Second Piano Quartet to the memory of Gabriel Fauré.
October 14 & 15, 2023
Artistic Director Stéphane Denève returns for an emotional concert that explores true love and loss. Inspired by the love-drenched pages of William Shakespeare, Sergei Prokofiev creates musical fireworks in his portrayal of Romeo and Juliet. Soprano Kelley O'Connor—whose past NWS performance was hailed a "tour de force" by South Florida Classical Review—returns for one of Denève's favorite works: Peter Lieberson's Neruda Songs. James Lee III conjures the historic indigenous metropolis of Cahokia.
The Saturday, October 14 concert also marks the season's first WALLCAST® Concert in SoundScape Park.
Please click here for the complete 2023-24 season concert schedule.