11
Please sign in to like the event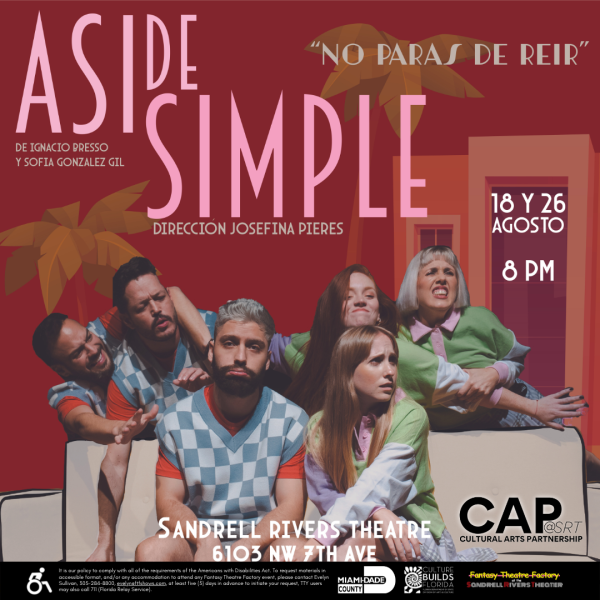 Visit Website
Instagram
Tell a Friend About this Event!
Join Free for Exclusive Benefits!
Asi de Simple
Thu 08/18/2022
Fantasy Theatre Factory's Cultural Art Partnership with PLUM Entertainment presents Asi de Simple:

¿Qué pasaría si todas nuestras voces hablaran igual de fuerte? ¿Qué pasaría si
pudiéramos escuchar todo lo que no decimos antes de hablar? Para reír y
emocionarse, esta es una comedia sobre el amor, el desamor, la ruptura, el ego,
los alter egos, el ser humano, los errores y el arrepentimiento. Joaquin y Clara
son una típica pareja de Miami: el venezolano con la argentina. Abelardo Chahwan, Ron Chavez y Saul Mauricio serán Joaquin y Martina Lavignasse, MicaPlum y Julie Lafuente serán Clara.

When: Aug 18 & 26 @ 8:00 PM
Where: Sandrell Rivers Theater: 6103 NW 7th Ave, Miami FL 33127
Free Parking Garage: 6104 NW 6th CT Miami, FL
Ticket Price:
General Admission: $35
Student Admission: $25
https://tickets.ftfshows.com/TheatreManager/1/login?event=880

Sponsor List: Miami Dade County, and Cultural Builds Miami

COVID Guidelines: Read our guidelines: https://www.sandrellriverstheater.com/reopening

ADA Accommodations: It is our policy to comply with all of the requirements of the Americans with Disabilities Act. To request materials in accessible format, and/or any accommodation to attend any Fantasy Theatre Factory event, please contact Evelyn Sullivan, 305-284-8800, evelyn@ftfshows.com, at least five (5) days in advance to initiate your request, TTY users may also call 711 (Florida Relay Service).

Price $35
Time 8:00 PM
Venue

Sandrell Rivers Theater

Address 6103 NW 7th Avenue
Miami, FL 33127 GET DIRECTIONS

Phone Number 305.284.8800