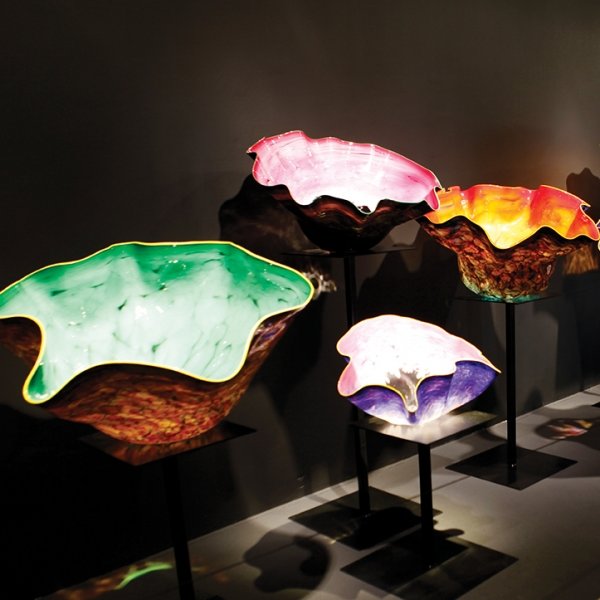 On December 14th, the Wiener Museum of Decorative Arts kicks off the new Florida season with an evening of Chihuly & Champagne, as part of its new Wednesdays at WMODA program. Art dealer and gallerist, Paul Fisher, will give a light-hearted talk "On the Road with Dale Chihuly: Alibis & Anecdotes," and share some fascinating stories and insights from his 30-year association with the world-famous glass sculptor. Dale Chihuly is well known in South Florida, thanks to his ground-breaking installations at Fairchild Botanical Gardens in Miami. Now, fans can enjoy Chihuly's work all year around at WMODA in Dania Beach, which has an extensive collection of his signature works on display. A forest of multi-colored Macchia designs dominates the glass gallery at WMODA, along with one of Chihuly's spectacular Persian wall installations, several Seaforms, and Ikebana flower arrangements.
Chihuly has led the avant-garde in the development of glass as an artform and has introduced many artists to the medium in his innovative teaching programs. WMODA also features the work of his students, William Morris and Toots Zynksy, who have gone on to become internationally acclaimed glass artists in their own right. Zynsky is renowned for her unique undulating fused glass forms, which are a highlight of the WMODA collection.
Kiln-formed fused glass is represented locally in Broward by Chelsea Rousso, who will be teaching fused glass workshops at WMODA this season. As well as creating sculptures of woven glass, Chelsea is a Professor of Fashion at the Art Institute in Fort Lauderdale, and her talents combine to create wearable glass designs, which appear on the catwalk at WMODA events.
In addition to Chihuly and Rousso, the permanent glass collection at WMODA features the Art Deco designs of Renée Lalique and contemporary blown glass by Brenna Baker of Hollywood Hot Glass. WMODA focuses on the fired arts of ceramics and glass and also exhibits pottery and porcelain art from the 18th century to the present day. A visit to WMODA is sure to fire your imagination!
For further details about WMODA events, exhibitions and workshops and to book tickets, please visit www.wmoda.com, call 954.376.6690, and/or e-mail info@wmoda.com.