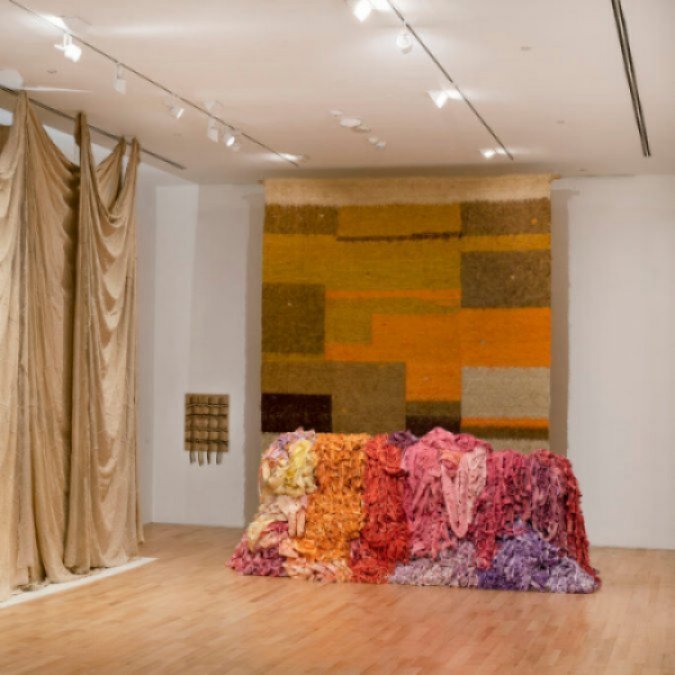 Advised bythe organizers of the 1977 Lausanne Tapestry Biennial exhibition that her submission, a looming, multipart, embroidered linen drapery titled "Reprisage Répertoire" was of inadequate scale, Sheila Hicks responded daringly. She secured a bundle of nurses' uniform blouses from the local hospital, and dyed, shredded and piled them to create what she called the "Wow Bush/Turmoil in Full Bloom." Rising from the floor like a shaggy, multihued tropical blossom, it's among Hicks' most exuberant pieces.
The exhibition "Campo Abierto (Open Field)," on view through Sept. 29 at the Bass museum in Miami Beach, is rich in surprises, but not all are the pieces flashy. Many of the works are muted in color and relatively flat. Hicks' genius derives from her ability to masterfully evoke water currents ("Seal Beach," "Pêcher dans la Rivière"), re-create the majesty and solidity of an ancient masonry arch ("Moroccan Prayer Rug"), suggest drips and misty veils ("Silk Rainforest") and spin sensuous flow in "Menhir," a luxuriant blend of braided and wrapped brown, gold, copper and blue. In one series of exquisitely subtle chromatic gradients she uses the deceptively simple technique of winding dyed linen yarns around rectangular stretchers.
The exhibition spans five decades and presents an artist who's constantly experimenting and whose aesthetic, though coherent, doesn't follow a simple trajectory. Along with Lenore Tawney, Jack Lenor Larsen, Magdalena Abakanowicz and others, Hicks helped to establish fiber art as fine art. As Bass curator Leilani Lynch stated during a recent tour, "This is a legitimate art form in which one can experiment, have conceptual ideas, address it with abstraction and not just have it be ghettoized in the craft field."
While encompassing works from 1966 to 2018, the exhibition, which Lynch and executive director Silvia Karman Cubiñá planned for three years, undertakes a specific, if broad invocation of the landscape, rather than emphasizing the artist's evolution.
"She wanted a title that reflected Miami, and that we are a city that speaks many languages," Lynch says. "And the idea of open field was really bringing this idea of landscape and nature out of her work. Most are not literal landscapes, but even just from the element of scale they suggest it. As you know, we often present works that are very large in scale. … In order to use the space effectively, you really need to be able to handle the architecture and the breath of the space."
"Campo Abierto" gracefully occupies the upper galleries, substantially expanded in a vitalizing 2017 renovation. Approximately 30 freestanding and wall-mounted sculptures are elegantly orchestrated, evoking Ghanaian artist El Anatsui's inspired 2014 exhibition of draped tapestries, fashioned from liquor bottle capsules. Hick's equally inventive works are fabricated from natural and synthetic fibers, neutral to neon in color. They're stitched, woven, wrapped, braided and twined, stuffed and embroidered. There are several watercolors, too, because Hicks began as a painter, and her imagemaking process derives from that discipline.
At Yale in the late 1950s, Hicks came under the tutelage of Josef Albers. His exhaustive studies of the interactions of color were key to her lifelong investigation of this vital design element. Albers had been a central figure in the German Bauhaus, an institution whose philosophy interconnects architecture, interior design, handcraft and the visual arts. This integrative orientation underlies Hicks' approach in small, personal studies ("minimes") but also her public commissions. "Labyrinth of Communication," was designed for the AT&T headquarters and appealingly alludes to the switchboards and dangling cords of the telephone's early days, while incorporating contemporary synthetic and metallic fibers.
At Yale, Albers' wife, Anni, introduced Hicks to weaving, which opened the door to a lifetime of exploration. "All of the metaphors of weaving work so well with Sheila," Lynch says, "because it really is about not having this distinction between art and life. It is everywhere for her."
Upon graduating from Yale in 1959, Hicks embarked on a Fulbright-funded expedition of South America, steeping herself in the various pre-Columbian fiber-working traditions. This great adventure grounded her in the multiplicity of natural fiber types and distinctive ways they can be worked. A visceral orientation to materials and a profound respect for indigenous traditions undergird her work. From her studio and home in Paris since 1965, she has continued to travel and collaborate with local weavers in South America, Morocco, South Africa, India and Japan. Meanwhile, her conceptual ideas are contemporary, and she unhesitatingly adopts high-tech materials, collaborating repeatedly with the outdoor-fabric manufacturer Sunbrella — even using stainless-steel fibers developed by Bridgestone Tires.
Turning 85 in July, Hicks remains fully hands-on in a steady career that has attracted a recent surge of attention. In 2018, she showed at the Centre Pompidou. In 2017, her installation of snaky, acrylic, ribbon-wound tubes graced New York's High Line. She appeared in the 2014 Whitney Biennial, which is usually dominated by young stars. Her 2010 retrospective at the Addison has travelled extensively, and her attention-grabbing entry in the 2017 Venice Biennale, "Escalade Beyond Chromatic Lands" — now reconfigured — is a Bass highlight.
The brilliantly colored "Escalade" (literally, the scaling of defensive walls) was the only piece fully installed before Hicks arrived to bestow approval. A dramatic "soft sculpture," flanked by two enormous hanging tapestries, it climbs the end wall of its gallery, essentially replicating its prior installation in the shadowy Arsenale in Venice (a former armory), but brightly illuminated here. Several ranks of multicolored beanbag-like bundles of fabric, dominated by blues and greens, stack up to create the fore and middle ground of a fantasy landscape, whose background lights up the back wall like a blazing sunset.
Either interpretation works in Miami, which, like Venice, is under siege from the ocean and also hosts beguiling sunlight displays.
"Varmayana (The Place of Shining Light)" is a constellation of large and small, pillow-like disks, featuring multiple stitchery techniques and installed in an improvisatory process. "She actually allowed us to collaborate in terms of placement," Lynch says, "which was also a really special and intuitive experience. It would just be about like, 'OK, let's put up the purple disk, and what do you think?'"
So Miami.
"Campo Abierto (Open Field)" is on view through Sept. 29 at the Bass, 2100 Collins Ave., in Miami Beach. Hours are 10 a.m.–5p.m. Wednesday–Sunday. Admission is $10, $5 for seniors, students and youth. Call 305-753-7530 or go to TheBass.org.
ArtburstMiami.com is a nonprofit source of theater, dance, music and performing-arts news