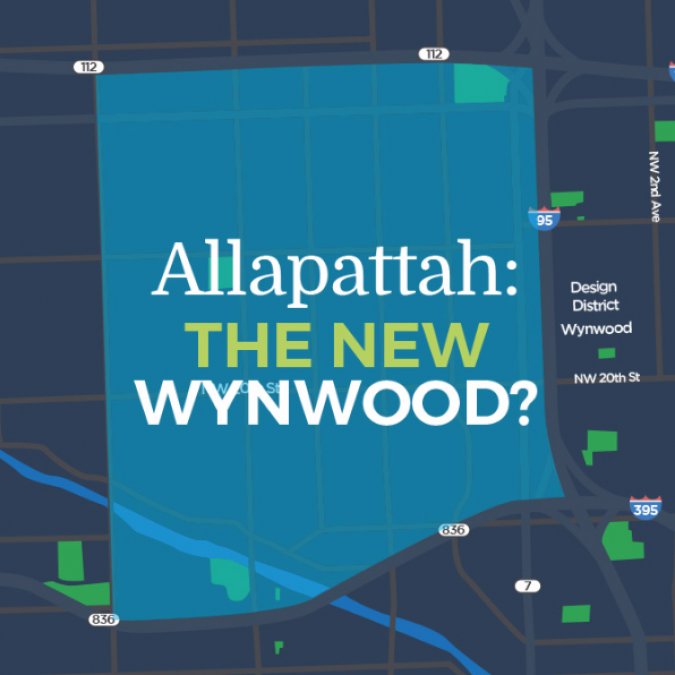 Look out, Wynwood! Allapattah is emerging as the next trendy Miami neighborhood and it's a great time to visit and get a taste of the artsy flair! A predominantly bluecollar population of 45,000 residents, this small district borders Wynwood and is slowly acquiring all the characteristics that made its neighbor so famous. Allapattah (which means alligator in the native Seminole Indian language) got its name in the early 20th century. The city's culture was influenced by its earliest residents, which immigrated from places such as the Dominican Republic, Cuba, and Central America. Allapattah was even granted the title Little Santo Domingo, because of its prominent Dominican population.
Typically, developers seek out rundown areas to invest in, creating an arts movement that causes the area to gain popularity. This process is similar to how Wynwood grew into what it is today and how it acquired its world-renowned reputation. Because of Allapattah's desirable location and proximity to areas such as Wynwood, Miami Design District, and Midtown, investors are buying up warehouses to use and renovate as creative spaces. With so many people investing in Allapattah, prices are rising faster here than in popular Miami Beach, a trend that's expected to continue for the next 10 to 15 years. Currently, Allapattah boasts a range of popular restaurants, such as Papo Llega y Pon and Laguna Seafood Restaurant. The city's nightlife is also on the rise, building in popularity as it capitalizes on its Wynwood neighbor. The brand new Allapattah Market has attracted many visitors who want a glimpse of what this aspiring neighborhood is really about, and features a food and crafts wonderland, run by the same people who brought you Wood Tavern in Wynwood. The market serves as a place for independent craftsmen and artists to showcase their work to the local community.
Art has always been a catalyst for gentrification, as exemplified by the process that enabled developers to put Wynwood on the map. Art and real estate are the perfect combination that propels a neighborhood in decline to evolve into a popular destination. On the surface, the arts appear to be an expense for a community, supported by tax dollars. But in essence, the arts are a driving force for development and thriving commerce. Having caught the eye of investors, it is only a matter of time before Allapattah attains Wynwood level fame.