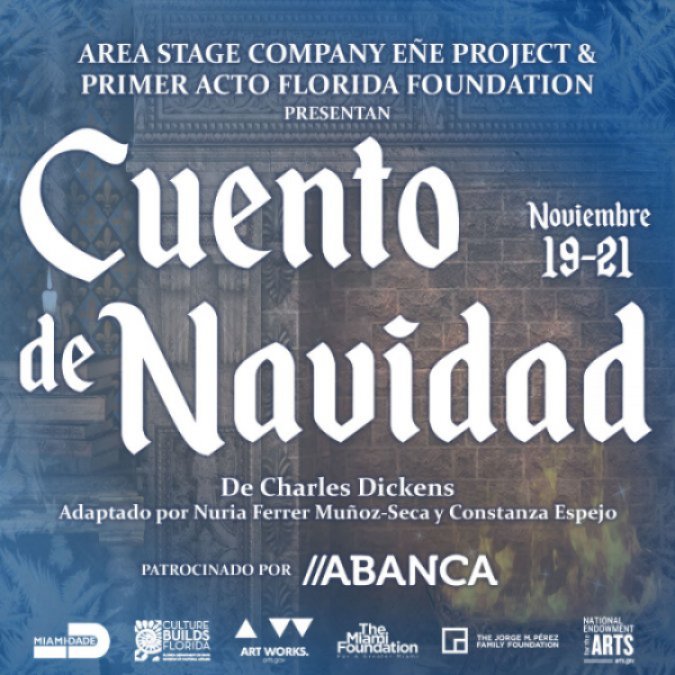 The Holidays are around the corner! Area Stage Company has announced that the new season of the eñe Project will be inaugurated with the production of Cuento de Navidad (A Christmas Carol), the Dickens classic, adapted by Nuria Ferrer Muñoz-Seca and Constanza Espejo.
The production is a collaboration between Area Stage Company and PAFF (Primer Acto Florida Foundation) and will take place the weekend of November 19-21 at the ASC Black Box Theatre in Sunset Place. It will be a play with music presented in the Spanish language.
This adaptation, which features a female Scrooge, proposes that you can stay true to the classic without interfering with the original Dickens story. Scrooge, a greedy and bitter woman, is able to reconsider and change her attitude towards the world, paying tribute to those first women who fought for their rights to be recognized as contributing members of our society. At the time that Dickens wrote his famous A Christmas Carol (1843), it was unthinkable that its protagonist, Scrooge, was a successful businesswoman. It was in 1870, that the Law of Assets of Married Women finally recognized the right of women to own the money that she earned from her work.
We will see the classic Christmas Carol from a female point of view where ghosts will be played by women, transmitting the universal values of love, charity, and mercy. Without a doubt, Dickens's message acquires special importance at this very significant moment in history and allows us to reflect, both children and adults, on what is truly valuable. We must pay attention to the small details, look more at those around us, and recognize that health and love are fundamental pillars of life.
Directed by the renowned artist María Banda-Rodaz and presented in collaboration with Queca Gordillo and Natalia Tarica for PAFF (Primer Acto Florida Foundation), this production, maintains the classic essence of Dickens and will not leave anyone indifferent. Production design will be handled by the award-winning team at Area Stage Company.
Under the eñe Project, Miami audiences enjoyed works such as Se Quieren, Tu Ternura Molotov, Pony, Tres Hombres de Bien, El Show de las Divorciadas, among others over the past years, all of them presented in Spanish, which received great praise from both the public and the press.
Bring your whole family to a theatre that will be transformed into Victorian-era London and kick off the season with this innovative take on the Christmas classic.
Shows will be performed at ASC Black Box Theatre. Friday Nov 19th @ 7:30pm, Saturday Nov 20th @ 2pm and 7:30pm, and Sunday Nov 21st @5pm. Tickets are available for purchase now, General Audience $35.