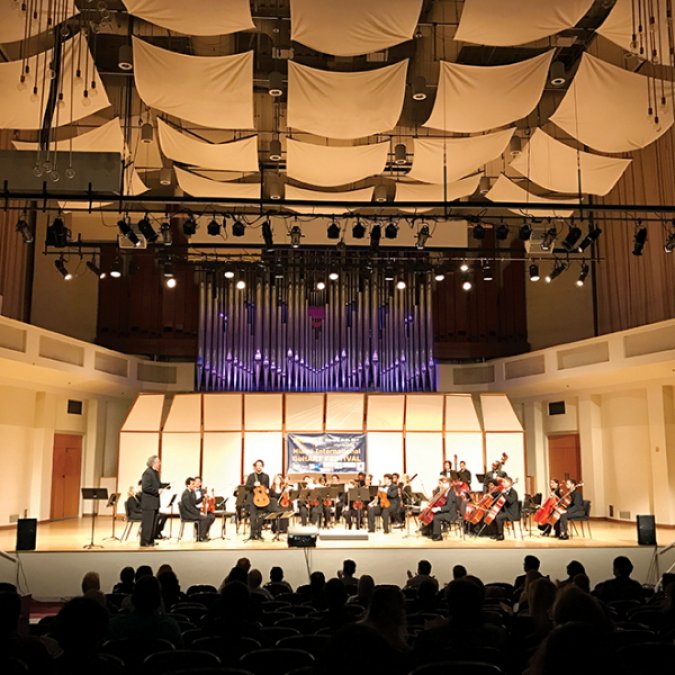 The FIU School of Music presents the third edition of the Miami International GuitART Festival (MIGF) at the Herbert & Nicole Wertheim Performing Arts Center, and this year's theme will definitely ramp up the salsa factor!
February 19 - 25
Attendees will be able to celebrate Miami's Cuban heritage in MIGF's "A LO CUBANO." Thanks to the generous Knight Arts Challenge Award from the Knight Foundation, this year's festival is dedicated to Cuban music and will feature extraordinary artists in eleven concerts, six master classes, five lectures, luthier's expo, and a round-table composer's panel, as well as performance and composition competitions.
Led by one of Cuba's most influential musicians, virtuoso guitarist and composer Maestro Eduardo Martin, the festival will showcase many wonderful Cuban artists, including Iliana Matos, Rene Izquierdo, Martin Pedreira Rodriguez, Rafael Padron, Thomas Uriarte, Zuleida Suarez, and Alberto Puerto.
In the mood for brilliant musicians? "A LO CUBANO" has you covered, with an impressive roster of international talent that includes Eliot Fisk (Boston, U.S.), Marcin Dylla (Poland), Adam Levin (Boston, U.S.), Eren Süalp (Turkey), Pierre Bibault (France), Sam Desmet (Belgium/U.S.), Thomas Uriarte (Miami, U.S.), Emilio Rutllant (Miami, U.S.), Celso Cano (Peru/U.S.), Nutavut Ratanakarn (Thailand), Duo Lazzeri-Leonardi (Italy), and MIGF Artistic Director and Founder Mesut Özgen (Turkey/U.S.). FIU's Ensemble-in-Residence, Amernet String Quartet, and the FIU Symphony Orchestra, directed by Javier Jose Mendosa, will premiere a new guitar concerto commissioned from composer Carlos Rafael Rivera.
And there's so much more. The annual Tribute Concert Series will honor the musical legacy of legendary Cuban composer Leo Brouwer. The festival artists will perform solo, chamber, and orchestral works from various periods of Brouwer's prolific compositional output, including the Concierto Elegiaco.
Students of all ages and levels will be able to partake in Master classes and perform for the festival artists in front of a general audience. Additionally, lectures will be presented in a wide range of topics on guitar, recording and the music business. The Luthiers Expo will be open to public from February 23-25, presenting excellent hand-built guitars by renowned guitar makers.
Together with the annual composition competition, the inaugural Concert Artist Performance Competition will run concurrently with the festival this year. The CAPC welcomes guitarists of all ages and nationalities, and the MIGF competitions will award talented guitarists and composers a total of $10,000 cash prizes!
Music lovers in general and appreciators of Cuban heritage alike won't want to miss this exciting and unique festival.
For more information on the the 2018 MIGF, please visit migf.fiu.edu.