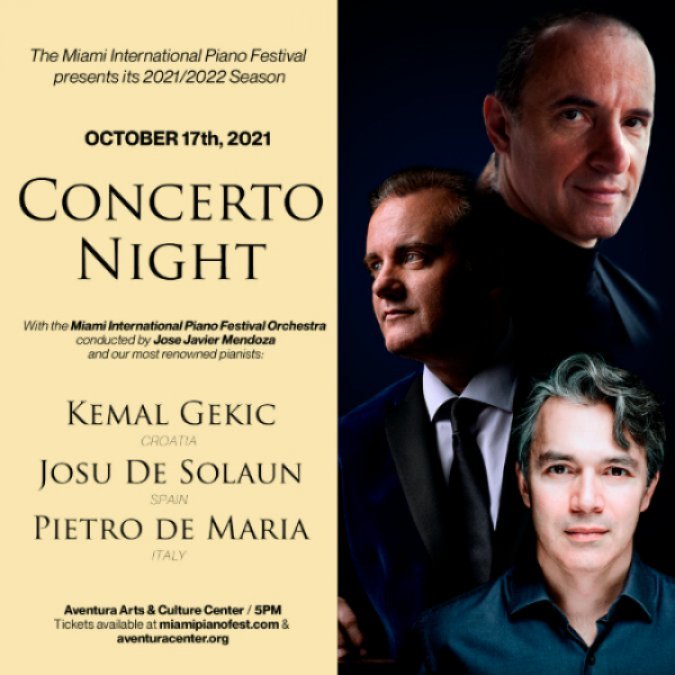 The MiamiInternational Piano Festival is back again and will debut several of the most talented up and coming musicians!
The international talent will enthrall classical music lovers at several world-class venues around Miami-Dade and Broward and through the creation of its state-of-the-art Virtual Platform. It will give the organization Global and International exposure and unique opportunities for the artists, the audience, and classical music lovers.
Celebrating the in-person reemergence of the festival, they will open the season on October 17th in a grand fashion, offering the audience a night of beloved concertos by three compelling pianists, Kemal Gekic – Josu de Solaun – Pietro de Maria.
The format of the recitals offers the audience unparalleled and illuminating experiences. Each performance is preceded by a commentary on the programs presented by the artists and by the Lecturer in Residence, Prof. Frank Cooper.
Six compelling pianists will be featured this season in the Aventura Series "Classical Sundays at FIVE" Dmitry Ablogin (new to the audience), Fabio Martino, Nikolay Khozyainov, Ilya Itin, Zlata Chochieva and Ariel Lanyi (new to the audience).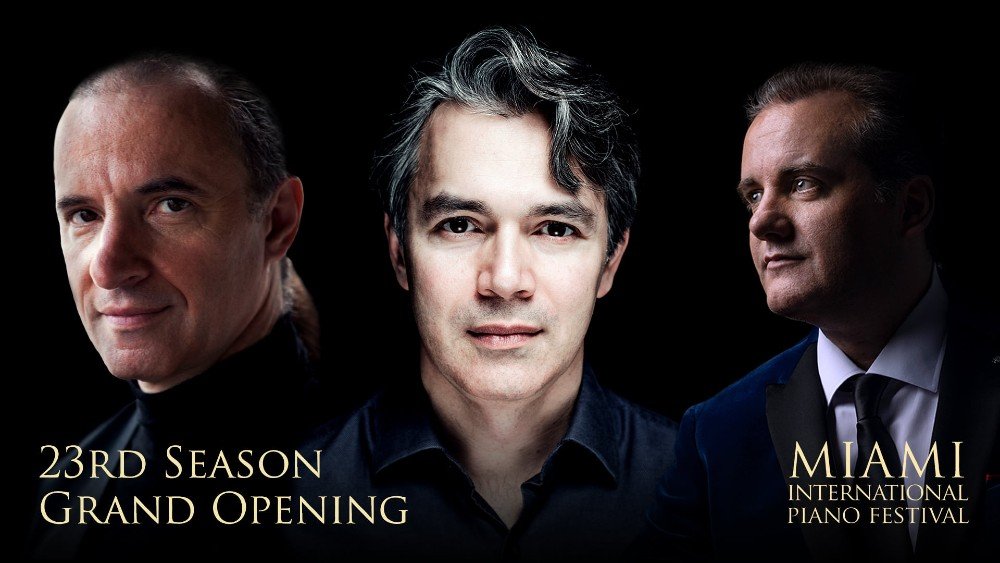 The Discovery Series at the Wolfsonian – FIU will present THREE exciting weekends introducing the debuts of SIX new artists to the audience: Vyacheslav Gryaznov – Wouter Valvekens, Konstantin Khachikyan – Kenneth Broberg, Chelsea Guo – Can Cakmur.
CLASSICAL SUNDAYS AT FIVE will take place at the Aventura Arts & Cultural Center and performances are on Sundays scheduled throughout the concert season.
October 17, 2021
GRAND OPENING – Celebrating a NEW Beginning
Sunday, October 17 * 5:00 pm Concerto Evening Featuring THREE Artists
PIETRO DE MARIA – Mozart Concerto K. 467 No. 21
JOSU DE SOLAUN -Beethoven Piano Concerto No. 3
KEMAL GEKIC – Chopin Concerto No. 1
Miami International Piano Festival Orchestra JAVIER JOSE MENDOZA Conductor
November 21, 2021
KEMAL GECKIC (Croatia)
"Gekic rides the charismatic edge of genious" R. Dyer, Boston Globe
"He is something like a general who has learned all the rules in the book and is therefore free to ignore them in the time of war" James Roos, Miami Herald
Haendel/ Liszt
Sarabande and Chaconne from the Opera Almira
Schubert
Klavierstuck E-flat Major D946
Rachmaninoff
Prelude Op.23 No 7
Etude-tableaux Op.33 No. 2
Etude-tableaux Op.33 No. 6
Etude-tableaux Op.39 No. 3
Etude-tableaux Op.39 No. 8
Etude-tableaux Op.39 No. 9
Chopin
Impromptu Op.29
Impromptu Op.36
Schumann Romanze Op.28
Liszt: Hexameron
Brilliant Variations on a theme by Bellini by Thalberg, Pixis,Herz, Czerny, Chopin and Liszt
December 19, 2021
FABIO MARTINO (Brasil)
"Fabio Martino is the symbiosis of musicality and limelight hog."
Axel Schlicksupp Orchestra Director of the Bad. Staatskapelle Karlsruhe
Sergei Bortkiewcz
10 Preludes Op. 33
Carlos Guastavino
Sonatina in G minor
Nicolai Medtner
8 Stimmungsbilder Op. 1
Nr. 1 - Prologue: Andante cantabile in e-Major
Nr. 2 - Allegro con impeto in g-sharp-minor
Nr. 3 - Maestoso freddo in e-flat-minor
Nr. 4 - Andantino con moto in g-flat-Major
Nr. 5 - Andante in b-flat-minor
Nr. 6 - Allegro con humore in d-flat-Major
Nr. 7 - Allegro con ira in f-sharp-minor
Nr. 8 - Allegro con grazia - quasi valse in f-sharp-minor
Hector Villa-Lobos
Ciclo Brasileiro
Plantio do caboclo (The Peasant's Sowing)
Impressões seresteiras (Impressions of a Serenade Musician)
Festa no sertão (The Fête in the Heartlands)
Dança do índio branco (Dance of the White Indian)
January 9, 2022
NIKOLAY KHOZYAINOV (Russia)
"The Music World is taking note of Nikolay Khozyainov's stunning virtuosity and prodigious technique."
The New York Times
"A Tribute to Chopin"
Ballade in G minor, Op. 23
Ballade in F major, Op. 38
Ballade in A flat major, Op. 47
Ballade in F minor, Op. 52
Berceuse in D flat major, Op. 57
Piano Sonata No. 3 in B minor, Op. 58
March 20, 2022
ILYA ITIN (Russia)
"Itin's is a rare and exciting artistry indeed…poised, pure, and ravishing in its range of colour, a superb technique put at the service of an inquiring and imaginative mind." Daily Telegraph, London
Johann Sebastian Bach
Partita No 6 in E minor BWV 830
Bach-Rachmaninoff
Prelude, Gavotte and Gigue from Violin Partita No 3 in E major BWV 1006
Rachmaninoff
Etudes-Tableaux Op. 39
May 1, 2022
ZLATA CHOCHIEVA (Russia)
"An Artist with superb technical abilities, personal intuition and poetic inspiration"
C. P. E. Bach
Sonata in G minor Wq.65/17
Robert Schumann
Davidsbündlertänze, Op. 6
(First Edition)
Edward. Grieg
"Album Leaves" Op.28
Allegro con moto (1864)
Allegretto espressivo (1874)
Vivace (1876)
Andantino (1878)
Walzer-Caprice Op.37 No. 2 (1887)
Johannes Brahms
Variations on an original theme, Op. 21 No. 1
Waltzes P. 39:
Nr. 1, 2, 3, 7, 11, 15
May 22, 2022
ARIEL LANYI (Israel)
"Mr. Lanyi's authority, takes no prisoners as he expertly leads us on a no-nonsense artistic journey as satisfying as it is substantive.
Robert Schumann
Allegro in B minor, Op. 8
Kinderszenen, Op. 15
Isaac Albéniz
Iberia, Book III
Ludwig Van Beethoven
Sonata no. 29 in B-flat major, Op. 106, "Hammerklavier"
THE DISCOVERY SERIES introduces our audience to SIX extraordinary new artists:
VYACHESLAV GRYAZNOV (Russia)
" Extraordinarily Inventive a leading voice and one of the great wonders of modern pianism" Musical Life
January 23
WOUTER VALVEKENS (Belgium)
Wouter Valvekens searches for structure in the piece and plays authentically without misplaced sentimentality. Konzerthaus Dortmund
February 19
KONSTANTIN KHACHIKYAN (Russia)
"Outstanding and compelling artist"
February 20
KENNETH BROBERG (USA)
Kenny Broberg, Silver medal winner of the 2018 Van Cliburn Competition is known for a blazing intellect, impeccable technical skills, and the ability to build a strikingly imaginative and intelligent program. Theater Jones
April 23
CHELSEA GUO (USA)
"Chelsea Guo is a rare and impressive young artist in that her prodigious and affecting gifts are reflected equally in her captivating performances both as a pianist and singer." Edna Landau
April 24
CAN CAKMUR (Turkey)
Ankara-born Can Çakmur is the Gold Medal winner of the 2018 Hamamatsu Competition, he dared to be simple in Beethoven's lyrical Fourth Piano Concerto, and to let the music speak for itself, in a wonderfully luminous, graceful account that felt entirely sincere and heartfelt.
David Kettle, The Scotsman
For 23 years the Miami International Piano Festival has assisted musicians as they develop their careers. Each newly discovered artist is provided with nurturing and public exposure which has resulted in receipt of coveted awards such as the Gilmore Award (the highest recognition bestowed on any pianist). Many have signed with notable management agencies and received prestigious recording opportunities.
Festival co-founder Giselle Brodsky thinks that "every program we bring to you flourishes and stems from the ideas, desires and the inspiration of the artists, and that is why we do not simply offer recitals, we offer experiences that will forever change your perception and your love and understanding of music. In an effort to re-ignite the interest in classical music and increase our audience, we have incorporated different ideas and concepts into the new events for the 2021 - 2022 Season."