Tweet
Key West Food & Wine Festival
By Laura Richardson
The Key West Food & Wine Festival returns to the Southernmost City with a week's worth of wine and dining events from January 26 to February 2. Food will be plentiful, wine glasses overflowing and friends — new and old — abundant. And Mark Certonio, Event Director of the Festival will be preaching the gospel of gastronomic pleasures — best enjoyed poolside in flip flops, naturally.
The events on tap for the weekend range from the lavish (a kick-off party on the USCGC Ingham) to the unconventional (the Turtles and Sharks and Mermaids "Oh My" Grand Tasting at the Key West Aquarium). With a theme highlighting culinary decadence and environmental preservation, the festival aims to relish in the ocean's culinary delights while collaborating with organizations (like Mote Marine, Surf Rider of the Florida Keys, and Reef Relief) dedicated to protecting our planet. This collaboration allows the Key West Food & Wine Festival to celebrate Key West's rich culinary culture while raising awareness of the importance of marine wildlife preservation.
A longtime believer in Key West's potential as a top destination for food and wine lovers, Certonio is adamant that a town once synonymous with frozen daiquiris and fried conch fritters is fast undergoing a culinary metamorphosis. "I believe we are turning the corner to be a premier food destination," he says. And the numbers do seem to add up: most of the festival's intimate dinners, laid-back brunches, neighborhood wine strolls and oenophile-friendly seminars are already close to being sold out completely, while sponsorship from global heavyweights like Ocean Sotheby's International Realty prove the festival is making waves worldwide.
The festival can be attended a la carte, with tickets for individual events available through the official website, but if money's not an issue, go buck wild and opt for the truly indulgent VIP Connoisseur Experience, which includes multiple private receptions, on-call concierge and transportation services, dedicated lounge areas and a goodie bag.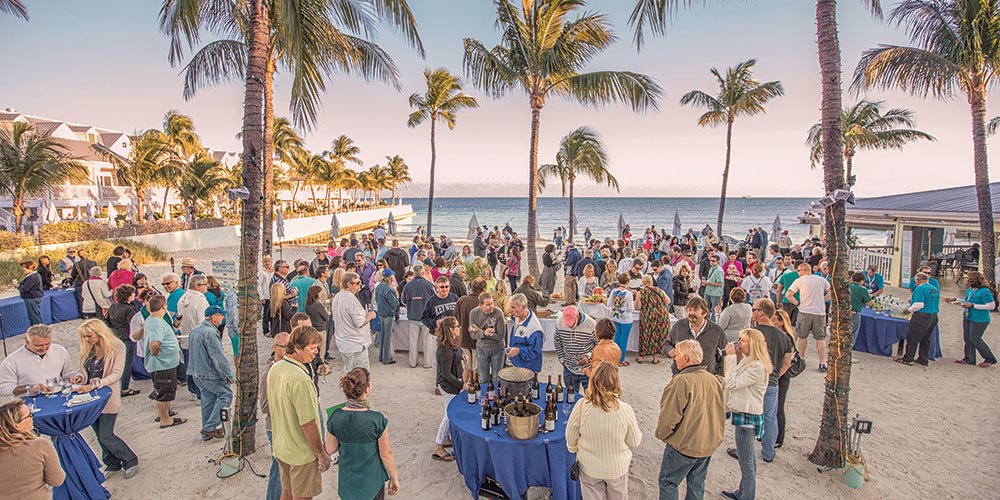 With a week's worth of events Key West Food & Wine Festival is more of a marathon than a sprint. It may seem a bit daunting to newcomers, but fear not: each event has been painstakingly put together to appeal to both those who casually drop the word "gastrique" into everyday conversation and those who limit their current culinary worldview to take-out and box wine. And with Key West busier than ever, the Key West Food & Wine Festival is sure to continue to grow exponentially in both size and popularity. So buy your tickets now before it's too late, and save us a seat at the table (preferably the one closest to the wine).
The Key West Food & Wine Festival runs from Sunday, January 26 to Sunday, February 2 and features multiple events daily.
For more information on the event visit www.keywestfoodandwinefestival.com.