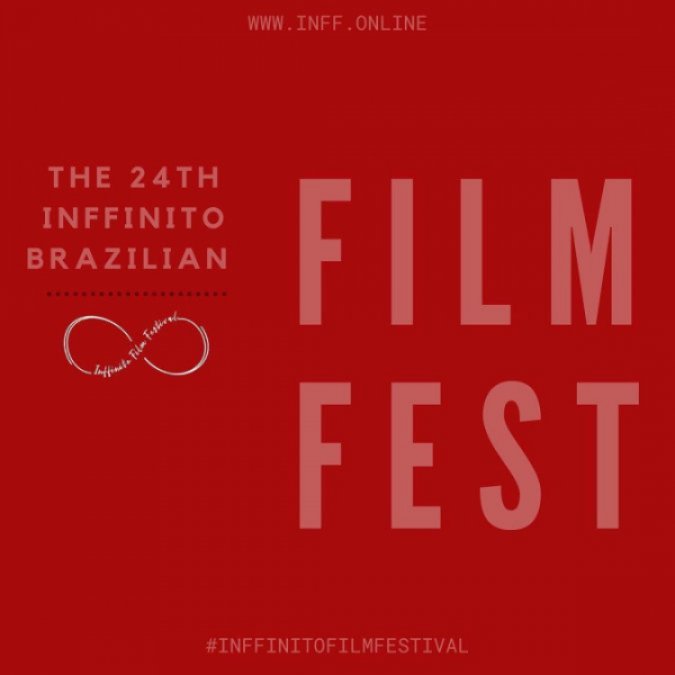 The Inffinito Brazilian Film Festival is back and for the first time ever, will stream more than 100 Brazilian productions in U.S. territories, from Puerto Rico to Alaska. This is the first time in the United States that audiences beyond Miami and New York will have access to the best films made recently in Brazil and explore the country's culture through the art of cinema from the comfort of their homes.
The program includes fiction and documentary feature films produced and released in 2019/2020, as well as short films, indigenous filmmakers productions, past festival winners and black films, all with English subtitles.
A pioneer in promoting Brazilian cinema all over the world, the Inffinito Brazilian Film Festival has been held for 24 consecutive years in cities such as Miami, New York, London, Vancouver, Rome, Milan, Frascati, Madrid, Barcelona, Montevideo, Buenos Aires and Bogotá. With a total of 84 festival editions, the circuit has shown more than 1000 films, connecting Brazilian audiovisual productions to an unbounded audience outside of Brazil.
This year, Inffinito is innovating by holding the Inffinito Brazilian Film Festival 2020 on the streaming platform www.inff.online, created exclusively by the company. Due to the Covid-19 pandemic, the outdoor screenings, a trademark of Inffinito festivals, will take place in Miami on September 26 in drive-in format, and in a park setting in New York on October 24 and 25 (location TBD), following all safety guidelines. Starting in November, after the festival, the platform www.inff.online will launch a catalog of Brazilian films available via VOD (video on demand) by monthly subscription in the U.S.
From September 28 to October 23, more than 100 films selected for the competitive screening, as well as hors concours titles will be available for American viewers, who will also be able to watch a special selection of films, including black films, indigenous films and movies by filmmaker Daniel Filho, Inffinito's honoree 2020. "By streaming our festivals, we are contributing to the safety of our audience, industry professionals, and our entire team, in addition to creating a new opportunity to broadcast our productions throughout the United States", says Adriana L. Dutra, director and founder of Inffinito, alongside Claudia Dutra and Viviane Spinelli.
The 2020 edition of the Inffinito Brazilian Film Festival at www.inff.online will be held in 11 virtual theaters with eight exhibition theaters, one theater for talk sessions with film directors, one masterclass theater, one live streaming theater, as well as parties and awards night on Inffinito's social networks. Tickets and full program are available at www.inff.online
24th INFFINITO BRAZILIAN FILM FESTIVAL 2020 FILM SELECTION
MOSTRA OUTDOOR MIAMI – NY
September 26
CINE DRIVE-IN at Dezerland Park Miami
6:00pm – starts the event with DJ Lupa and films selection announcements
7:30pm - screening of the film Abe, by Fernando Grostein Andrade
Dezerland Park - 14401 NE 19th Ave, North Miami, FL 33181
September 27
NORTH BEACH BANDSHELL - Miami Beach (event online)
7:00pm - starts the event with DJ Lupa, local band and films selection announcements
8:00pm - screening of documentary A Journey Thru Rio's Street Parade, by Adriana L. Dutra
COMPETITIVE SCREENINGS
FEATURE FILMS
Burning Night (BREVE MIRAGEM DE SOL), by Eryk Rocha
Death Inhabits at Night (A MORTE HABITA À NOITE), by Eduardo Motoró
Slits (FENDAS), by Carlos Segundo
Mercy (PIEDADE), by Cláudio Assis
O Juízo (O JUIZO), by Andrucha Waddington
Ophelia's death (VOU NADAR ATÉ VOCÊ), by Klaus Mitteldorf
Our Chidren (AOS NOSSOS FILHOS), by Maria de Medeiros
Pureza (PUREZA), by Renato Barbiere
Rodantes (RODANTES), by Leandro Lara
The Friendly Man (O HOMEM CORDIAL), by Iberê Carvalho
Three Summers (TRÊS VERÕES), by Sandra Kogut
Through Ernesto's Eyes (AOS OLHOS DE ERNESTO), by Ana Luiza Azevedo
COMPETITIVE SCREENINGS DOCUMENTARY
Adoniran: My Name is João Rubinato (ADORINAN, MEU NOME É JOAO RUBINATTO), by Pedro Soffer Serrano
Departure (PARTIDA), by Caco Ciocler
Dorival Caymmi, Black to Blue (DORIVANDO SARAVÁ, O PRETO QUE VIROU MAR), by Henrique Dantas
I Owe You a Letter About Brazil (FICO TE DEVENDO UMA CARTA SOBRE O BRASIL), by Carol Benjamim
Jair Rodrigues – Let Them Talk (JAIR RODRIGUES – DEIXA QUE DIGAM), by Rubens Rewald
Let it Burn (DIZ A ELA QUE ME VIU CHORAR), by Maíra Bühler
Samba is The Cousin of Jazz (SAMBA É PRIMO DO JAZZ), by Angela Zoé
Say My Name (DIGA MEU NOME), by Juliana Chagas Gouveia
Talking Heads (LUGAR DE FALA), by Felipe Nepomuceno
The Last Audition (A ÚLTIMA GRAVAÇÃO), by Célia Freitas and Isabel Cavalcanti
The Welles Raft (A JANGADA DE WELLES), by Firmino Holanda qnePetrus Cariry
With Open Eyes (DE OLHOS ABERTOS), by Charlotte Dafol
PANORAMA SCREENINGS
Carlota Joaquina, Princess of Brazil (CARLOTA JOAQUINA, PRINCESA DO BRASIL), by Carla Camurati
The Battle of Shangri-la (A BATALHA DE SHANGRI-LA), by Severino Neto and Rafael de Carvalho
Bad Honey (A COLMEIA), by Gilson Vargas
Liz's Wait (A ESPERA DE LIZ), by Bruno Torres
The Father's Shadow (A SOMBRA DO PAI), by Gabriela Amaral Almeida
Boni Bonita (BONI BONITA), by Daniel Barosa
Macho Man (CARLINHOS E CARLÃO), by Pedro Amorim
The Messenger of the Peace (Divaldo – O Mensageiro da Paz), by Clóvis Mello
Domingo (DOMINGO), by Clara Linhart and Fellipe Gamarano Barbosa
Tropical Fado (FADO TROPICAL), by Cavi Borges
Lament (LAMENTO), by Diego Lopes and Cláudio Bittencourt
My Mom is a Character 3 (MINHA MÃE É UMA PEÇA 3), by Susana Garcia
Us by Us (NÓIS POR NÓIS), by Aly Muritiba Jandir Santin
The Last Dinner (O BANQUETE), by Daniela Thomas
Second Half (SEGUNDO TEMPO), by RUBENS REWALD
Amazônia Groove (AMAZÔNIA GROOVE), by Bruno Murtinho
Amazônia Undercover (AMAZÔNIA SOCIEDADE ANÔNIMA), by Estevão Ciavatta
Axé Family (FAMÍLIA DE AXÉ), by Tetê Moraes and Rosane Hatab
DNA Abdelmassih (DNA ABDELMASSIH), by Luis Claudio Latgé
Foreing Soldier (SOLDADO ESTRANGEIRO), by José Joffily and Pedro Rossi
Landless (CHÃO), by Camila Freitas
Lovely Clownettes (ADORÁVEIS PALHAÇAS), by Ricardo Chreem
Seeds of Brazilian Music (SEMENTE DA MÚSICA BRASILEIRA), by Patrícia Terra
The Second Encounter (O SEGUNDO ENCONTRO), by Veronique Ballot
INDIGENOUS SCREENING: FEATURE FILMS
Ara Pyau - Guarani Spring (Ara Pyau – Primavera Guarani), by Carlos Eduardo Magalhães
My Blood is Red (MEU SANGUE É VERMELHO), by Graciela Guarani and Guilherme Bolliger
SHORT FILMS
Ãjãí: the headball game of the Myky and Manoki (Ãjãí: o jogo de cabeça dos Myky e Manoki), by Typju Myky and André Lopes
Messages from the Earth (mensagens da Terra), by Maria Pankararu
Our Soul Has no Color (Nossa Alma não tem cor), by Alexandre Pankararu
TEKO HAXY – Being imperfect (Teko Haxy – SENDO IMPERFEITO) by Patricia Ferreira Pará Yxapy and Sophia Pinheiro
The Spirits Just Understand Our Language (Os espíritos só entendem o nosso idioma), by Cileuza Jemjusi, Robert Tamuxi and Valdeilson Jolasi
The Word Became Flesh (O verbo se fez carne), by Ziel Karapotó
Until The End Of The World, (Até o fim do mundo), by Juma Gitirana Tapuya Marruá
Weaving Our Paths (Tecendo nossos caminhos), by Marta Tipuici, Cledson Kanunxi and Jackson Xinunxi
BLACK CINEMA SCREENING
Last Abolition (A Última Abolição), by Alice Gomes
Lost (A Ilha), by Glenda Nicácio and Ary Rosa
My Friend Fela (MEU AMIGO FELA), by Joel Zito Araújo
Restless (Sem Descanso), by Bernard Attal
Servitude (SERVIDÃO) by Renato Barbieri
Tranny Fag (BIXA TRAVESTI), by Kiko Goifman and Claudia Priscilla
PANORAMA SHORT FILMS
Amani's Veil (O Véu de Amani), by Daniela Marinho
Amnestia (Amnestia), by Susanna Lira
Angela (ANGELA), by Marília Nogueira
Borá (Borá), by Angelo Defanti
Charcoal (CARVÃO), by Miguel Góes and Victor Vasconcellos
Copacabana – Auschwitz (Copacabana – Auschwitz), by Jaiê Saavedra
Dela (Dela), by Bernard Attal
Folds (Dobras), by Cristian Borges, Pedro Nishi and Francisco Miguez
Hunter (Caçador), by Leonardo Sette
I Bleed (Sangro), by Tiago Minamisawa and Bruno H Castro
Lispector and I (LISPECTOR & EU), by Ricardo Chreem
Love at Twenty (Amor aos Vinte Anos), by Toti Loureiro and Felipe Poroger
Me, my Mom and Wallace (Eu, Minha Mãe e Wallace), by Eduardo Carvalho and Marcos Carvalho
Moms don't cry (Mãe não chora), by Carol Rodrigues and Vaneza Oliveira
Summer Ball (Baile), by Cíntia Dommit Bittar
The Hooligan Soul (Alma Bandida), by Marco Antônio Pereira
The King Crab (Caranguejo Rei), by Matheus Faria e Enock Carvalho
The Lareokotô Era (A Era de Lareokotô), by Rita Carelli
DANIEL FILHO SCREENING
Cazuza, by Walter Carvalho and Sandra Werneck
Chico Xavier, by Daniel Filho
Cousin Basílio, by Daniel Filho
If I Were You 2, by Daniel Filho
If I Were You, by Daniel Filho
O Casal, by Daniel Filho
Owner of the Story, by Daniel Filho
Story of Fausta, by Bruno Barreto
The Kiss, by Bruno Barreto
Time of Peace, by Daniel Filho