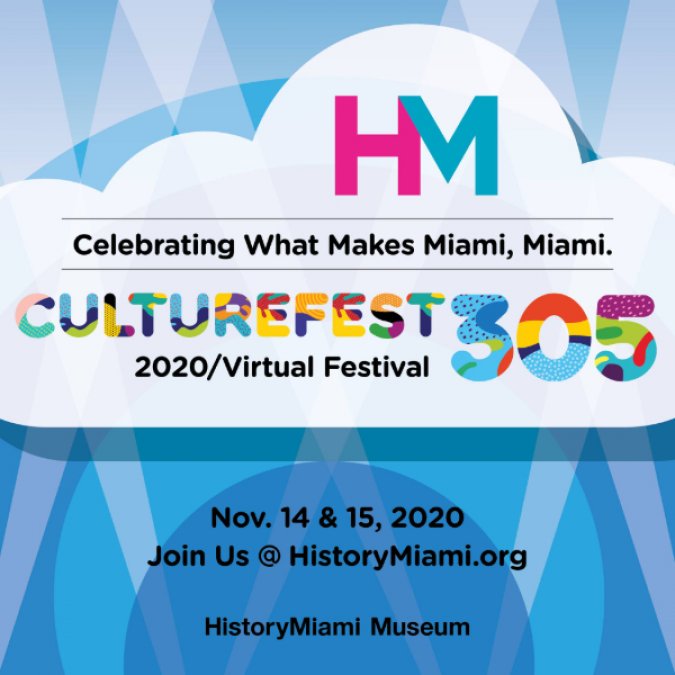 Celebrate life in the Magic City and the unique cultural practices that make Miami, Miami during the fourth annual CultureFest 305 November 14th through the 15th.
Join HistoryMiami Museum for two days of online performances, workshops, and demonstrations with some of the city's finest traditional artists, dancers, and musicians. The festival will be going DIGITAL this year, and the webpage features craft activities, videos, and much more. From Cuban fusion dance with Marisol Blanco to Haitian Kompa music with Gabel and tropical fruit farming with LNB Groves and Edible South Florida, this festival celebrates all that makes Miami the extraordinary, diverse, and vibrant city we love.
Schedule
Saturday:
10:30 – 11:00 - Storytelling: Fry Bread: A Native American Family Story featuring a demonstration by Melanie Turtle of Seminole Bird Clan Catering
1:00 – 2:00 - Workshop: Cuban fusion dance with Marisol Blanco
3:00 – 3:30 - Demonstration: Tropical fruit farming with LNB Grovestand and Edible South Florida 6:00 – 8:00 - Move Watch Party with O Cinema: Deep City: The Birth of the Miami Sound
Sunday:
10:30 – 11:00 - Storytelling Rene Has Two Last Names / Rene tiene dos apellidos
1:00 – 2:00 - Workshop: Japanese origami and calligraphy with Mieko Kubota
3:00 – 4:00 - Performance: Sephardic music and Latin American folk songs w/ Susana Behar
6:00 – 7:00 - Performance: Haitian kompa music with Gabel
ONGOING ACTIVITIES:
Artist Videos
Craft Activities
Sharing Your Miami Story
Books & Books Reading Lists
Edible South Florida Recipes
Yo Miami Coloring Pages
Coral City Camera
305 BEAST Box
To see more information, click here.