Tweet
Key West Botanical Garden Celebrates 85th Anniversary
The Key West Botanical Garden Celebrates it's 85th Anniversary! On February 23, 1936 the City of Key West officially opened the Key West Tropical Forest & Botanical Garden with J. Gerry Curtis, the Federal Emergency Relief Administration's Director of Beautification and Ralph Gunn, the architect, as hosts.
The creation of the Garden was a part of President Franklin D. Roosevelt's "New Deal" program which offered solutions to the country, the states, and to both rural and urban areas.
The City of Key West was officially declared insolvent and handed over administrative authority to the State of Florida on July 2nd, 1934. The devastating effects of the Great Depression had hit Paradise hard, with bank closures, loss of much of the cigar industry, the 1932 reduction of the Naval base, loss of much of the sponge beds to disease, and a drying up of the nascent winter tourism business as people everywhere no longer had disposable income to spend on vacation travel. The city's manufacturing establishments fell from 69 in 1919 to 26 in 1929, with the average number of wage earners in manufacturing declining from 2,313 in 1919 to 756 in 1929. More than half the population was on federal relief rolls.
Under the auspices of first FERA and then the WPA (the Work Projects Administration), citizens of Key West and the Keys were set to work on a variety of public improvement projects. In early August of 1934, FERA Director of Beautification J. Gerry Curtis announced that plans for a Botanical Garden, an Aquarium and a Museum in Key West were being considered. These sites would serve as a draw to entice tourists back to the city.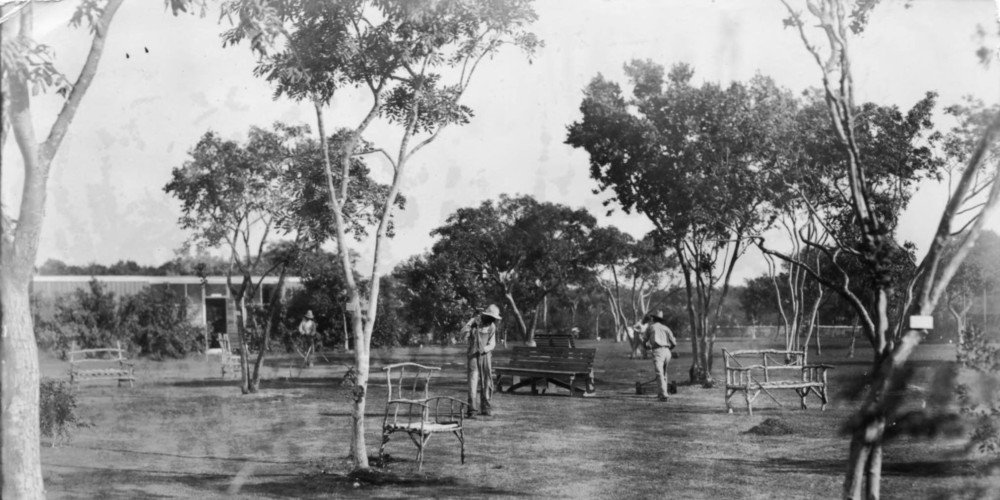 With plans developed by landscape architect Ralph Gunn, fifty acres on Stock Island were incorporated to receive over 7,000 plants of some 80 species. On December 10, 1934, the first plants were placed on site in a groundbreaking ceremony with Key West Mayor William H. Mallory presiding. An amphitheater, greenhouse, exhibits building, and entrance were under construction, as reported by the Key West Citizen newspaper on November 29, 1935.
The Garden was to showcase native and exotic foreign plants and trees which would flourish in the semi-tropical, frost-free climate of the Keys. Several flowering shrubs, along with a large African tree called the "Sausage Tree', (still standing in the Garden's parking area) were imported directly from South Africa. Twenty different varieties of rubber trees, including one native, were planted along with many species from South America and the West Indies. Two miles of pipeline were laid to provide irrigation water for the Garden. Mrs. William J. Phelan, member of the Key West Garden Club, directed the initial planting during these early years, establishing the model of the hardworking, dedicated volunteer which has been the hallmark of the Garden's staff throughout its existence.