By Daisy Cabrera
"We travel not to escape life, but for life not to escape us."
Yet traveling isn't just about the destination, it's also about the journey getting there. And exploring South Florida has never been easier and more comfortable than now. Since Brightline's launch last year, savvy passengers – locals and tourists – have relished in effortless express voyages across the counties. We're talking 30 minutes between locations! Gone are the days of dealing with aggressive drivers, highway congestion, burning gas, paying tolls, and circling for parking.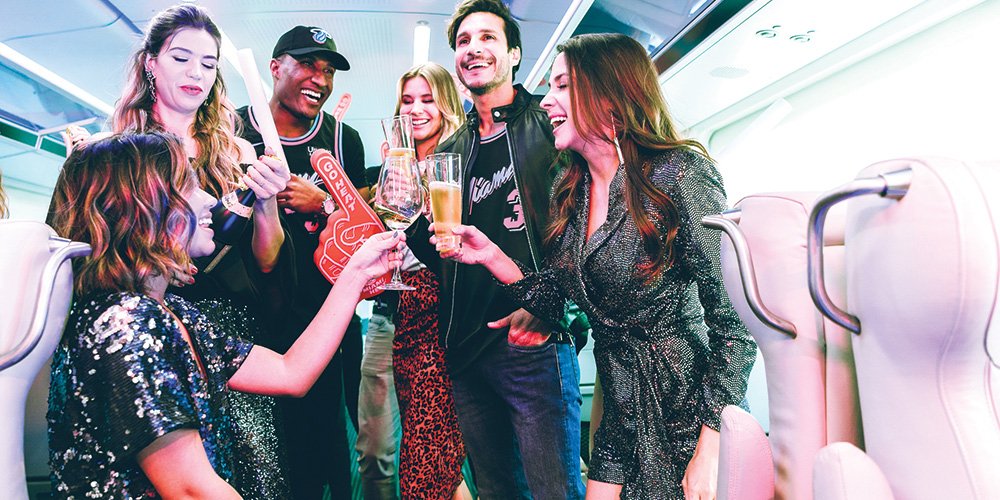 Centrally-located downtown stations are steps away from everything your heart desires: taking in exhibits at the NSU Art Museum, indulging in CityPlace's premiere shopping, rooting for the Miami Heat at the American Airlines Arena, top-notch dining on historic Clematis Street, discovering local artists during FATVillage's ArtWalk, and more – all in our tropical backyard.
"Traveling by train is safer, more reliable and more convenient than traveling by car. Groups can sit back, have a drink or snack on board and enjoy the ride without having to deal with traffic," said Ali Soule, Brightline's Director of Public Affairs and Media Relations.
Brightline is about connecting you to what matters, whether it's a new art gallery in Miami, brunch in West Palm Beach or dinner in Fort Lauderdale.
Book all-inclusive Select seating for revered first class amenities. From the moment you arrive at any Brightline station, you're treated to free parking in the nearby garage. (Rideshare partner Lyft also offers discounted rates to/from stations.)
Enter the airy, fragrant station and scan your digital boarding pass using Brightline's mobile app. Then head to the premium lounge where it's VIP all the way: free Wi-Fi, power outlets and USB ports throughout the seating, plenty of magazines and newspapers, and a host of business services – private conference rooms, office supplies, and wireless printers and scanners at your disposal.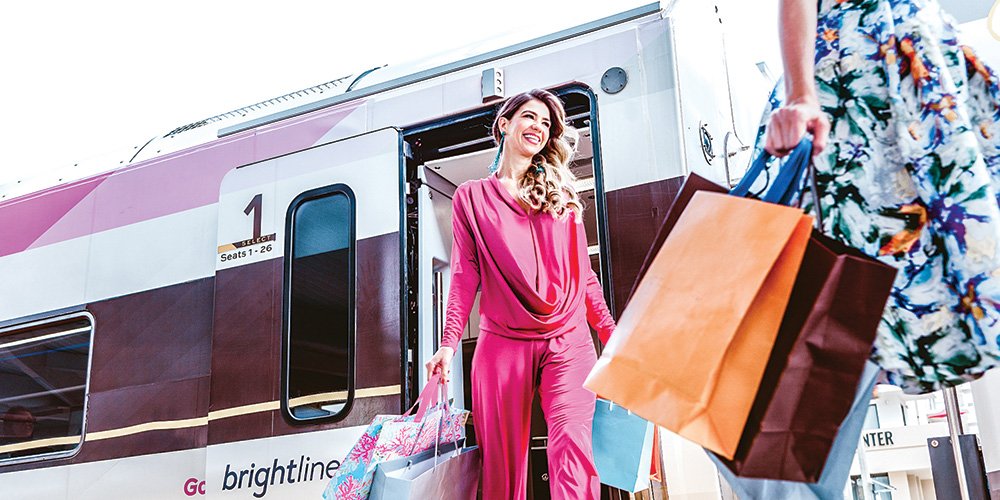 Want more high-end hospitality? Check out the premium food & beverage spread that awaits you. Three words: curated, complimentary, and unlimited!
Throughout the day, guests are offered assorted teas, soft drinks, bottles of water, and delicious coffee. Between opening until 11 a.m., indulge in all things freshness: an abundance of fruit, baked goods, orange juice, and yogurt parfaits. Between 11 a.m. and 3 p.m., it's all about seasonal healthy offerings with fine wine and bubbly champagne to boot. After 3 p.m., the overflowing display of imported Italian charcuterie, cheese and freshly baked bread is not only impressive - it's paired with wine, beer and champagne. #RoséAllDay
All aboard with priority boarding! Sit back, and enjoy being whisked away on this state-of-the-art, aesthetically stunning train.
Talk about modern amenities galore! Full wheelchair accessibility. Leather seats, with armrests, that are wide and recline. Scented, aromatherapy hand towels are oh-so luxurious. Magazines and newspapers for your reading pleasure while on the quiet escape.
"Brightline is the best way to travel, whether it's business or leisure. Our train sets are equipped with multiple power outlets and strong Wi-Fi, allowing travelers to catch up on work or a movie," Soule shared.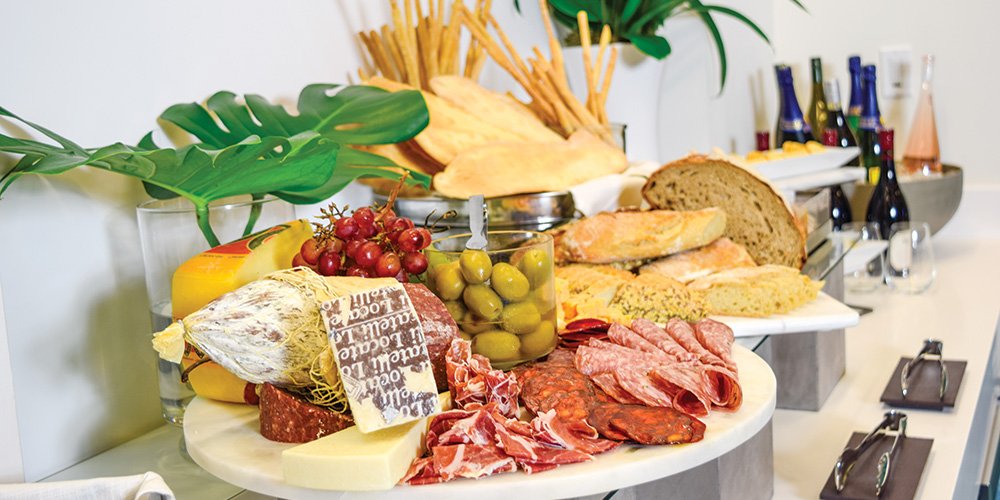 Yes, you read that right. Stay fully charged and connected with free Wi-Fi and power outlets/USB ports at every seat. Large tray tables are perfect for working on a laptop, streaming movies or playing video games. Super-sized, hands-free restrooms with built-in changing areas also keep parents in mind.
Soule added, "With group seating and picturesque views from every window, families can connect while traveling to a fun outing." When reserving your seat - bring your pet, stroller, suitcase, golf clubs and even bicycle along for the ride.
The onboard eats, you guessed it, are just as polished: fresh pastries and fruit cups in the morning, sweet and salty items all day long (i.e. gummy bears, cookies, energy bars, gourmet chips) and as of the afternoon on - bento-style boxes filled with savory charcuterie, cheese, hummus, dried fruit, nuts, crackers, olives, etc. Naturally, there's plenty of prosecco, wine, beers, coffee, soft drinks and bottles of water.
To reserve your seating on Brightline, visit www.gobrightline.com