Tweet
Visual arts meets culinary arts
Fellow culture vultures, rejoice as it's our favorite time of year! Welcome back Miami Art Week with your celebrated art fairs peppered throughout our backyard, hundreds of esteemed galleries representing every corner of the globe, and contemporary and emerging artists showcasing their very best works. We are here for it! The annual arts & culture fête comes alive with cutting edge installations, paintings, drawings, sketches, photography, sculptures, digital activations and so much more. And, thousands of art lovers, meticulous collectors, media critics, museum curators, private buyers, VIPs, socialites and A-list celebrities flock to the festivities. After consuming all that divine art, it's time to consume some divine grub!
By Daisy Cabrera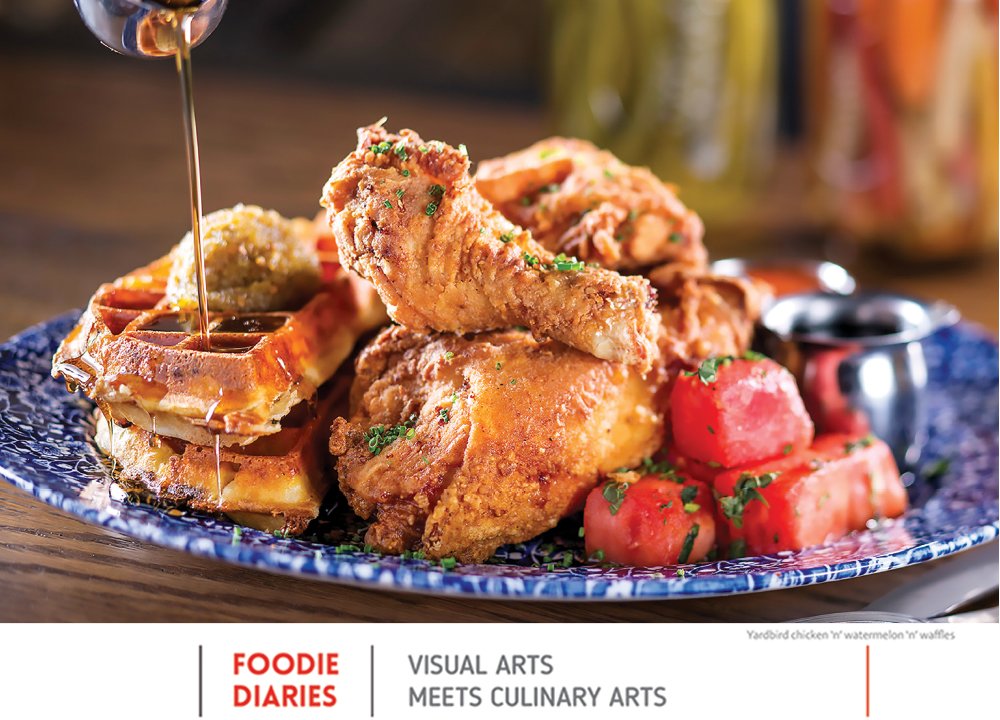 Yardbird Southern Table & Bar
Steps away from the revered Art Basel and Design Miami at the renovated Miami Beach Convention Center sits the equally revered Yardbird Southern Table & Bar. Hello, darlin'! Here, Southern cuisine is generously served up with Southern hospitality. Nothing warms the heart like some old fashioned, farm-to-table cooking and Yardbird's got plenty of good fixings. Think lip-smacking brisket, oh-so buttery biscuits and homemade BBQ sauce that will make you "wanna slap your momma!" – as Southerns say.
Time to loosen the pants as we start with an all-time classic staple, the delightful deviled eggs. This perfectly perched, fully loaded specialty dish is a glorious thing of beauty: creamy, whipped up to the heavens and served chill. The smoked trout roe topping lends the ideal salty note, ya'll!
Next up, the traditional (and super juicy) fried green tomato meets the beloved BLT. With its savory crunch, this plate arrives with mouth-watering house-smoked pork belly, tangy pimento cheese, smoky tomato jam, bitter frisée and zesty lemon vinagrette. Yes, ma'am! Now we were completely charmed by Yardbird's savory fried chicken and smoked brisket biscuits. Crispy, golden and scrumptious as all get out! You'll get your hands dirty with all this finger-licking loveliness.
The seared shrimp served on a bed of earthy, Nora Mill grits is flawless. It's plated with roasted tomatoes, yummy Virginia ham, red onions, and chicken jus. Melt-in-your-mouth butter lettuce salad is a refreshing welcome - tossed with char-grilled mango cubes, smoked pecans, grape tomatoes and red onions with a healthy drizzle of benne seed dressing. Meanwhile, the mountain of flavorful St. Louis style pork ribs reign supreme. Hickory smoked with house-made BBQ sauce, these fatty and robust gems fall right off the bone and into your mouth. Good lord!
Be still our hearts as the show-stopping chicken 'n' watermelon 'n' waffles lands at the table. First off, the Vermont sharp cheddar cheese waffles (on their own) deserve a standing ovation. The fried chicken, coated in a well-seasoned batter, is beyond moist while the chilled spiced watermelon completes this über-textured experience. Sho nuff, pour some of that honey hot sauce and bourbon maple syrup all over this.We reckon there ain't nothing better to complete this soul-stirring artful dine than some crowd-pleasing deep-fried oreos! Doughy, sweet, crumbly, warm oreo cookies - covered in chocolate rice krispy goodness - sit on top of oreo ice cream. Plumb deliciousness! Yardbird Southern Table & Bar. 1600 Lenox Avenue, Miami Beach, FL 33139. Reservations: (305) 538-5220.

Gianni's
South Beach certainly has no shortage of dynamic pop-up satellite fairs as Scope Miami Beach; Aqua Art Miami; Ink Miami Art Fair; and Untitled, ART Miami Beach are all front and center. Lucky for you – the trattoria-style Gianni's at the Villa Casa Casuarina inside the former Versace Mansion is walking distance to all of these!
Enveloped in statuesque palm trees with a glistening mosaic pool made of 24-karat gold as a focal point, Gianni's inviting ambiance presents swooping romance and Hollywood glamour all at once. Expect authentic and upscale Italian and Mediterranean culinary works of art created by the highly regarded Italian Executive Chef, Valter Mancini. Buon appetito!
We start with the exuberant tuna tartar – rich, velvety chunks of fresh bluefin tuna that just melt in your mouth. It's followed by another delicate seafood dish, thinly sliced octopus carpaccio mixed with cherry tomatoes and potato cubes with a light lemon vinaigrette. Match this freshness with a fresh Sauvignon Blanc bursting of decadent and sweet tropical fruit notes. Ah, grazie!
The lobster catalana makes a special appearance with incredibly tender and buttery morsels of poached Maine lobster mixed in a soirée of cherry tomatoes, red onions and potato cubes. You'll want to pair this stunner with a rich, well-balanced Chardonnay. The drooling continues as the next showpiece is the absolutely magnificent truffle gnocchi. Served in a bowl, home-made potato gnocchi is covered in the most exquisite white truffle sauce, pecorino romano with freshly shaved truffle. We are still tasting this!
When the prized whole grilled branzino arrives, you'll almost not want to devour this fleshy gorgeousness. Mediterranean sea bass, expertly seasoned with herbs and sea salt, is accompanied by a medley of tri-colored cauliflower. Perfection, truly. And, as if we weren't already truly and madly in love, endless words come to mind to describe the iconic masterpiece that is Gianni's succulent prime filet mignon: tender, aged, elegant, juicy, flavorful, vibrant, textured, indulgence. A Pinot Noir, with lavish red fruit aromas and finish, plays well with the richness of this plate.
Lastly, leave room for the triple chocolate temptation comprised of three fine Belgian chocolates slathered in a red mirror glaze with a golden goddess Medusa medallion (Gianni Versace's symbolic logo) on top. It is a symphony on the palate!
Gianni's. 1116 Ocean Drive, Miami Beach, FL 33139. Reservations: (786) 485-2200.