By Daisy Cabrera
It's five o'clock somewhere, right? And, what better way to beat the scorching tropical heat than with a refreshing rum cocktail!
From India, Japan, Mozambique and Australia to France, Spain, Denmark and Germany - rum is made around the world in more countries that we can count. As the first branded spirit ever made, the top-selling rums hail from across the Caribbean and Latin America regions. Puerto Rico leads the way, producing over 70 percent of rums sold in the U.S.
July 21 would have been Ernest Hemingway's 120th birthday. The great writer was a big lover of mojitos, and rum in general. In fact, a Cuban bartender created the "Papa Doble" drink in his honor, which Hemingway referred to as a "Double Frozen Daiquiri" and famously wrote, "This frozen daiquiri, so well beaten as it is, looks like the sea where the wave falls away from the bow of a ship when she is doing thirty knots."
In his honor, and in celebration of National Rum Day on August 16, we gathered up some hand-crafted cocktail recipes from beloved Latin restaurants for your enjoyment.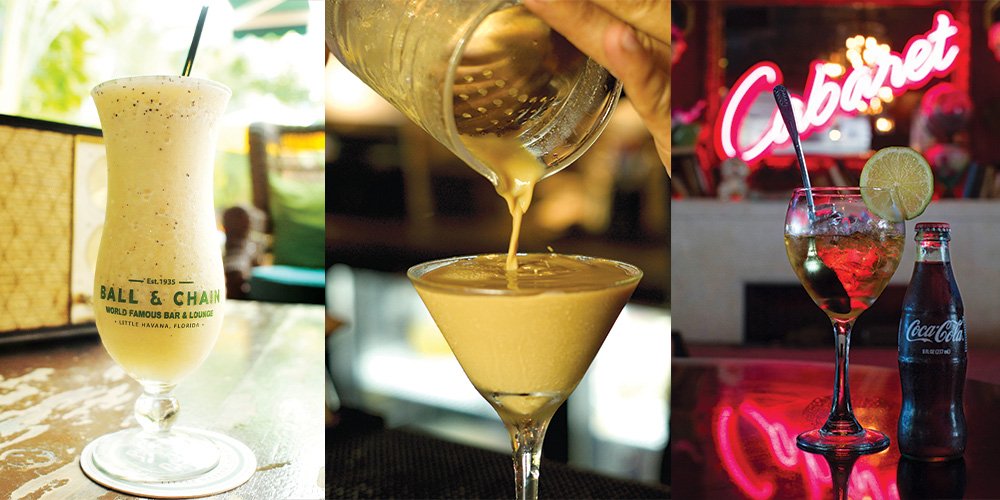 Moreno's Cuba: Grand Havana Cocktail
Tucked away in South Beach, vintage Miami meets old Havana at Moreno's Cuba – where they serve up seriously delicious dishes! Get ready for one of their best rum drinks that perfectly encapsulates our local Latin flavors, the "Grand Havana Cocktail."
• 1 1/2 oz Miami Club Cuban Coffee Rum Liqueur
• 1 shot Grand Havana Cuban Style Espresso
• 1 oz Baileys Original Irish Cream
• Garnish: Coffee beans
Ball & Chain: Bananita Daiquiri
Little Havana's Ball & Chain is well-known for their fabulous live music, flavorful bites, and plenty of creative cocktails. Here's a delightful "Bananita Daiquiri" sure to whet your whistle!
• 1.5 oz Bacardi Rum
• 4.5 oz Banana Purée
• .5 oz Créme de Banane liqueur
• .5 oz Fresh lime juice
• .5 oz Simple syrup
• 3 Coffee beans
• Garnish: Banana slice with skin on
Havana 1957: Cuba Libre
With a handful of locations around town, Havana 1957 is a go-to for traditional Cuban cuisine, with an equally authentic drink menu! Ladies and gents, we present their timeless "Cuba Libre."
• 2 oz Bacardi Superior Rum
• 1 glass bottle of Coca-Cola
• Garnish: Lime wheel and spoon