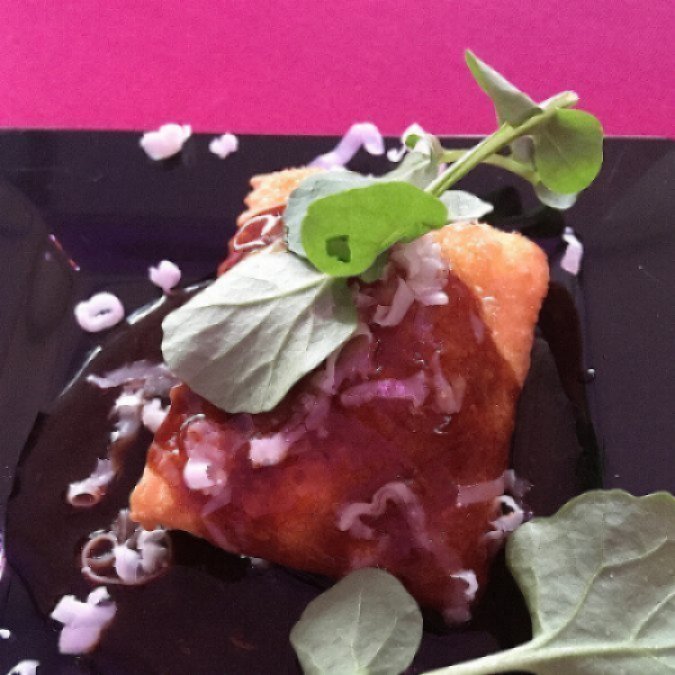 By: Daisy Cabrera
On Feb. 19 - 23, the 19th annual South Beach Wine & Food Festival (SOBEWFF) presented a glorious culinary soirée bringing together foodies, chefs, sommeliers, wine lovers, restaurants, wineries, spirit producers, media, critics, socialites, influencers and celebrities.
While feasting and frolicking, SOBEWFF attendees also supported a good cause. Staying true to theme, "EAT. DRINK. EDUCATE." - all proceeds benefit Florida International University (FIU)'s Chaplin School of Hospitality & Tourism Management. With founder Lee Brian Schrager at the helm, the festival has been enjoyed more than 65,000 guests every year while raising more than $30 million to date.
There were over 100 fabulous festivities to devour (including several priced under $100!) but let's dig in some of the highlights!
On Feb. 20, two Italian powerhouses - Giada De Laurentiis and Dario Cecchini hosted "Barilla's Italian Bites on the Beach" under the big tent pitched on the sandy beach. Attendees enjoyed a plentitude of authentic food specialties hailing from across Italy, including wines, cocktails, beers and more.
De Laurentiis' lengthy list of accomplishments includes, in short: world-famous celebrity chef and restauranteur, Emmy Award winning Food Network TV star, and NYT best-selling cookbook author. The internationally known butcher, Dario Cecchini comes from many generations of butchers – over 250 years to be exact.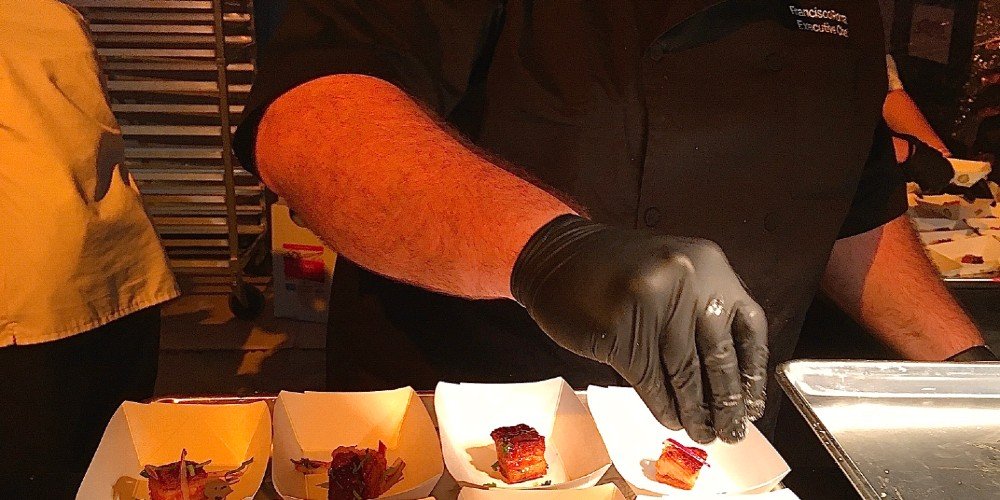 Mangia! A few absolute mouth-watering bites that we're still salivating over:
Giada De Laurentiis (Giada and Pronto in Las Vegas, GDL in Baltimore) - grilled lamb chops with mint and pistachio salsa verde
Sergio Sigala (Cecconi's, Miami Beach) - potato and spinach gnocchi verdi with sautéed mushrooms and asiago cheese fonduta
Lee Wolen (Boka Restaurant, Chicago) - gnochetti served with porcini bolognese, fried garlic and pecorino cheese
Alfred Portale (Portale Restaurant, New York) - branzino crudo with calabrian chili prepared with Sorrento lemon and olio verde
Dan Richer (Razza, Jersey City) - fire roasted polpette al forno in California tomato sauce and ricotta cheese
Alex Hong (Sorrel Restaurant, San Francisco) - tender gnudi dumplings served in whey, bottarga and black truffle
Mike Brewer (Copper Vine, New Orleans) - homemade gnocchi tossed in citrus cream, jumpo lump Louisana blue crab meat and micro mint
Anthony Lombardo (SheWolf Pastificio & Bar, Detroit) - grilled polpo all'Agrigentina, charred eggplant and pistachio dukka
Next up, the culinary maestro Michael Schwartz hosted "Sliced: A Genuine Pizza Party" on Feb. 21. Located in the Design District's open air Jungle Plaza, this was SOBEWFF's inaugural pizza party. And, boy was it a hit!
Pizza might just be the world's greatest food (everyone loves pizza!) and with ten gas and wood-burning pizza ovens all going at once - guests consumed endless bites of creative and delectable pies. Schwartz even graciously gifted and signed his cookbook, "Genuine Pizza: Better Pizza at Home."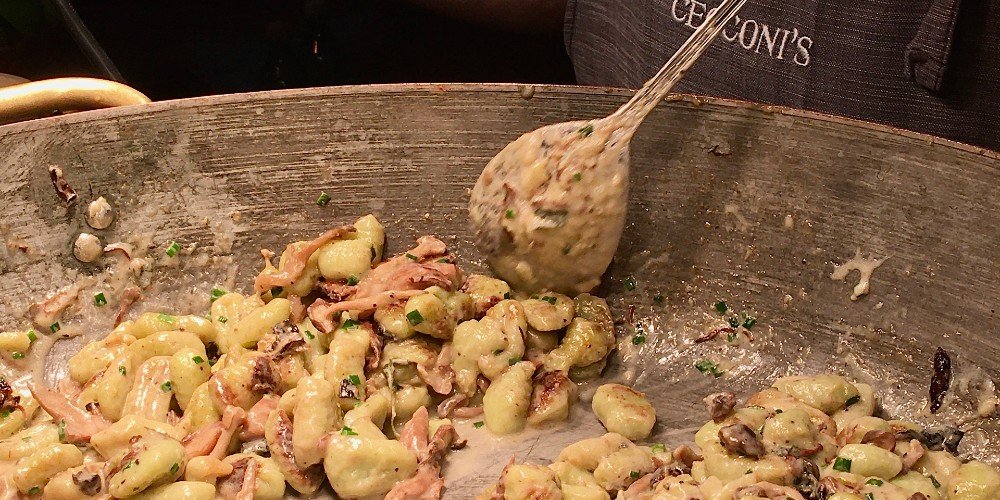 A big shout-out to these chefs serving up scrumptious slices of heaven:
Justin Smillie (Upland, Miami Beach) - fromage blanc, stracciatella, herbs and garlic oil
Jim Lahey (Sullivan Street Bakery, Miami) - fresh corn pizza with tomato, greens and herbs chili
Tony D'Aiuto (LBK, Brooklyn) - San Marzano tomatoes, fresh mozzarella, fresh ricotta, speck and truffle pâté
Matthew Hyland (Emmy Squared, Brooklyn) - Detroit style Margherita square pizza with tomato sauce and burrata
Dan Richer (Razza, Jersey City) - pepperoni pizza with tomato sauce, fresh mozzarella and garlic
As the indie rock band, "The Hails" performed live, there was plenty of beer, soft drinks and cocktails were on hand. But, the perfect partner for pizza is wine and lucky for us - Danzante served up bubbly prosecco and Tuscan red! Cheers!
The renown TV personality and food expert, Adam Richman hosted "Sips & Dips" on Feb. 22 at 1 Hotel South Beach. A variety of delectable appetizers were served up, Richman was meeting and greeting, and there was plenty of dipping going on much to our delight!
Here are some of our drool-worthy faves:
Adam Richman – beer stock infused cauliflower whipped with garlic, oil, spices, anchovies, and Chimay sauce
Stephanie Vitori (Cheeseburger Baby, Miami Beach) - classic Vidalia onion rings marinated in American lager and coated and deep-fried in house made batter with 1505 sauce
Jaime Pesaque (Novecento and Suviche, Doral) - steak empanadas with shredded ribeye with chimichurri aioli and charred shishito peppers with togarashi aioli and cilantro cream
Andrea Rainis (The Drawing Room, Miami Beach) - tempura cauliflower wings with buffalo sauce and blue cheese
Rosemary Diaz (Xochimex Cantina Grill, Miami) - shredded pork carnitas nachos topped with melted queso and drizzled with guava barbecue sauce
Daniel Levine (Dasher & Crank, Miami) - frosting ice cream with homemade cookie coins for dunking AKA dunkaroos
Joseph Bonavita Jr. (STK Miami Beach) – A5 Wagyu empanadas with roasted poblano crema
Complete with live art, all the dipping met lots of sipping with Avissi prosecco and Bieler Cuvee Sabine rosé flowing, and Roca Patron's old fashions and wild berry mojitos pouring.
Last, but certainly not least, the entertaining Andrew Zimmern hosted "BACARDI's Beach Carnival" on Feb. 23 and closed out the beach tent festivities. Talk about a Sunday Funday!
The celebrity chef, four-time James Beard Award-winner, TV and radio rock star, restaurateur, and food critic came to PLAY – and the carnival-themed attraction was a merryment of fantastic exuberance! We're talking ping-pong, juggling, dart-throwing, henna tattoos, caricature art, lovely mimes and acrobats, fortune-telling, beach balls, high strikers, cotton candy, oversized Jenga, fair game booths galore… the works!
We're still savoring the locally-based deliciousness:
Bill Hansen Luxury Catering - pulled lobster salad layered with liquid nitro shattered bacon lychee foam and house dried local tomatoes
Chi Fa - Chi Fa fries with homemade chorizo, pepper aioli, queso fresco, roasted potatoes
Dos Croquetas - buffalo crack chicken croqueta slider with Dos' ranch sauce and potato chip crumble
The Social Club - short rib ravioli Cab glace, upland cress and midnight moon cheese
Houmei Fort Lauderdale - crispy chicken bao'wich sliders with crispy chicken thigh, Korean buffalo sauce, homemade pickles and Mama Mei's steamed bun
Prime One Twelve - fried Oreos
Mandrake - cured and slow cooked pork belly with sweet soy sauce and green papaya acharar relish
Lido Bayside Grill - crab, snow peas, cucumber, chili and vinaigrette
Wynwood Kitchen & Bar - croquettas with pecorino, Crimini mushroom and fresh truffles
Love 'N Gyros – fluffy hand stretched pita, lamb blend gyros garnished with chopped tomato, onion and parsley topped with a drizzle of homemade Tzatziki
All the fun and food paired perfectly with fabulous cocktails! It was GAME ON as BACARDI offered up unlimited crafted concoctions blended with Bombay Sapphire, Tequila Cazadores, Dewar's, D'ussé, Grey Goose and Patrón.
Fellow foodies rejoice as SOBEWFF returns Feb. 24-28, 2021 in celebration of its 20th anniversary! To learn more, visit https://sobewff.org/