Tweet
FOODIE DIARIES: La Placita
By Daisy Cabrera
La Placita is soulful food that feeds your soul
At first glance, you're drawn to La Placita's enormous mural by Puerto Rican artist Héctor Collazo – the island's flag covering the corner building's façade. The eatery's décor and walls burst with bright colors, lush tropical plants take up every corner of the space, an adorable onsite marketplace sells everything from coffee and canned ham to rice and cookies, festive tunes by Marc Anthony and Héctor Lavoe fill the air with vibrant music, and you'll even hear the tunes of a symbolic coquí (Puerto Rico's native tiny frogs) in the bathrooms.
Co-owned by Executive Chef José Mendín and big screen, theater and TV actor Julián Gil, a trip to this MiMo District gem feels like a trip to Puerto Rico minus the airfare. Mendín is a culinary maestro (and five-time James Beard Award semifinalist) who moved to Miami from Puerto Rico over two decades ago. The well-known Gil was born in Argentina and raised in Puerto Rico.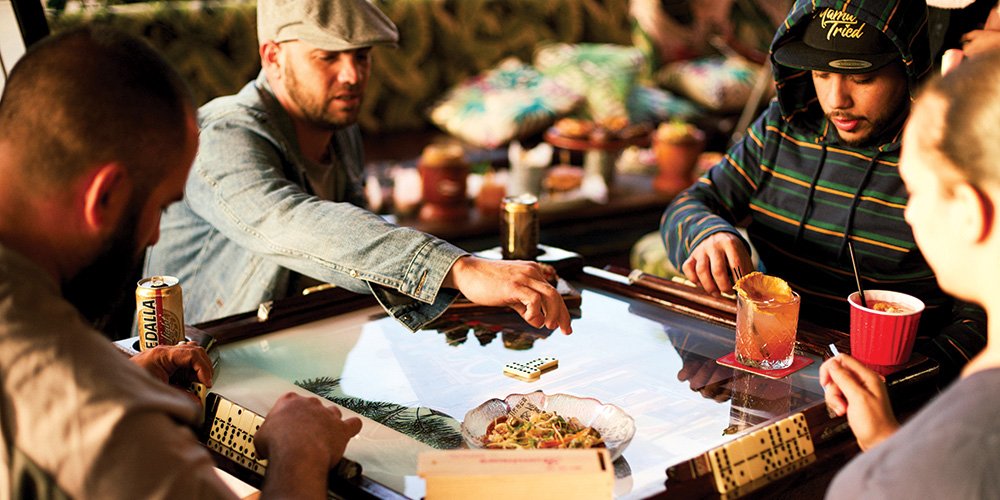 Mendín described the beloved restaurant as "a place for people to meet up, drink good drinks, eat good food, and have a good time…" while Gil shared they "are both committed to elevating the presence of Puerto Rican culture, promoting our gastronomy and unifying the diaspora."
Named after San Juan's Plaza del Mercado de Santurce AKA "La Placita" to locals, Boricua comfort food is the true superstar of this here show. But, before digging into the deliciously crafted food, wet your whistle with deliciously crafted cocktails. ¡Ay bendito!
Served up in a super cute cup with words like ¡WEPA! written all over it - the refreshing, intense and smooth MaMa Yak is made up of silver rum, dark rum flavored with pineapple, passion fruit reduction, lime, and bitters. The Guava-té Mule arrives at the table in a terracotta clay pot. It's La Placita's unique take on a traditional Moscow Mule but with much more flavor – vodka, guava/ginger, lime, soda, tea bitters, and a sprinkle of nutmeg on top. Now the Anibal "Secret Punch" is a big-time party in a red party cup. This is a whole lot of sweet and sour drink including vodka, guanábana fruit pulp, pomegranate, tangerine, and lemon. Cheers!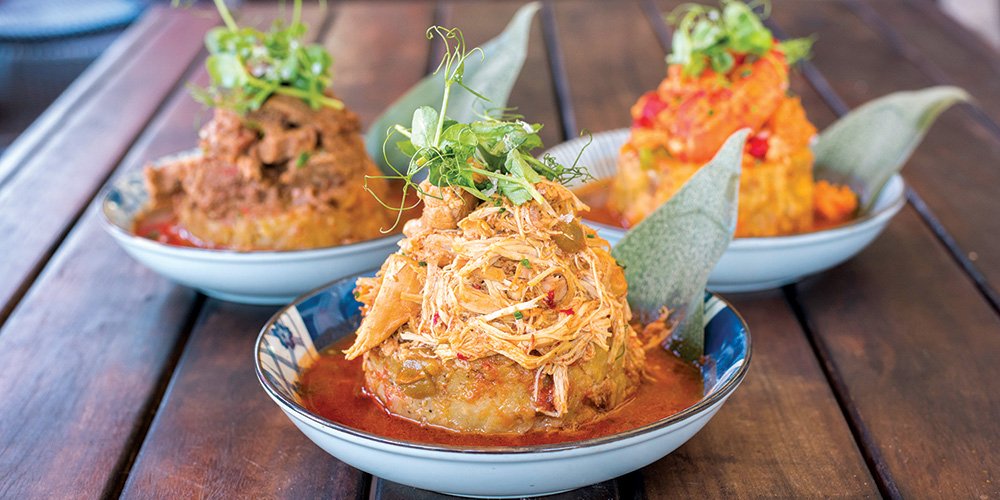 Hungry yet? Open up your appetite with inspired sharing plates galore. The queso frito is chunks of salty white cheese perfectly deep fried to a crisp and sided with sweet guayaba sauce. The glistening croquetas de fricasé de pollo with garlic aioli are simply mouth-watering. Plenty more golden cuchifritos (all beautifully plated) to devour from the menu, including alcapurria topped with juicy short rib and sweet corn fritters with a side of cheese foam. And, the delectable Puerto Rican rice and stewed beans, a sofrito-forward staple that arrives in a cast aluminum pot with marinated grilled pork, is lip-smacking. YUM!
Then there's the crown jewel of Puerto Rico's famous cuisine – the belly-filling mofongo – a heaping of mashed green plantains that is original to the island. We recommend the mofongo experience which offers a generous sampling of mofongo served in a wood mortar, and is accompanied by diverse and equally scrumptious toppings. Let's go!
The moist, shredded ropa vieja is truly divine. Tasty Loiza style crab stew is hearty with a slightly sweet touch. The elegant garlic shrimp is expertly seasoned, the fried chunks of pork shoulder are oh-so tender and the braised chicken stew is next level delish. Pour chicken broth all over each of these!
Always save room for dessert, always. The rich coconut dessert pudding is smooth as butter with a slight crunch of gigantic coconut shavings, and the time-honored creamy guava and cheese flan tastes like Christmas time year-round.
La Placita comes alive during "Dominoes Night" on Wednesdays from 7pm-11pm. Each week, Chef Mendín and his team battle it out with a different local business. The fun time continues with drink specials, and the best part is that anyone can jump in and play for free!
Enjoy a daily happy hour from 4pm-7pm (expect Mondays/Tuesdays) and weekend brunch "Bruncheo" until 5pm. With onsite parking, indoor and outdoor seating, house-rolled cigars, a fully stacked bar, and live DJ on weekend nights – this is a tropical vacation right in our backyard.
La Placita.
6789 Biscayne Blvd, Miami, FL 33138
Reservations: (305) 400-8173