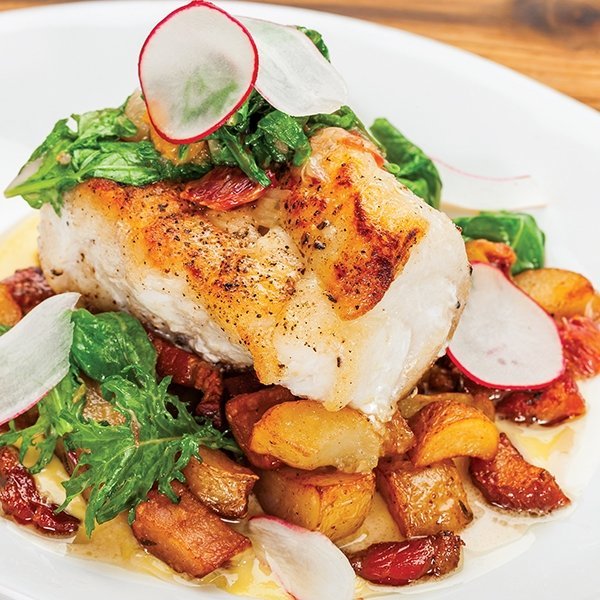 ABOUT Burlock Coast
Located at the posh Ritz-Carlton and just steps away from Fort Lauderdale beach, Burlock Coast definitely has a unique vibe that immediately drew us in. Think chic industrial marketplace meets understated elegance and you get the idea. The tables are wood, sans tablecloths, adding to the atmosphere. Once seated, we were awed by the stunning views of the Atlantic, which set the perfect mood for our dining experience. Aside from the main dining area, there is also a private dining space that can be reserved for a perfect romantic interlude. There's also a bar that is ideal for Happy Hour fun. Glancing at the menu, we were impressed that Chef de Cuisine Gavin Pera draws heavily from local resources, tapping into the region's bounty, from fruits and vegetables to fresh fish and farm-raised meats. And not only was the staff extremely friendly, they were also exceptionally knowledgeable about the menu, which was perfectly balanced between land and sea selections. We couldn't wait to dive in!
What We Drank
Hawai'ian Old Fashioned
What better way to kick-off our Burlock Coast experience than with this fabulous concoction of Koloa Kaua'i Dark Rum, Cointreau, Coconut Water, and Chosen Berry Ice? As the sphere of ice in the glass melts, the drink undergoes a delish, flavorful metamorphosis that has to be tasted to be believed!
Snacks
Squash Blossoms
Comprised of goat cheese and Florida honey, this tasty appetizer is wrapped in perfectly textured beignet casing, which definitely whet our appetites for the goodness to follow.
Raw Bar
1/2 Dozen Oysters
If you love oysters, you'll adore these flavorful pearls. The accompanying Citrus Champagne Mignonette added to the succulent quality of this dish, and you can choose between East Coast and West Coast oysters. Let's just say we're bi-coastal! There's also a toothpaste-like tube of aioli sauce that's provided for that extra kick.
Shares
Heirloom Tomatoes
Featuring pealed and multi-colored tomatoes, we thoroughly enjoyed this mix of arugula, cheese curd and cured pork loin shavings. Definitely an "heirloom" we treasured with every bite.
Fried Oysters
You would have thought we'd had our fill of oysters by now—think again! This mouth-watering combo of fried oysters, pickled peppers, chorizo, and remoulade really hit the spot. We had to pace our selves to save room for all the delights to come.
Seared Tuna Nicoise
OMG. You haven't had tuna like this. Served with frisee, market beans, quail eggs, and confit potato, it's perfectly seasoned with sea salt to maximize taste. We just couldn't get enough.
Sea
Snapper
We love seafood, and this selection definitely snapped us to attention. It's complemented by red quinoa, market squash, and a fab tomato vinaigrette guaranteed to satisfy.
Black Grouper
Our group consensus was that this grouper was amazing! And the accompanying cannellini bean, kale, olives, tomato, and artichoke were just icing on the proverbial cake.
Lobster Pasta
When it comes to lobster, we can be pretty picky. All we can say in this case is, "YUM!" We relished every mouthful of this terrif combo of pappardelle, tomato, spinach, asparagus and bisque.
Land
Palmetto Creek Pork Belly
There's nothing like tender, juicy, pork, and this dish does not disappoint. The accompanying black truffle grits, baby kale, and malbec are an added treat that really complete this heavenly experience.
Lake Meadow Half Chicken
Served with peas and carrots, bacon, petite chard, and cabernet, we thought this half chicken was chockfull of flavor! The next time anyone says something "tastes like chicken," tell them not all chicken is created equal and recommend this dish!
NY Steak
Cooked to perfection and delivering a fantastic, charred, smoky flavor, this steak comes with roasted spring vegetables, which are the perfect complement to this tender and juicy selection.
Dessert
Key Lime Pie for Many
Yes, we were wonderfully full at this point. But who could resist this delectable treat with graham crust, fresh whipped cream, toasted meringue crunch, and candy lime peel? Not us!
BC Donuts
At this point, we had cheated on our diets so much, there was nothing to lose, and everything to gain. So we embraced the cinnamon sugar, white chocolate banana rum sauce, and praline spread of this donut decadence. Mmm.
The Ritz-Carlton, Fort Lauderdale - 1 North Fort Lauderdale Beach Boulevard
954.302.6460