Tweet
Foodie Diaries - Artisan Beach House Waterfront dining at its finest
Miami's gorgeous year-round weather calls for top-notch outdoor dining! There is something so tranquil about enjoying a scrumptious meal on the edge of the water, watching the ripples, feeling the fresh breeze, and seeing the sky turn a magnificent spectrum of colors.
The upscale Artisan Beach House offers up a plethora of delicious dishes, glorious ocean views at sunrise, and romantic bayside views at sunset. A fabulously chic restaurant, it is set inside the award-winning, 5-star Ritz-Carlton Bal Harbour. Heaven on earth, truly.
While taking in the view, let's start with a cocktail, shall we? The Smoked Orange Blossom, a bourbon-based beauty served on the rocks, arrives in a glass dome. Take in this fruit-forward drink's smoke and fragrant smells of orange marmalade, simple syrup and distinct orange bitters. It's divine.
There are plenty of small, incredible bites to launch into this culinary journey. The Charred Octopus is a tender tentacle bursting of flavors that play to all the senses. It shares the plate with Tandoori-style carrots, blended Vadouvan spices, mango and curry sauce, dollops of sour yogurt and touch of fresh cilantro. It's a mouth-feel of goodness.
The Cobia Ceviche is simple perfection. Thinly sliced, firm white fish with a delightful texture basks in a sea of light Florida citrus leche de tigre marinade. A beautifully plated dish, served in a bowl, it is supported by a cast of spicy aji amarillo, slivers of sweet potato, crispy shallots, and shaved red onions.
From the ocean comes the star of the show - the iconic Grilled Whole Branzino. This delicate and mild fish is enveloped in a crisp skin and stuffed with all kinds of goodness: braised fennel evoking spring, juicy tomatoes, earthy kale and salty olives. A charred lemon longs for a gentle squeeze. Pair this elegant loveliness with a crisp, green apple-meets-grapefruit glass of Sauvignon Blanc.
The farm section of the menu has quite a few top contenders, but a recommended choice would be the expertly seasoned Lamb Chops from New Zealand. Three words: fatty, gamy, juicy. This succulent dish sits on a bed of smoky roasted eggplant baba ganoush, a rich tomato marmalade, a touch of peppery-tasting arugula and mint jus. Wash these gigantic chops down with a Malbec bursting of balanced tannins and ruby red fruit.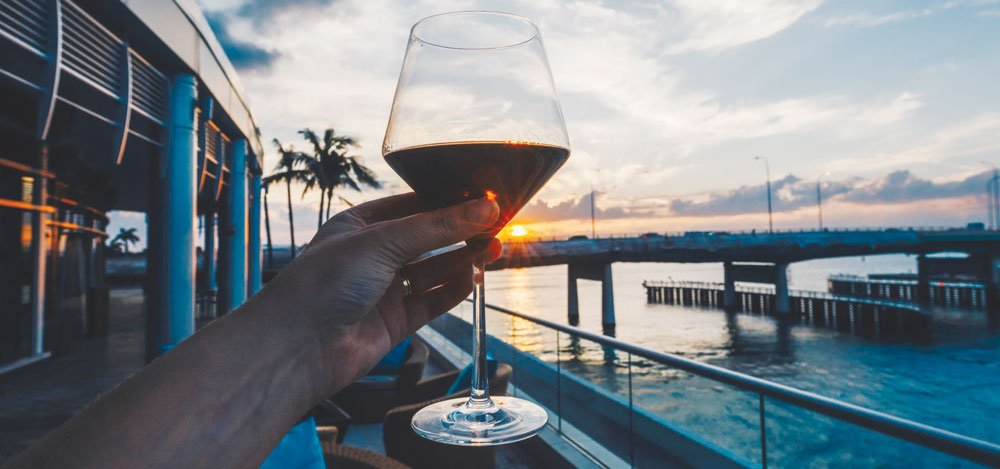 Don't forget to order a few side dishes, served in mini cast iron casseroles that bode well with these entrees. The Charred Cauli-Florets are layered in a creamy, tart goat cheese mixed with brown butter and sharp caper butter. Now the savory Brussels Sprouts is a whirlwind of tasty yumminess, including crunchy (green apple chunks) and sweet notes (gooey caramelized sauce.)
And for those of you with a sweet tooth, meet the wondrous Baked Alaska. This old-fashioned, flambéed dessert is a mouth-watering classic made up of sponge cake and chocolate ice cream. It is covered with an igloo of caramelized meringue, and adorned with a sprinkle of brandied cherries. Ahhh!
Artisan Beach House, 10295 Collins Avenue, Bal Harbour, FL 33154. Reservations: (305) 455-5460