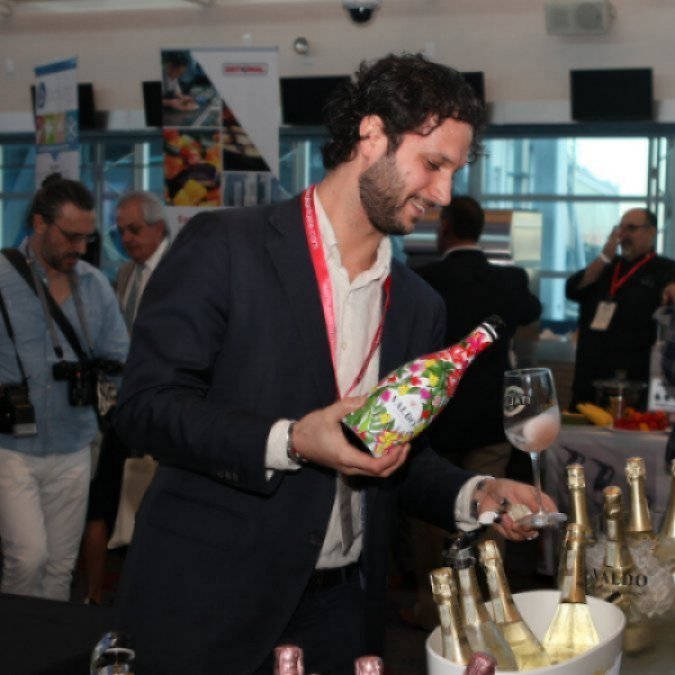 By Daisy Cabrera
The Port of Miami was buzzing with excitement the evening of Nov. 20, and with good reason! Italy – America Chamber of Commerce Southeast (IACCSE) hosted the 2nd edition of 'The Authentic Italian Table – Food & Wine Festival' inside and outside the terminal. Over 1,000 attendees enjoyed a plentitude of Italian flavors served up by 60 best-in-class Italian restaurants, gourmet food producers, wine importers, and hospitality suppliers.
The great Federico Fellini once said, "Life is a combination of magic and pasta." And, may we add Italian wine? This enchanting affair, which offered mouth-watering samplings of traditional and modern cuisine, went beyond the palate. It was a love letter to Italy, and a bona fide cultural representation of the country's heart and soul.
IACCSE's Executive Director Nevio Boccanera said, "The Italian culture holds hundreds of years of tradition in creating specialty products that cannot be reproduced abroad – that is because of the strong tie between Italian products and their territory of origin. This includes environmental and climate factors, as well as the artisan tradition of food and wine producers."
Considered the chamber's biggest event, it took place during the 'Week of the Italian Cuisine in the World' coordinated in the Southeast by the Consulate Generalof Italy. Boccanera shared the food and beverage industry is very significant for Italian exports in America, South Florida has become a relevant market, and Miami is a city that sets trends and is a true international culinary capital. "Italian chefs and restaurants are an important part of South Florida's restaurant scene, and necessary 'ambassadors' for promoting our genuine Italian products." The non-profit focuses on fostering trade between the U.S. and Italy, and is recognized by the Italian government.
Mangia! There were so much lip-smacking food creations as expert local chefs whipped up genuine samples from across every corner of the peninsula. Foodies devoured tons of all-time greats that made a special appearance: black truffles, cheeses and cold cuts, soups and salads, bruschetta and focaccia, antipasto skewers, meatballs, olives, pasta, shrimp, polenta, risotto, gelato, tiramisu, panettone, cannoli, and much more. Among the celebration of Italian morsels included a pizza village with mobile ovens. It was a tour across Italy, no passport needed!
Riviera Focacceria Italiana served up tastings of their delicious Trofie al Pesto with potatoes and green beans – a staple of Ligurian culinary tradition. Described as the classic way to have pesto, the team blends basil, pine nuts, parmigiano and pecorino cheese, garlic and the finest extra virgin olive oil. Grazie! Since they showcase Ligurian cuisine, naturally they recommend pairing this dish with an exquisite La Ginestraia Pigato – a white wine only available here.
General manager Paolo Albertoni told us the restaurant, a Midtown staple, was the first 'ambassador' to introduce the coastal region's recipes to our shore. Since opening its doors in 2014, they've received many awards and recognition both locally and nationwide, and has quickly become one of the most successful and acclaimed Italian restaurants in the city.
"Ligurian cuisine is the quintessential Mediterranean, healthy Italian cuisine with lots of herbs, seafood, extra virgin olive oil, pine nuts, walnuts, and plenty of vegetables," he expressed. "Riviera Focacceria Italiana brought the amazing Focaccia col Formaggio and the true Pesto alla Genovese to South Florida." He noted that homemade pasta, fresh seafood, salads, all natural beefs and poultry together with a well-curated wine list make their menu very intriguing – even with a variety of vegetarian fare.
With a three hour tasting underway, we visited some of our other favorite, top-notch Italian eateries that were onsite: Ristorante Fratelli Milano, Pasta e Sapori, Zucca Miami, Osteria Baiocco, Spris Pizza, Puntino, Farfalle Miami, 'O Munaciello, 1888 Fiaschetteria and more. In honor of all things Italian food, IACCSE hosted an exclusive food contest that was judged by local food writers and bloggers with attendees casting their votes as well. The 'Best Authentic Italian dish' was awarded to Salumeria 104's Chef Angelo Masarin.
The evening's culinary soirée, complete with live entertainment, was elevated with an educational experience in collaboration with the Consulate General of Italy in Miami. Michelin-starred Chef Luigi Nastri from Rome and Italian-American chef Giorgio Rapicavoli, winner of 2014's Food Network's 'Chopped' Ultimate Champions, taught a master class highlighting seasonal ingredients and innovation in Italian desserts. Its focus was, when making Italian desserts, the importance of using foods and ingredients labeled PDO (Protected Denomination of Origin) and PGI (Protected Geographical Indication).
Make no mistake, endless wine flowed with the endless scrumptious bites. From Montepulciano, Spumanti, Pinot Grigio, and Chardonnay to Chianti, Sangiovese, Moscato d'Asti, and Barbaresco – there was plenty on hand to sip and savor.
But the sparkling star of the show was Prosecco.
Maria Ruiz, Marketing Director for Orvino Wine Imports poured Casa dei Farive Valdobbiadene Prosecco Superiore Extra Dry. She described the wine as fine and persistent in perlage, pleasantly fruity at the nose with notes of ripe golden apple and delicate hints of white flowers. And, fresh, soft, full-bodied with a harmonious finish on the palate.
"Dedication to the craft and love of the land have made Casa Farive one of the largest and well known wines of Valdobbiadene," Ruiz stated. "Located in the heart of Treviso, Valdobbiadene, in the area famous for its Prosecco DOCG of Valdobbiadene, Casa Farive Prosecco is the result of a balanced mix between tradition and innovation." She suggested it was perfect as an aperitif, or served in combination with light dishes. It is sold at Publix, Costco and Lucky's for $12.99-$14.99.
The buzzing event agenda also included a 'Best Prosecco DOC' contest that was judged by local food & beverage hotel and restaurant directors. With a rich history that began in 1926, winemaker Valdo was awarded the title.
"Through 'The Authentic Italian Table Food & Wine Festival', for the first time the Italian community comes together with an aim to showcase what a genuine Italian culinary experience is vs. what it usually is misleadingly represented as being what we call the 'Italian sounding' phenomenon," Boccanera added. "Ultimately, the event is extremely important as it aims to educate American consumers with regard to authentic Italian products and their certifications of origin." IACCSE presented 2020 renewal certificates of the 'Marchio Ospitalità Italiana' endorsements to 13 local restaurants who serve high quality Italian dishes.
Next up, the organization will host the annual 'The Authentic Italian Table - Food Design Contest' during its 'Best of Italian Design' event on March 18. Held within different Italian furniture showrooms in the Design District, this unique experience will pair top-level creative Italian design and equally creative Italian culinary arts.
To learn more about IACCSE, visit https://www.iaccse.com/