Tweet
The Price of True Love: Romance on a Budget
February is here, which means Valentine's Day is just around the corner. During this time of expressing love and sharing romantic moments with that special someone, we started thinking of unconventional ways to celebrate the spirit of the holiday that will tug at the heartstrings, rather than the purse strings. You don't have to spend a fortune to show someone how much you treasure them. We've compiled this list of alternate ways to say "I love you," that don't require an "I.O.U." Forget the exorbitant price tag and get the real deal on romance!
New World Symphony Wallcast Concerts
New World Symphony WALLCAST™ concerts, Presented by Citi®, allow you to experience select events throughout the season at SoundScape Park, through a striking use of visual and audio technology on the soaring, 7,000-square-foot projection wall of the New World Center. Bring a blanket, share a picnic dinner and enjoy the sights and sounds of the New World Symphony with that special someone! Each WALLCAST™ concert is free to the public and does not require a ticket. The February 20th Wallcast at 7:30pm features a Concerto Showcase. You can find out more about upcoming concerts at www.nws.edu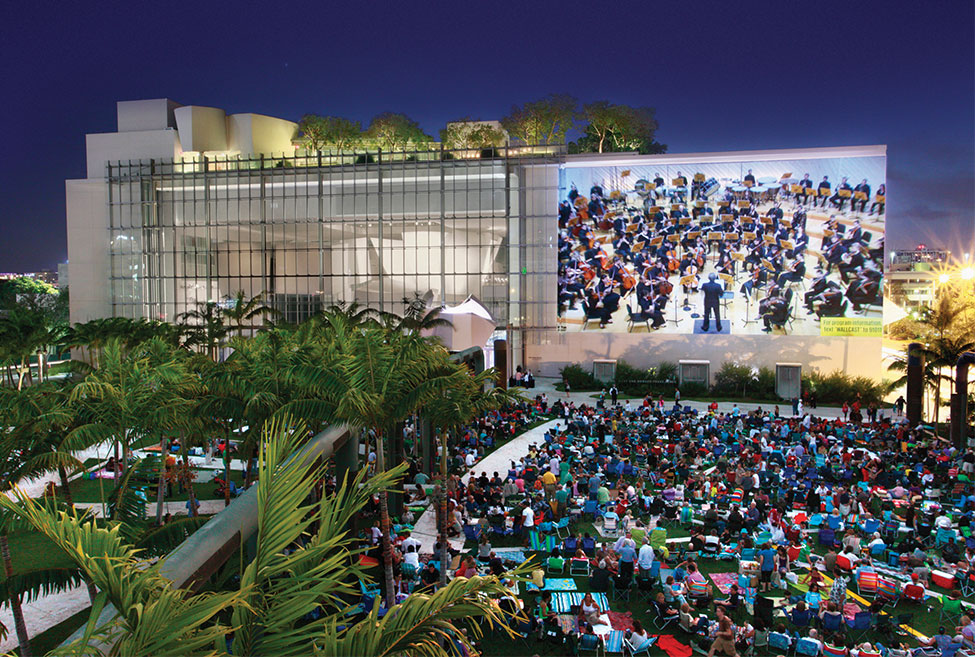 Cooking Class at Publix Aprons
Get your romance cooking at Publix Aprons Cooking Schools, designed to give customers a kitchen to learn, practice, and have fun in. Classes are meant to entertain, amuse, and inspire confidence, no matter what you're cooking up. These courses cover a world of cuisines and trendy topics, a baker's dozen of techniques, special seasonal topics, and even guest appearances by celebrity chefs—TV stars, cookbook authors, and local restaurateurs. Every month's schedule includes a tasty variety of fun and educational cooking classes to choose from. Turn the heat on and choose a Publix Aprons Cooking School near you. Check out the calendar complete with class schedule at www.publix.com
Artistic Classes
Enhance the romance with a couple's painting class. The FAT Village Center for the Arts offers a wide array of classes, which support the artistic journey of each participant and offers small class sizes focusing on individual attention, and providing the necessary guidance to develop technical and creative abilities. This large variety of courses includes drawing, painting, sculpture, ceramics, photography, and printmaking and is open to individuals of all creative backgrounds, levels of interest and skills. To find a course you can enjoy with your sweetheart, call 954.716.7611 or visit www.fatvillagecenterforthearts.com.
Oleta River Canoe Tour
Nothing says romantic like floating on the water. The beauty of the Oleta River has drawn man to its shore for centuries. As early as 500 B.C., the river was home to Tequesta Indians, who camped along its shore, and was part of the route used by Federal troops in the 2nd Seminole War. Relive the river's historic past with park naturalists, as you and your significant other explore this natural haven for wading birds, osprey, fish and the endangered West Indian Manatee. This Trip is offered the 2nd & 4th Saturday of every month (October through May). Reservations are required. Call (305) 944-6111 for more information. www.miamidade.gov
Coral Castle
How much more romantic can you get than the story of a man who single-handedly built a mysterious Coral Castle for the woman he loved? Along with that special someone in your life, you can explore the everlasting mystery together and discover what would inspire a man to spend 28 years carving a Coral Castle from the ground up, using nothing but home made tools. If you had visited Coral Castle in the 1940s you would have been greeted enthusiastically by a man weighing a mere 100 pounds and standing just over 5 feet tall. He would have asked you for ten cents admission and introduced you to his fantasy world. As you moved around his stone sculpture garden and learned the significance of each piece, you would have been witness to the great pride Ed Leedskalnin took in his work. Since it is documented that no one ever witnessed Ed's labor in building his beloved Coral Castle, some have said he had supernatural powers. Ed would only say that he knew the secrets used to build the ancient pyramids and if he could learn them, you could too. Today, you can tour the Coral Castle using audio stands, with narration available in English, Spanish, French or German. There are also knowledgeable guides available to conduct tours. Features of the Coral Castle Museum include a 9-ton gate that moves with just a touch of the finger, a Polaris telescope, and functioning rocking chairs – all made entirely of stone. Coral Castle Museum is located at 28655 South Dixie Highway in Miami. For more information, call 305.248.6345 or visit www.coralcastle.com. You can also read the book Coral Castle: The Story of Ed Leedskalnin and His American Stonehenge by Rusty McClure and Jack Heffron (autographed copies available at the Coral Castle Store).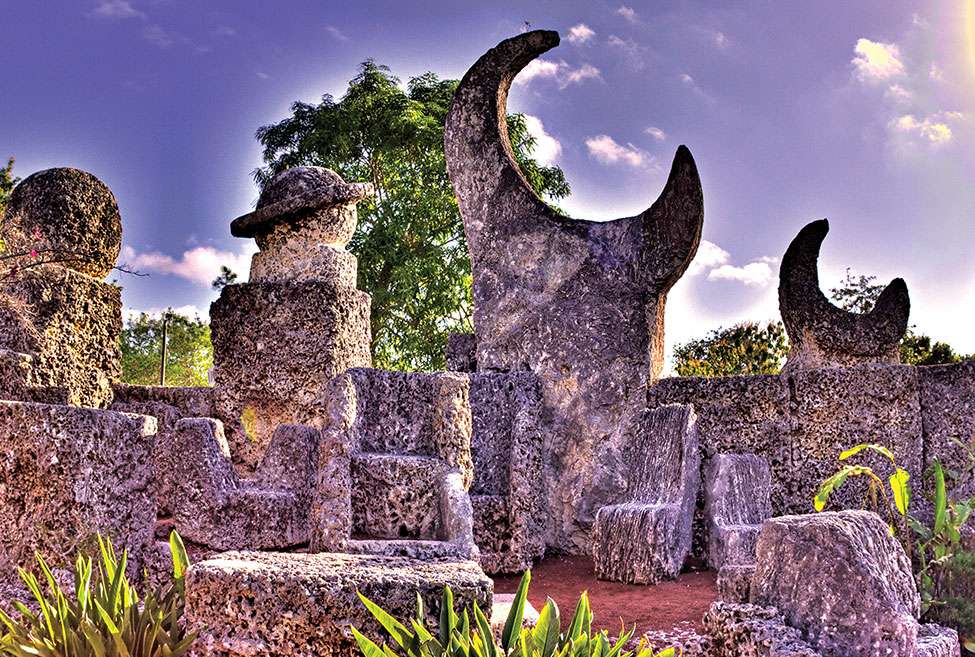 Florida Renaissance Festival
Live a romantic day in the 16th Century at the Annual Florida Renaissance Festival at Quiet Waters Park, Weekends, February 13th through March 27th, from 10:00 am to Sunset! The event features over 100 Artisans selling their wares, performers to entertain, and food and drink fit for a King and Queen! The fun kicks-off with a Swashbucklers & Sirens Shiver Me Timbers theme, which unearths the mysteries of the sea, as sirens lure sailors and pirates alike with their enchanting music and voices, leaving those who dare to listen shipwrecked! Prepare yourselves for a "salty" good time! www.ren-fest.com
FATVillage ArtWalk
Talk about swoon-worthy. FATVillage is located in the heart of downtown Fort Lauderdale, and acts as the hub for local creative businesses and artists. Designers, urban planners, filmmakers, photographers, printers, social media gurus, performers, graffiti artists and web developers reside in and around The Village, which is also surrounded by a network of great restaurants, cafes, retail shops, apartments, galleries and other studios. Only minutes away from the Fort Lauderdale Museum of Art and Las Olas Boulevard, FATVillage has become an asset to Fort Lauderdale's growing culture. The Artwalk is the last Saturday of every month. www.fatvillage.com
Art Wynwood
Open your heart with art! Art Wynwood, the annual Presidents Day Weekend art fair, presents over 60 galleries, from 9 countries representing over 25 cities. This event features a wide breadth of quality works from both established and mid-career cutting edge artists. Past editions have attracted over 35,000 enthusiasts and some of the world's most prominent collectors, as well as a strong show of international patrons. Art Wynwood has secured its position as the most important contemporary art fair in the southeast during the winter months, by offering the most discerning international collectors, art enthusiasts and seasoned cultural travelers the best opportunity to discover, explore and collect some of the most significant art works of our time. www.artwynwood.com
Juno Dunes Natural Area picnic Hike
For Valentine's Day, pack a picnic and hit the trail for a daytime hike and picnic at the northern portion of the Juno Dunes Natural Area. Straddling U.S. 1 at Loggerhead Park in Juno Beach in North Palm Beach, the 569-acre tract of land contains 12 native ecosystems on both the east and west of the street, each with its own unique nature trails. At the western end of the trail sits a two-story observatory giving visitors a chance to take in the sites along the Intracoastal (about 1 mile). Continue from there and be rewarded with a mangrove-fringed lagoon complete with floating docks (six boat slips) and shaded picnic tables. Secluded and quiet, this is the perfect place to escape from civilization for a little romantic rendezvous. www.pbcgov.com
Sunday Jazz Brunch at Riverwalk
On the first Sunday of each month, enjoy the smooth sounds of local jazz with your sweetheart at the free, outdoor JM Lexus Sunday Jazz Brunch live concert series, from 11 a.m. to 2 p.m., along Fort Lauderdale's scenic Riverwalk. One of Fort Lauderdale's most popular community events, the JM Lexus Sunday Jazz Brunch invites everyone to bring their blankets, chairs and picnic baskets, along with well-behaved, leashed pets to the Riverwalk Arts and Entertainment District for the best in local jazz. Parking for the JM Lexus Sunday Jazz Brunch is available at the county garage located on S.W. 2nd Street between S.W. 2nd Avenue and Brickell Avenue or at the Riverwalk Arts and Entertainment District parking garage at S.W. Fifth Avenue in Fort Lauderdale. This event is produced by the Fort Lauderdale Parks and Recreation Department. For more information visit www.goriverwalk.com.
Moonlight & Music
Celebrate your love at a romantic, outdoor concert under the stars at the 17th annual "Moonlight & Music" Valentine's Day Concert at the Deering Estate on Sunday, February 14. The concert starts at 8:00 p.m. and the gate opens at 7:00 p.m. The Deering Estate is located at 16701 SW 72 Avenue. This year's concert will feature Johnny Rodgers, an internationally celebrated singer-songwriter, pianist, music ambassador, Broadway star and recording artist. Rodgers provides a guided musical tour of Americana pop and is a master of styles ranging from blues, soul, and jazz, to the piano-driven energy of rock and roll. Guests are welcome to bring blankets, lawn chairs, and small picnic baskets. No coolers are permitted. Refreshments and food will also be available for an additional fee. For tickets and more information call 305.235.1668 ext. 233 or visit www.DeeringEstate.org.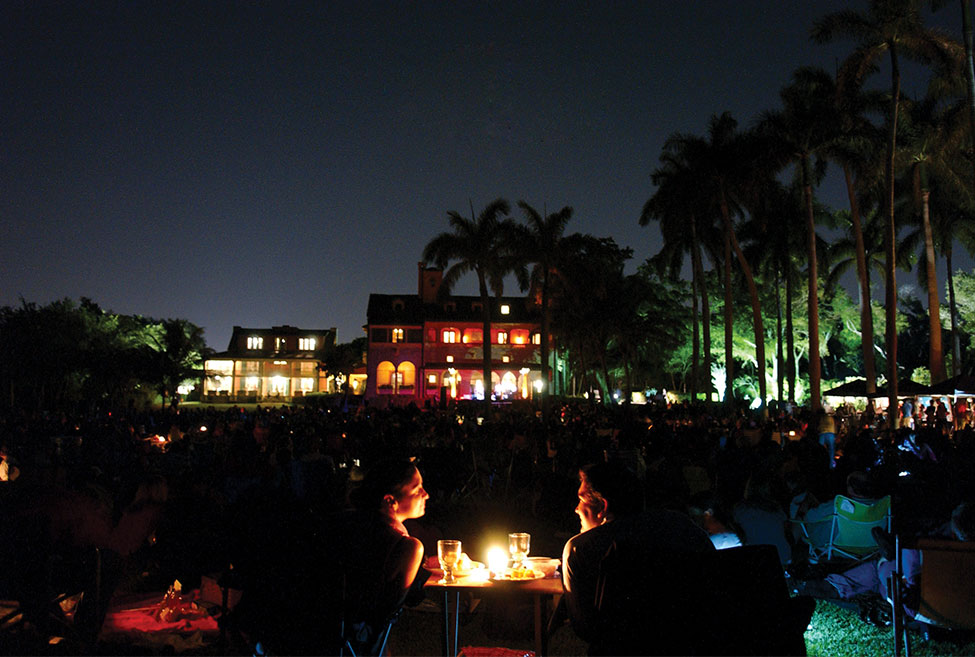 Cuddle-up Watching Romantic Movieswith your favorite (expensive) bottle of wine
Who needs to deal with crowded, over-priced and noisy theaters when you can bring the romance home to you with a good movie? Whether it's an old classic, or a more contemporary gem you're into, we have some recommendations to satisfy every itch: Casablanca (1942), Gone with the Wind (1939), When Harry Met Sally (1989), Titanic (1997), Blue Valentine (2010), Ghost (1990), An Officer and a Gentlemen (1982), Moulin Rouge (2001), The Notebook (2004), and Silver Linings Playbook (2012). And while you're watching those romantic movies, up the ante with a nice bottle of Renieri Brunello di Montalcino Riserva 2007, accompanied by Triple Creme French Brie, available at your local Costco. This classic won't cost too much, but sharing it with the one you love will be priceless!