Museum of History's Collector inducted into Hobby Hall of Fame
By: CultureOwl
|
09/07/2021
|
Artist Spotlight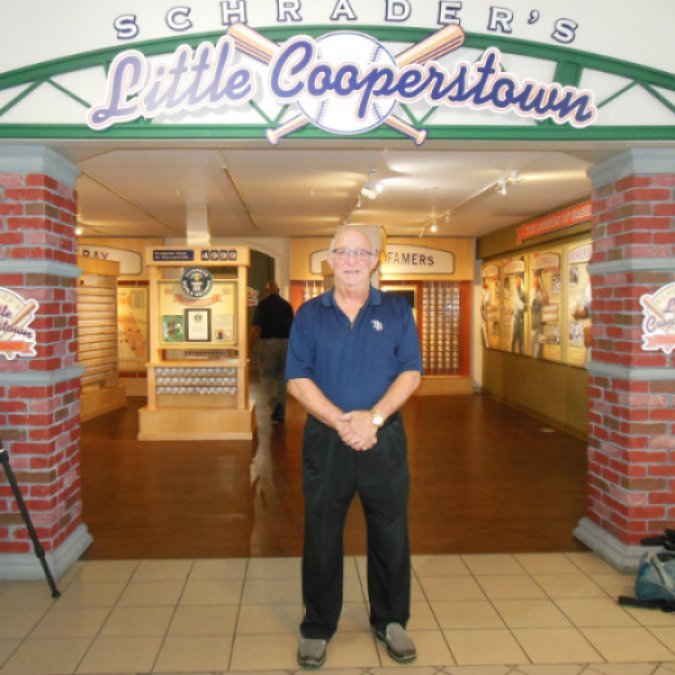 The St. Petersburg Museum of History announced that Dennis Schrader, collector and founder of the Museum's Schrader's Little Cooperstown exhibit, has been inducted into the inaugural Hobby Hall of Fame by Sports Collectors Digest.
Schrader's collection earned the Guinness Book of World Records title for the largest Collection of Autographed Baseballs in 2011, with 4,220 (now 4,999). He partnered with the St. Petersburg Museum of History in October 2013 to bring the collection to the Museum as Schrader's Little Cooperstown.
Schrader has been collecting autographed baseballs since Mickey Mantle signed his first while working as a New York Yankees ball boy at Al Lang Stadium in 1956. Many of his autographed baseballs come from mailing players and celebrities, requesting them to autograph the baseball and send it back.
Schrader's Little Cooperstown isn't just a feat by number. It also features some exceptionally rare autographs, including:
- One baseball autographed by both Joe DiMaggio and Marilyn Monroe. The couple was married for just 9 months, and objects with both their signatures are rare.
- A 1919 autographed baseball from "Shoeless" Joe Jackson. Jackson, who was banned from the game in 1920 after the Black Sox Scandal, refused to sign anything following the incident. Several signed baseballs were actually his wife forging his signature, and Schrader had this baseball authenticated by an FBI forensic specialist.
- A ball featuring all 11 living members of the 26 inducted into the inaugural National Baseball Hall of Fame in1939.
- A baseball signed by former Cuban leader Fidel Castro who was offered a contract, including a $5,000 signing bonus, by the New York Giants in 1949. Castro turned down the offer and returned to Cuba.
Sports Collectors Digest's inaugural class features inductees in seven categories: Card Collector; Autographs; Sports Memorabilia; Man Cave; Persistent Pursuer; Goodwill Ambassador; and Artists.