WILLIAM WEGMAN Around Bermuda
By: Press Release
|
05/03/2023
|
Exhibit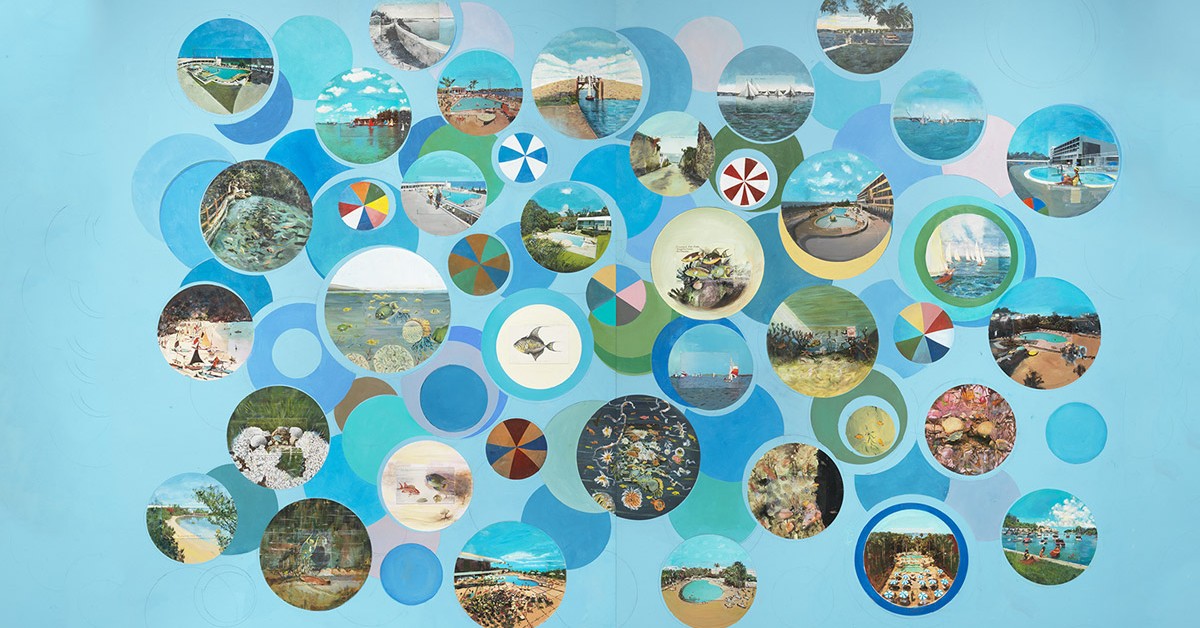 Masterworks Museum of Bermuda Art welcomes internationally renowned artist William Wegman for a major exhibition: "WILLIAM WEGMAN Around Bermuda"


For over 100 years, Bermuda has been touted as the "best kept secret" on the travel circuit and has quietly welcomed international fine artists and musicians such as Winslow Homer, Georgia O'Keeffe, John Lennon, David Bowie, and more, who have experienced the Island as a place of creative expression and spiritual connection.
Masterworks Museum of Bermuda Art is continuing this legacy by welcoming internationally renowned artist William Wegman for a major exhibition. WILLIAM WEGMAN Around Bermuda opens to the public Saturday, May 13, 2023. It features postcard paintings made by the artist over twenty years and reflects his ongoing engagement with Bermuda, one of his self-professed favourite subjects.
Wegman's history with Bermuda dates to 2000, when he first visited the Island and began to create works on paper inspired by vintage Bermuda postcards. Around Bermuda will include a number of these works and also marks the unveiling in Bermuda of Masterworks Museum's significant acquisition of Wegman's monumental painting, Around Bermuda (2018), which acts as the focal point of the multifaceted exhibition.
Especially for Masterworks Museum, Wegman has also created four new paintings and an artist's book, also entitled Around Bermuda (2023), in celebration of the exhibition. As a unique opportunity for visitors, Masterworks will be hosting a book signing with Wegman on May 24, 2023. Copies of Around Bermuda will be available for purchase throughout the exhibition in Masterworks' Arrowroot Shop.
Risa Hunter, Masterworks' Executive Director, states: "It is exceptionally exciting for Masterworks to be able to highlight the artwork of such a prominent contemporary American artist and to unveil his seminal piece acquired by the Museum, titled Around Bermuda. Central to Wegman's practice is the notion of expanding narratives, and I have no doubt that this exhibition will continue the legacy at Masterworks of unearthing new perspectives and interpretations of the Island."
Around Bermuda was conceptualized by Julie Sylvester and Mandy Cawthorn Argenio and is organized and curated by Julie Sylvester. Julie Sylvester is an internationally recognized curator and the author of John Chamberlain: A Catalogue Raisonné of the Sculpture 1954-1985, and Black Mountain Chamberlain, John Chamberlain's Writings at Black Mountain College, 1955. She is the former Curator of Contemporary Art at the State Hermitage Museum, St. Petersburg, Russia, where she curated the first contemporary exhibitions in the institution's history: Louise Bourgeois; Cy Twombly, and Willem de Kooning. Her concentration in the past years has been on exhibitions and writing on Cy Twombly, notably Cy Twombly Paradise at Ca Pesaro, Galleria Internationale d'Arte Moderna in Venice, and the Hermitage exhibition, Cy Twombly Fifty Years of Works on Paper, which traveled to several museums around the world and culminated in the first exhibition of Twombly's work in Japan in 2015.
Around Bermuda is generously funded by Sue Judah through the RDJ Foundation. The exhibition will be open to the public from Saturday, May 13 through November 25, 2023. Masterworks Museum of Bermuda Art is open Monday to Saturday, 10 am to 4 pm. For more information on the Museum or the exhibition, please visit www.masterworksbermuda.org.