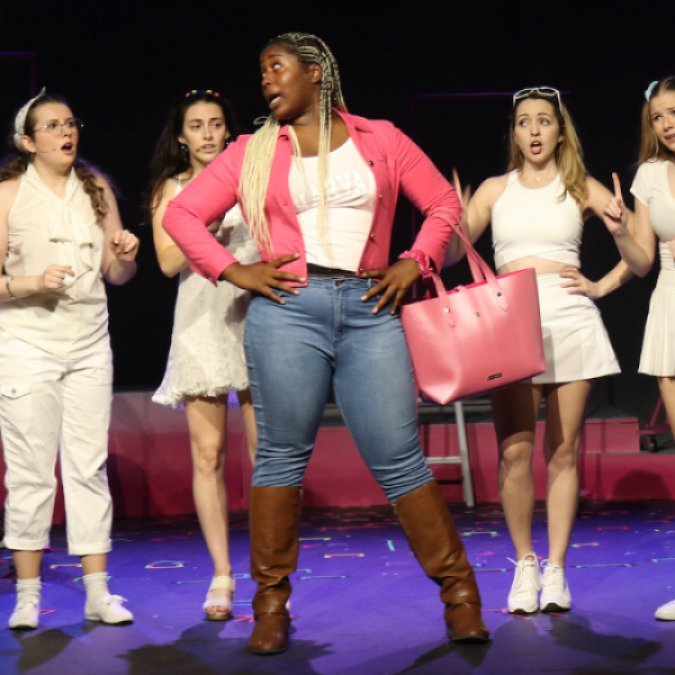 A local theatre in Georgia went viral with video clip based on the movie, Legally Blonde.
What started as a way for the cast and team of Legally Blonde to spread the word locally about their production at Woodstock Arts (formerly Elm Street Cultural Arts Village) soon turned into a series of viral videos overnight, thanks to TikTok, Instagram, and a very supportive theatre community. After a fellow castmate had shared a video spotlighting the musical's cast on TikTok, comments soon came in asking to know more about the production's Elle Woods, played by Ebony Strong.
"I then posted a different video on my account to share a little more about me playing Elle and people were begging me to post something from the show itself," Strong explains. With timing that could only be explained as theatrical in nature, Music Director Gamble uploaded a clip of the show's opening number "Omigod You Guys" that was then put on the lead's TikTok. Transitioning from TikTok to Instagram, the clip revealing Strong as Elle was re-shared on various accounts, including original Broadway cast member Orfeh's personal Instagram and theatre artist Jimmy Larkin-run @letshearitforthechoice that posts various performance moments. "That's really where it blew up."
Garnering nearly 40,000 views in a day on Instagram (@letshearitforthechoice) and 325,000 on TikTok (@ebony.strong), the clip found its way to Jerry Mitchell, the Choreographer and Director of the original Broadway production, who posted a video featuring Strong's vocals to his personal account. "Legally Blonde has always had a beautifully empowering message about looking beyond stereotypes and going out into the world as your truest self," Marketing Manager Justin Spainhour-Roth comments on Mitchell's post via the Woodstock Arts Instagram. "But to see the theatre community rally behind @ebony.strong really brings that message home."
Strong is still in shock that so many strangers were cheering her on and bringing attention to the production at Woodstock Arts. "I hope that other directors and producers are encouraged to go beyond what's normally done so that these opportunities continue to become more possible for everyone."
Based on the hit Metro-Goldwyn-Mayer motion picture starring Reese Witherspoon, Legally Blonde The Musical plays its final 3 performances at the Woodstock Arts Theatre in Downtown Woodstock August 27th-29th, 2021.