CultureOwl's 2021 Art Week Guide & Interactive Map
CultureOwl's 2021 Art Week Guide & Interactive Map 2021
{{ m.name }}
{{ m.name2 }}
{{ m.address }}

More Info
Dates & Times
Navigate Art Week like a pro with our handy interactive guide. Discover all that is happening at the push of a button.
Simply click any of the numbered map locations to instantly discover the location of an art fair or local event. We've even included some dining options.
FAIRS
Art Beat Miami

Art Miami

Art Basel

Context

Design Miami

Fridge Art Fair

INK Miami Fair

Miami River Art Fair
NADA-New Art Dealers Alliance

Red Dot

Pinta Miami

Satellite

Scope

Spectrum

Untitled
EVENTS
FIU Jewish Museum

Introspective Noir

African Diaspora Art

Your Trip To Africa

The Adventures of Bibi & Friends

Hotel Tour & Wine Tasting

Good Bread Alley

Soul Basel 2021 Open Air Art Village & Exhibition

In Motion: The African American Migration Experience

Our Voice Matters

Point Comfort Art Fair and Show

The Urban Experience

5th Annual Art, Blues & Soul Festival

Le Art Noir, Diversity in Color

Art Of Her: A Journey Into The Mind of a Woman
I Love You In My Silence

MUCE Arts & Culture Festival

9th Annual Umbrellas of Little Havana Art Festival

AfriKin Art Fair 2021: The Fire Next Time

We Are Who We Are

Afro Frequencies at ARTECHOUSE Miami

Celebration of Josephine Baker

Casting Shadows | Framing History

Miami Art Week Kick-off Art Talk + Open Spin

Opa-locka Light District Walking Tour

The Sagamore Hotel

Giralda Plaza

Flagler Street Art Festival

Adrienne Arsht Center
RESTAURANTS
Boulud Sud

7 SPICES

Osteria Del Teatro

RWSB

Tony Chan's Water Club

Semilla
The River

MIA Market

Meet Dalia

Abbalé Telavivian Kitchen

Doya
Must See Art Submissions
We are thrilled to have Miami Art Week back and in full swing. The excitement during the first week of December revolving around art fairs, local events, parties, and so much more… was so greatly missed in 2020. We are so happy to be getting back to "normal". (When have art-lovers ever craved normalcy before?!)
This year's selected work is all about engagement and narrative. Much of it chooses familiar themes and forms and asks the viewer to bring their history, knowledge and intellect to look at them in new ways.
The idea that every picture tells a story is intrinsic to this work as the artists draw us in and pose many questions through twists on both visual image and technique. When taking in a piece of art visually, intellectually, emotionally… we get a personal glimpse into the artist's soul. It is an intimate experience even if the particular piece you are viewing isn't one you would hang on your wall. We revel in the creativity and concept that is before us, try to understand the message we are being sent and the media used. At the same time, the realization that our own knowledge and experiences of the world are informing our reaction allows engagement on a deeper level. Will that make you question the work, the artist or your own reaction? All to the good.
Miami Art Week offers us an opportunity to experience art on many levels. We hope you are as excited as we are. Be sure to use our interactive map to navigate art week like a pro. Happy Artweeking!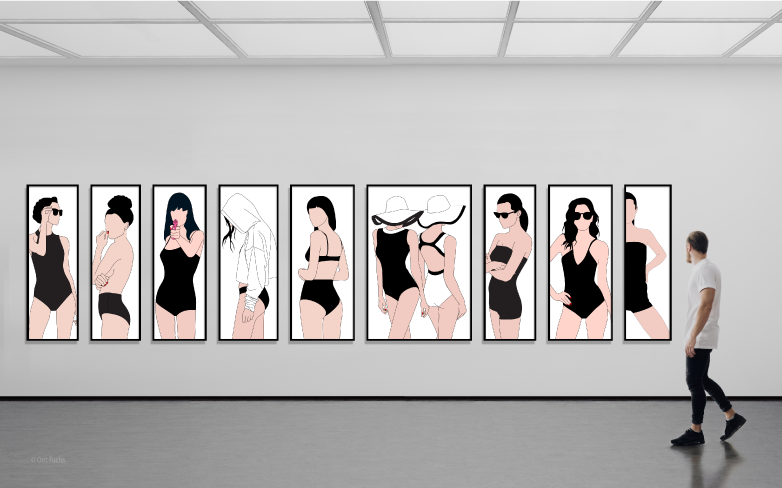 Swimsuit Party
Artist: Orit Fuchs
Presenting Art Fair: Art Miami
Size: Series of 9 Pieces Total. 57" x 200"
Medium: Acrylic On Canvas
Style: Contemporary
Price: $10,000 - $15,000 Each Piece
Presenting Gallery: Maune Contemporary
At first glance the work of Orit Fuchs draws the viewer in through a visual language that looks familiar. We engage in her narrative through a composition that is large enough in scale that it cannot be taken in quickly, so that it takes a moment to realize that there are more questions than answers here. Through her thorough understanding of pop culture and the "norms" of viewing the female image, she subverts the male gaze. While it is unclear whether this is one woman, a sequence, or what the context of the action is, one thing is clear; these women are comfortable in their own skin and don't really care who sees it.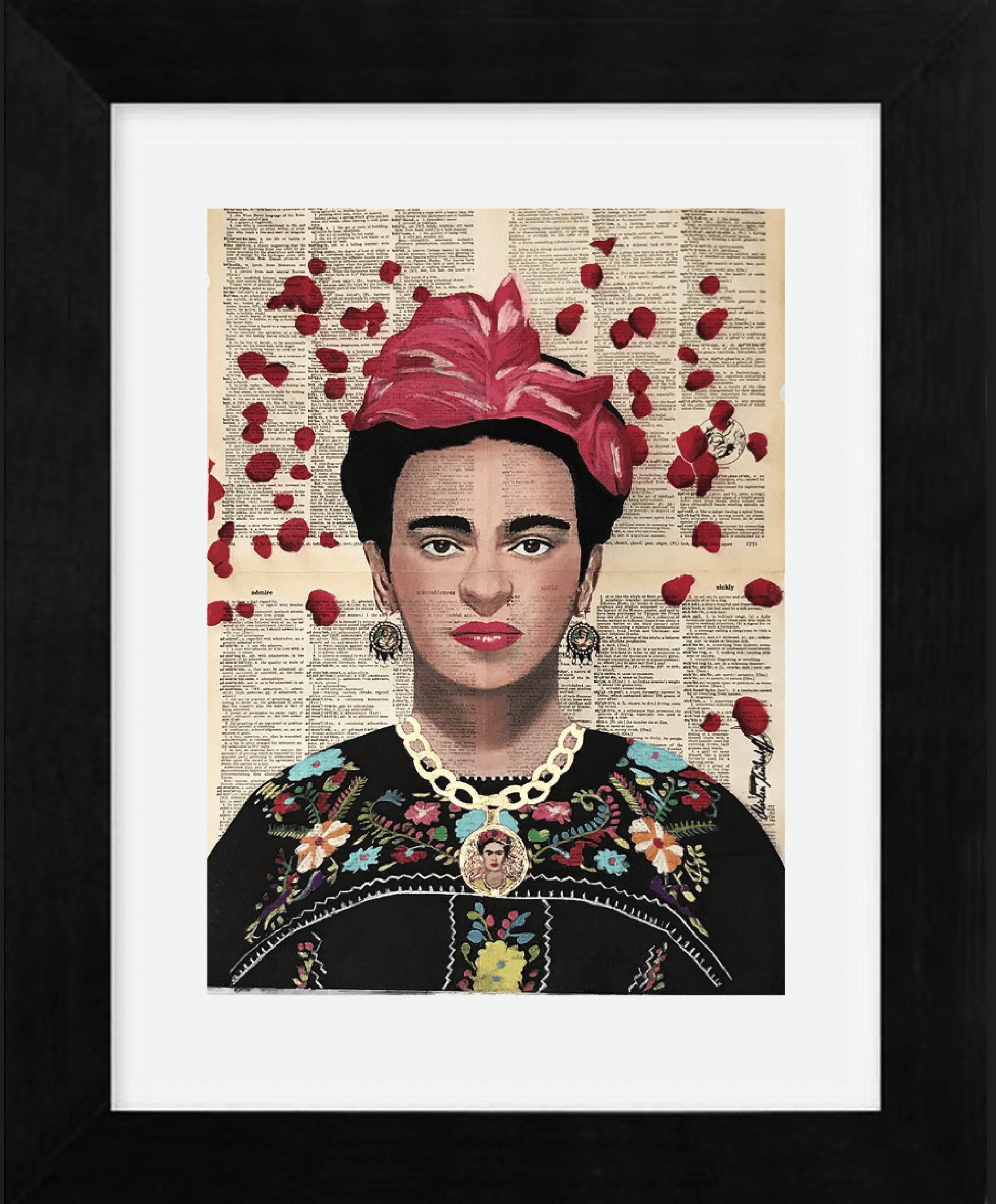 Frida Rose
Artist: Rosen and Micha Kuechenhoff
Presenting Art Fair: Spectrum Miami
Size: 23" x 30"
Medium: Mixed Media
Style: Pop Art
Price: $4,500
Presenting Gallery: ARTNWORDZ
For so many, anything "Frida" is a Must-See and this work is no exception. Rosen and Kuechenoff combine the visual and the verbal not only to make you look twice, but to make you look longer by engaging in the print behind the image. By carefully juxtaposing this aging, but carefully chosen page from a damaged antique dictionary with a painterly image, they create layers of meaning that relate to Frida's life. Physical damage, intellect and creativity are transformed into carefully crafted and thought provoking art.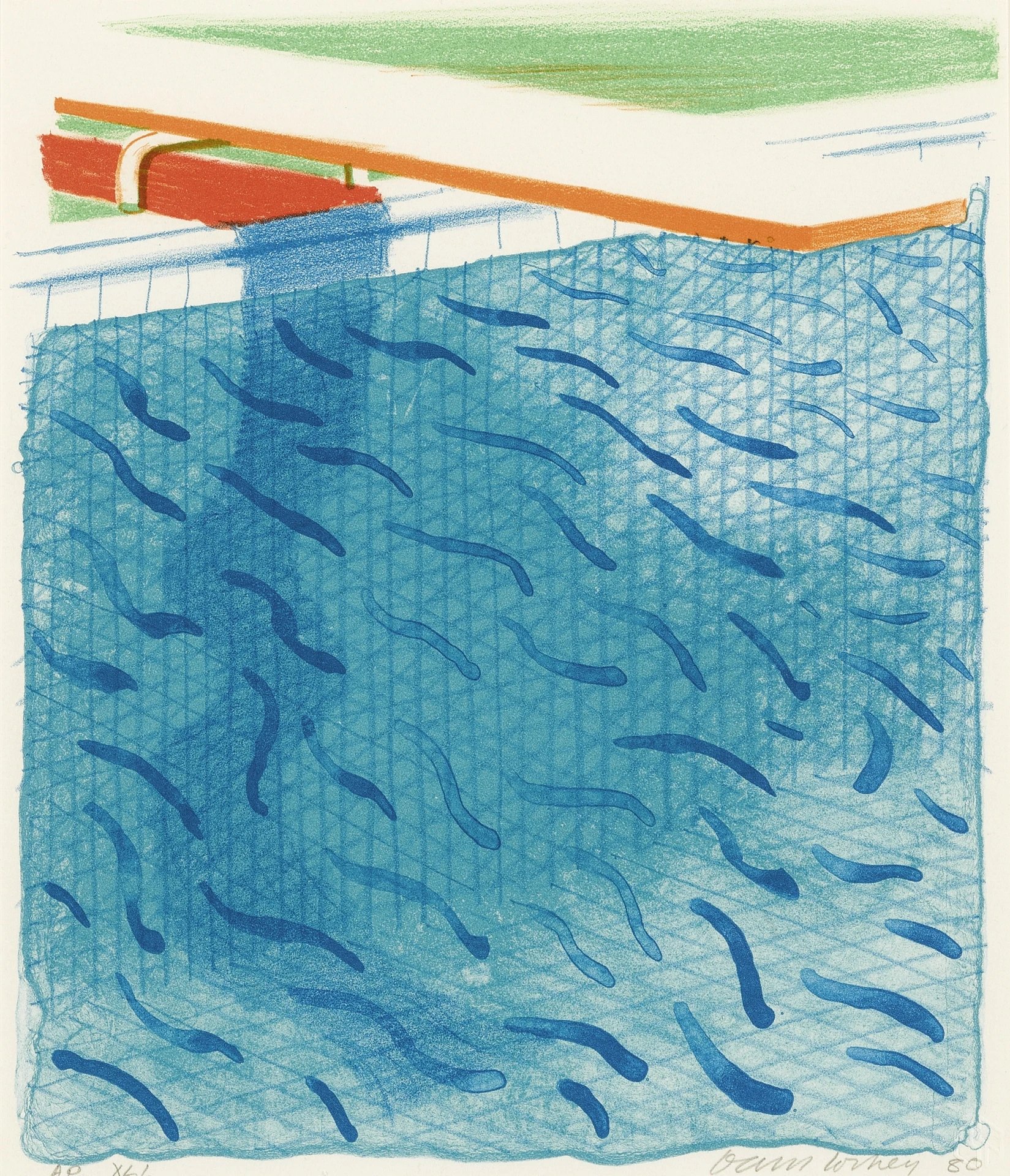 Pool Made with Paper and Blue Ink for Book, 1980
Artist: David Hockney
Presenting Art Fair: INK Miami
Size: 10.5" x 9"
Medium: Lithograph in Colors, on Arches Cover Paper
Style: Contemporary
Price: N/A
Presenting Gallery: Upsilon Gallery
Another iconic work- a David Hockney swimming pool. So why is this one important? Just as Hockney's paintings have gorgeous surfaces that take full advantage of the qualities of the medium, this piece takes full advantage of the lithographic process. With loose but deft strokes of the drawing tool, we are treated to a feeling of the drawing surface. With his usual exploration of color, he allows us to see the layers created through the ink as they build a rich image.
Shear
Artist: Kelly Reemtsen
Presenting Art Fair: INK Miami
Size: 22" x 22.5"
Medium: Copperplate Photogravure with Aquatint & Screenprint
Style: Printmaking
Price: $3,200
Presenting Gallery: Flying Horse Editions
While Reemtsem is better known for her paintings, engaging strong brushstrokes and painterly surfaces, her usual subject matter examines the roles of women and their engagement with daily objects in ways that point out the absurdities of generally held notions of appropriateness. This piece is no exception—feminine color and clothing combined with a very aggressive looking tool held in a casual, but slightly threatening pose. The limited color and flat surface invoke the visual sensibilities of magazine advertising that was instrumental in creating the stereotypes that the artist loves to critique.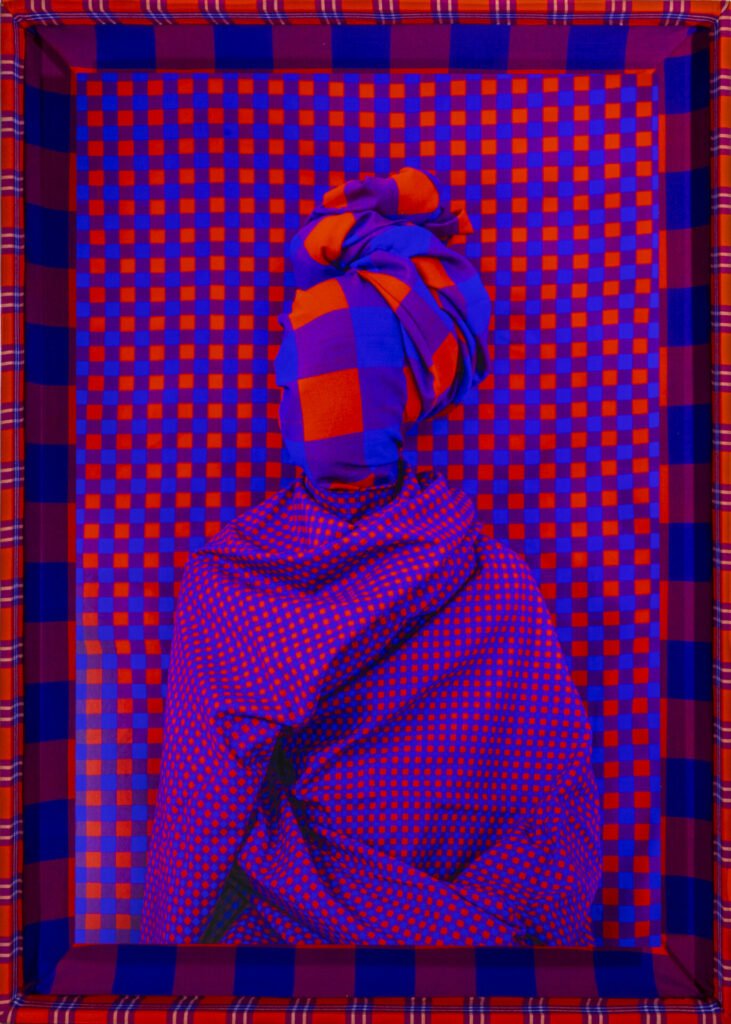 PULSE
Artist: Alia Ali
Presenting Art Fair: SCOPE Art Show
Size: N/A
Medium: Photography
Style: N/A
Price: N/A
Presenting Gallery: 193 Gallery
Alia Ali is a Yemeni-Bosnian-American artist based in Los Angeles, New Orleans, and Marrakech. She has lived all over the world and speaks five languages, but has clear command of the visual. She has created work in film, video and installation, but it is her photography that can be the most thought provoking. This is an example of many portraits with this loaded visual style. Visually commanding through the use of color, pattern and fabric, it challenges ideas of identity, borders and control on an abstract level, before engaging the cultural, political and gender implications brought to bear by the viewer.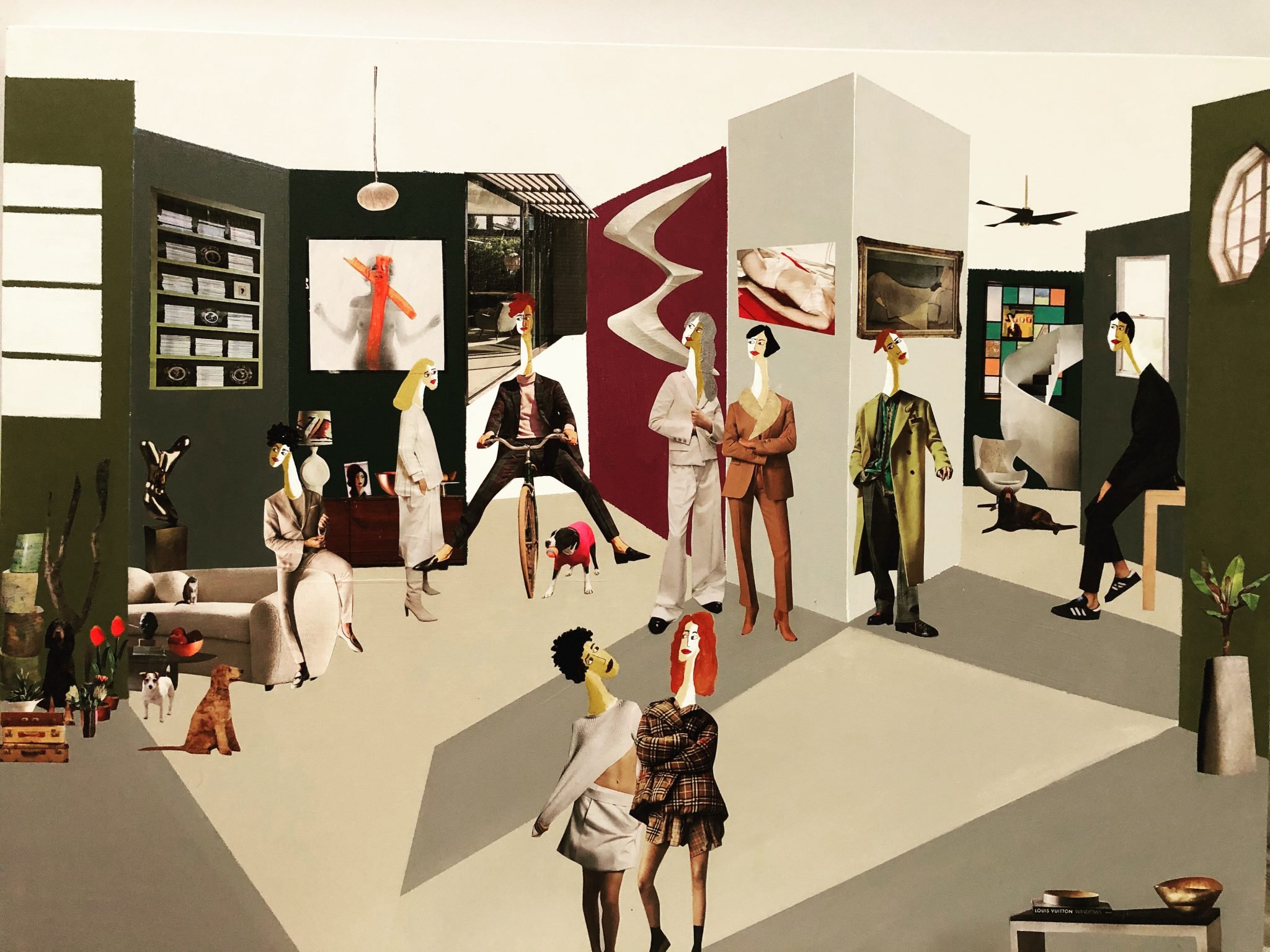 2022
Artist: Jackie Fuchs
Presenting Art Fair: Red Dot Miami
Size: 30" x 40" x 1.5"
Medium: Mixed Media
Style: Contemporary
Price: $5,500
Presenting Gallery: Studio Jackie
Jackie Fuchs' art has been described as "freezing a frame" and that it does, but so much more. Her highly stylized and personal visual vocabulary also evokes a stage set with a play in the midst of development. There is a story here, character interacting - is there more beyond the door, up the stairs or is that where it stops? What is this space intended to be, with its signifiers of office, gallery and home? The title, 2022, also adds meaning and significance, looking forward to a future of casual meetings and people and pets coming and going. Fuchs brings her wealth of art, design and style training to this piece with intriguing results.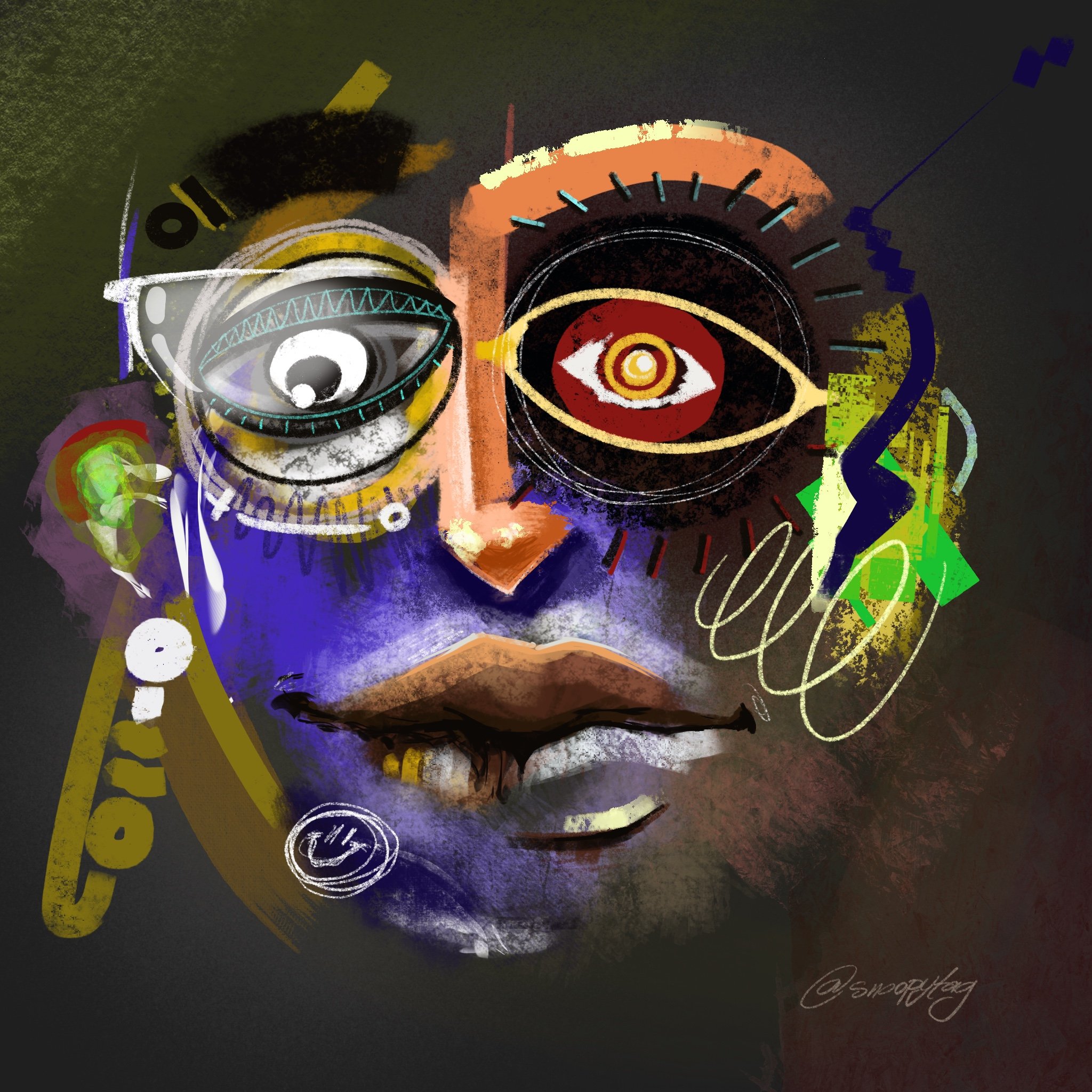 Happy Mood
Artist: Snoopy Tag
Presenting Art Fair: Art Beat Miami
Size: 20" x 20"
Medium: Digital Art
Style: Original
Price: $300
Presenting Gallery: Art Beat Miami
If you have not been to the Art Beat Miami Fair, you need to go. This piece by the Haitian graffiti artist who goes by Snoopy Tag, takes all the nonstop energy and love of color that infuses his art to a new level of complexity. The digital media used here allows a layering of image and idea that explores the whole idea of happy, not to mention smile, that infuses his work.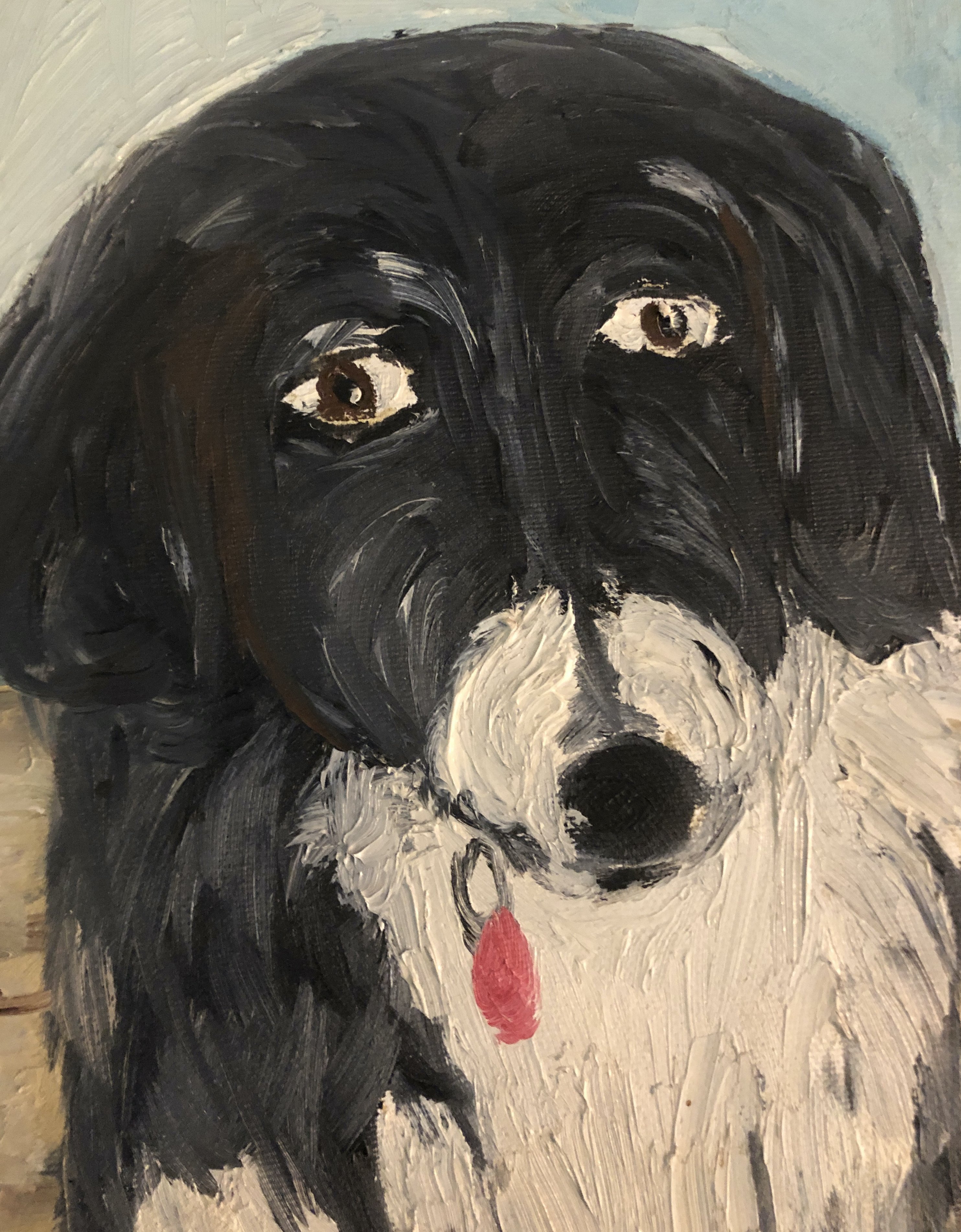 Sol LeWitt's Dog
Artist: Eric Ginsburg
Presenting Art Fair: Fridge Art Fair
Size: 8" x 10"
Medium: Oil on Canvas
Style: Whimsical
Price: N/A
Presenting Gallery: N/A
The Fridge Art Fair famously had its farewell tour in 2019, but it is back. Having the distinction of being founded by an artist, Eric Ginsburg, as opposed to dealers, it is small, quirky and features artist interventions as well a selection of Eric's well-known pet portraits. He is also known for benefitting from the patronage of conceptual artist Sol LeWitt, whose dog he really did paint (pictured).
Art Selection by Rosanne Gibel
Rosanne Gibel holds a Masters of Fine Arts from the University of Colorado at Boulder and a Bachelors of Fine Arts from Florida Atlantic University. After many years of teaching art and design history, she is currently a member of the CultureOwl staff. During the course of her career, she has presented her unique views on history and symbolism at academic conferences internationally. Gibel has served as a Department Chair and faculty member at International Fine Arts College and the Art Institute of Fort Lauderdale and as Chair of the Education Committee for the College Art Association. She is currently on the Board of the Arts and Business Council of Miami.
Featured Artists
Featured Artists