BUY ART YOU LOVE AND MAKE IT AN INVESTMENT
By: CultureOwl
|
12/03/2021
|
Visual Arts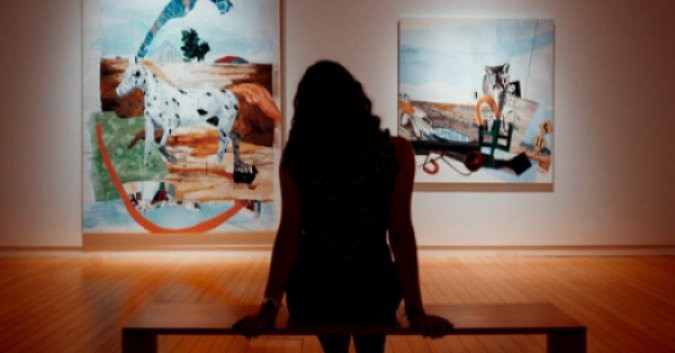 You can't go wrong if you admire the piece you acquired every time you enter the room. How the art makes you feel is the most important consideration. If you have spent money on a piece, you should have an emotional connection to it already and it's quite possible that over time you will find new elements in the piece that will make that connection even stronger.
In addition to your emotional connection with your purchase, wouldn't it be grand if this purchase could also be a solid investment? But how do you determine a good investment in art? What makes it an investment? Here are some tips to consider.
ORIGINAL ONLY
Only buy original art. They are one-of-a-kind, so you can enjoy the fact that you are not in cookie-cutter territory. Original pieces have depth that pops to demands a second look. They offer a story that likely includes a strong emotional element. The connection between the artist and the viewer can be powerful. How you've come to own the piece and why you've chosen to own one from that particular artist is a story worth telling. Original art can get expensive, so consider drawings or photographs as they are likely to be cheaper than paintings or sculptures.
DO YOUR HOMEWORK!
Knowing what to look for when purchasing art is essential. If you're serious about finding a piece that's more than just something beautiful to hang on your wall, then you need to hone in those skills: Cultivate an eye (and ear) for art. If you've heard of an artist a few times, take a closer look. Of course you must love the art your acquiring, but as an investment, you want to know that an artist is trending upward and is being recognized. Google their name and see if they've made any news. Check where they went to school and whether they've done solo shows or have been displayed in galleries. See if you can find what they've sold and how much their art commanded. If an artist has recently been selected by a gallery, they have the potential to become more widely collected.
Frequent galleries on off peak hours and strike up a conversation about the art they have on display and find out why they've chosen that particular artist. Learn from the decisions gallery owners make, as they have honed their eyes (and ears) to discovering great artists at the right time. Not too early, when the investment is most risky, or too late when you are competing with the big dogs. If a gallery takes wall space to display an artist, it means that they believe in the artist's value. To really get the feel for art, get to know artists and art collectors. Immerse yourself in their world to understand what makes art great (or terrible).
PURCHASE INTERNATIONALLY
In addition to purchasing art from emerging artists in hopes that they will one day be discovered and their art will be worth something, consider investing in somewhat known artists from other countries, like Israel, Brazil or India. While investing in an art piece, you can also take advantage of the fact that they command less of an investment than European or American artists.
SEEK AND YOU SHALL FIND
Another creative way to discover art is visiting regional auctions & thrift stores. Yes, it's a shot in the dark, but sometimes you can get steals. Do your homework though and get the basic feel of what to look for.
Happy Art Buying!