Tweet
WET PAINT MIAMI
The Wynwood Walls has brought the world's greatest artists working in the graffiti and street art genre to Miami.The Museum of Graffiti is an institution established in 2019 dedicated to the preservation, exhibition, and celebration of graffiti art in the heart of Miami's art scene, Wynwood. Museum of Graffiti is pleased to announce WET PAINT MIAMI - a traveling group exhibition by California-based artist David "Persue" Ross in collaboration with over 70 graffiti artists.
The exhibition marks the first presentation of WET PAINT in Miami, following shows in Philadelphia, Tokyo, New York, and Shanghai. Comprising Persue's signature "Wet Paint" signs with stylized hand tags and designs by over 70 graffiti artists, the show will also feature large-scale installation and sculptures showcasing BunnyKitty, a character he created that has become a symbol of his own style and personal experiences. In conjunction with the exhibition, the Museum of Graffiti will release a limited-edition WET PAINT MIAMI apparel capsule collection themed for the city and Super Bowl LIV which takes place concurrently. The family-friendly exhibition presents two groups of work which will be on view from February 1st through April 1st, 2020.
In the first group, WET PAINT MIAMI, Persue (and his collaborators) utilize the iconic sign as a canvas, and studies their interaction with the artwork they apply. Through the process, each Wet Paint sign is transformed into a collectible piece of graffiti history.
After a seasoned 25 year-long career as a commercial artist, Persue moved to Brooklyn in 2014 searching for a clearer path for his fine art. Well respected in the international graffiti scene for both his letters as well as his famous street art character BunnyKitty, Persue's illustrative approach carried over into multiple projects -- one came to him while commuting to and from his Red Hook studio. Persue often noticed Wet Paint signs while waiting for the subway. These signs, with their bold red letters, were instantly recognizable yet often ignored as a benign part of the urban scenery. He later realized that these signs were made specifically for the New York City subway system, which elevated them in his eyes, to an iconic piece of the setting where New York's graffiti movement was born and thrived.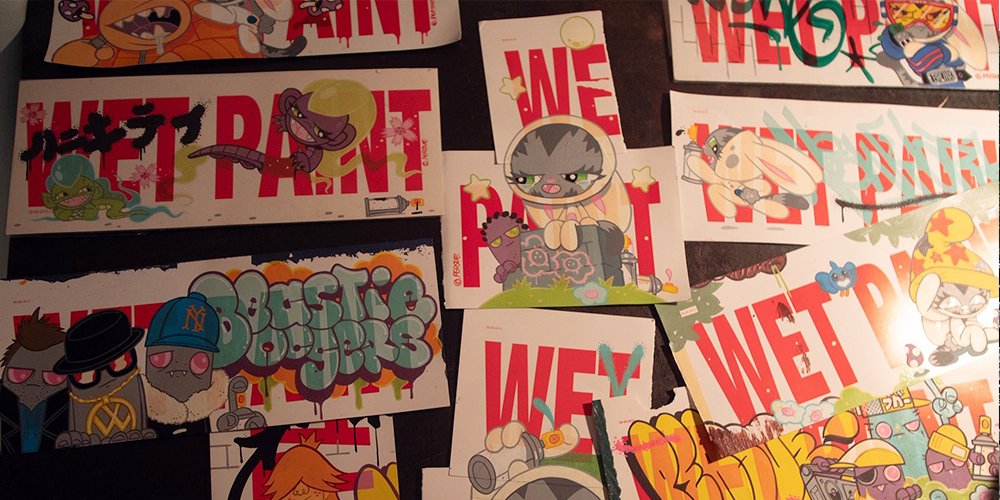 The second group of work features major examples from the colorful and cute BunnyKitty series, begun in 2001. Borne directly out of graffiti writing, the adorable character is a kitty named Daisy who dons a magical bunny suit with the power to be exceptional.
Bunny Kitty evolved into a children's book character conceived by Persue in collaboration with his late mother Diane Satenstein, who he lost to Alzheimer's Disease in 2015. This project has proven to be one of the most important in his career.
"Bunny Kitty and her universe were created over 10 years ago. I wanted to create an icon and story that would reach a larger demographic than my graffiti art might. So I invented a world and cast of characters that interact with Bunny Kitty on her adventures in a post apocalypse world. It's meant for families and it drives home the message of acceptance, rising to the occasion, and being brave through characters like BunnyKitty and Mommy Bunny, who are based on my late mother and collaborator." - Persue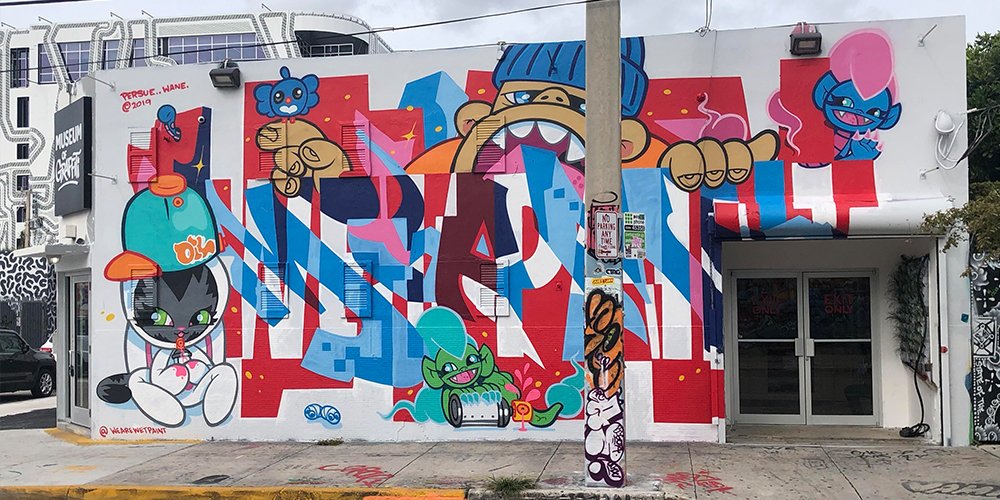 Since the series launched with the book, "The Origins of BunnyKitty: A Tale for All Ages" in 2016, Persue has created a library of merchandise and art based on the popular character including plush toys, pins, vinyl collectibles, sticker packs and more. All items will be available at the Museum of Graffiti gift shop along with several limited-edition artist collaborations and a curated collection of toys, apparel, books, prints, accessories and specialty items developed exclusively for the museum.
The Museum of Graffiti is open from 11 AM – 7 PM on Wednesdays through Mondays and it is closed on Tuesdays. General Admission tickets are $16, Children 12 and under are free. Tickets are available online or at the door and include access to all museum exhibitions. To avoid long lines and sell outs, visitors are strongly encouraged to go online and purchase tickets in advance. For more information, museumofgraffiti.com