The Return Of The 19th Annual Art Week 2020 at The Sagamore Hotel
By: CultureOwl
|
12/08/2020
|
Visual Arts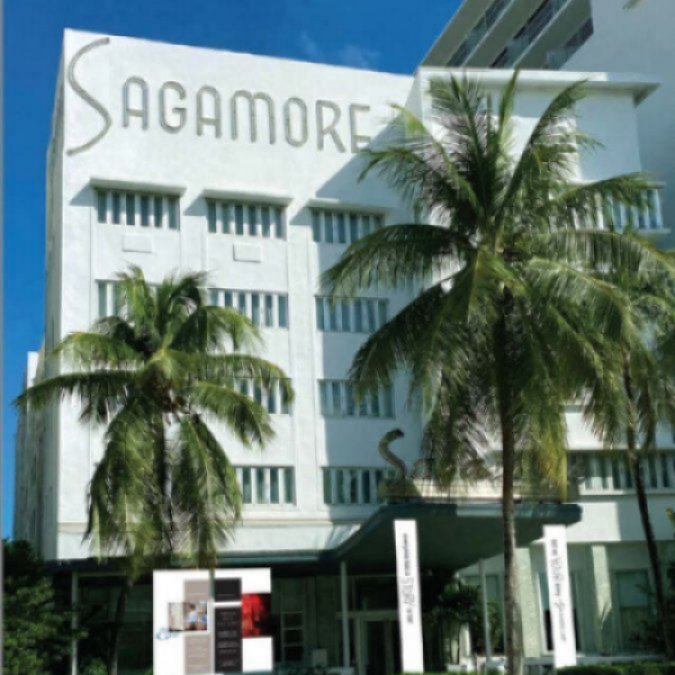 COVID-19 has put a halt on most things we love including most Art events, but we are lucky The Sagamore Hotel has a new, reinvigorated arts program for Miami Art Week!
Now, with safety of top concern, The Sagamore Hotel revitalizes its crucial role during these challenging times with its resilient love of the arts, a healthy and engaged community, and its timely exhibitions that bring together a multitude of needed perspectives for Miami Art Week and beyond.
On December 2nd, the hotel will host its opening night, A.F.F.M. (Art, Fashion, Food, Music), at the Sagamore Supper Club. The opening night will feature a runway show from Miami Designer Pangea Kali Virga, DJ Bea Pernia and live musicians, a five course concept dinner under the stars curated by celebrity chefs Jeff McInnis and Janine Booth, accompanied by cocktails, wine, and curated art tours.

From left to right: Everyone Has A Story To Tell! by Camilo Rojas, Girl at Window (Norma) by Kristen Thiele
On December 5th ,the hotel will host its iconic 19th Annual Sagamore Brunch. The brunch is by invitation only and advance ticket sales. Tickets will include the signature brunch with unlimited mimosas, crepes, art tours, live performances, and more.
Everyone Has A Story To Tell! and The Gaze will feature multimedia works curated throughout the hotel grounds, and all artwork on display will be from artists exclusively from Miami. The exhibitions are curated by two respected and seasoned art professionals: Grela Orihuela, an art advisor, documentary filmmaker, and former art fair director, and Maggy Cuesta, a graphic designer and former Dean of Visual Arts at New World School of the Arts. The artworks are available for purchase and a portion of the proceeds of sales will benefit local artists.
In conjunction with the exhibitions, there will be seven permanent murals at The Sagamore Hotel, curated by the duo. The artists involved with the murals include the following: Gabriela Beltran, Maria Benitez, Alejandro Contreras, Valeria Guillen, Patricia Monclus, Jose Felix Perez, and Camilo Rojas.
In its continued support of local art and cultural initiatives, The Sagamore Hotel will make a contribution from ticket sales and a portion of the art sales to its cultural partner The Bass Museum of Art in support of their art acquisition fund and help in the purchase of art by a Miami artist.
Everyone Has A Story To Tell! offers an interactive experience where the artists share the stories behind their works. Visitors will also be able to contribute their own stories and reactions that can be submitted and likewise accompany the work. The idea is to have an ongoing narrative that continues throughout the entire run of the exhibition. The following artists will be featured: Luisa Basnuevo, Cleo Bell, Joyce Billet, Carol K. Brown, Ana Carballosa, Nereida Garcia-Ferraz, Roberto Gomez, Stephanie Hadad, Richard Haden, Hush Fell, Yusimy Lara, Cristina Lei-Rodriguez, Betty Monteavaro, Alex Nuñez, Jose Felix Perez, Gavin Perry, Christina Pettersson, Kerry Phillips, Ralph Provisero, Camilo Rojas, Mateo Serna Zapata, Alette Simmons-Jimenez, and We Are Nice'n Easy.
The Gaze celebrates the human form through an artist's eyes: how one person sees another, how they capture their essence, and how one gazes at another can alter the perspective of art history. Through expressions of desire, admiration, attraction, or inspiration, The Gaze explores fleeting moments of perception and connection. Also featuring Miami artists, the work will be exhibited salon-style in the Sagamore Salon, and is another way to continue a visual narrative throughout the run of the exhibition. The following artists will be featured: Susan Banks, Loriel Beltran, Jessica Cohen, Marina Font, Nereida Garcia-Ferraz, Carol Jazzar, Monique Lazard, Alex Nuñez, Jose Felix Perez, Christina Pettersson, Mateo Serna Zapata, Nina Surel, and Kristen Thiele.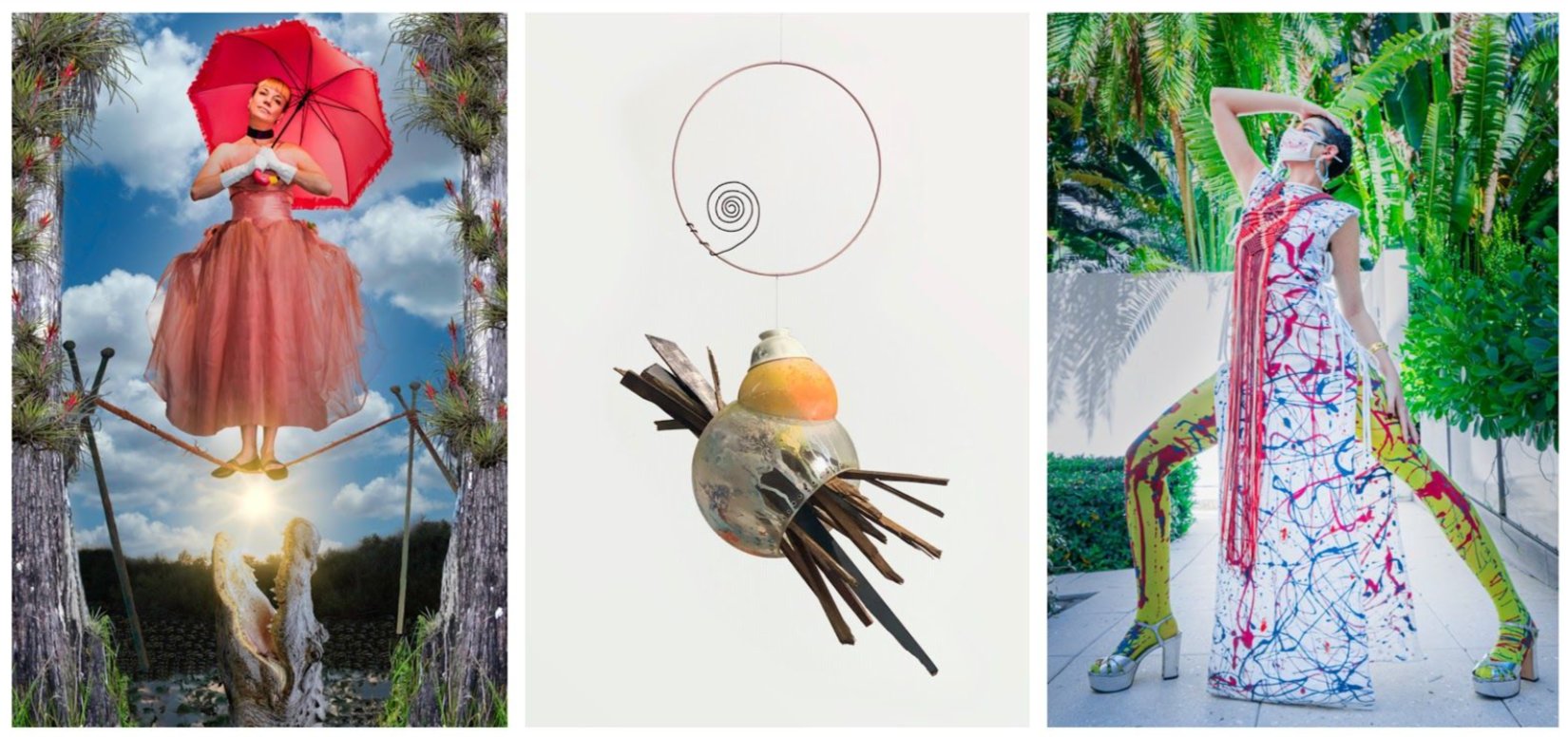 From left to right: Her Own Haunted Mansion by Christina Pettersson, Oblique 1 by Alette Simmons-Jimenez, and fashion designer Pangea Kali Virga
While the exhibitions are complementary and open 24/7 in public areas through February, 2021, The Sagamore Hotel will for the first time have galleries exhibiting out of their iconic bungalows during Miami Art Week, December 2 - December 6. The following galleries will be exhibiting:
● Christopher Martin Gallery (artists include Christopher Martin , Ysabel LeMay, Isabelle Van Zeijl, Jean Paul Khabbaz, and Paul Bloch )
● The Contemporary Art Modern Project (CAMP Gallery) (artists include Aurora Molina, Edison Peñafiel, Alina Rojo Rodríguez, and Damian Rodríguez )
● Diana Lowenstein Fine Arts Gallery (artists include Jose Bechara, Loris Cecchini, Daniel Domig, Daniel Gonzalez, Felice Grodin, Udo Noger, Alejandra Padilla, Cecilia Paredes, Dirk Salz, Santiago Villanueva, and Xawery Wolski)
● PR for Artists (artists include Barbara Cole, Russell Young, Gretchen Andrew, Patricia Carr Morgan, and Daniel Sackheim)
All events will maintain top safety procedures, enforcing social distancing and lower capacity.
The Sagamore Hotel is committed to ensuring all safety measures are implemented according to CDC and city regulations while providing guests peace-of-mind and an immersive art experience. The following measures will be put in place:
● Social distancing protocols (six feet of separation and one-way traffic flow)
● Different time slots dedicated to minimizing the number of guests at a time.
● CDC-approved sterilization will be conducted between each time slot.
● Complimentary face masks will be provided to each guest.
● Hands-free sanitizer stations will be placed throughout all hotel areas.
Event details
AFFM (Art, Fashion, Food, Music) Under the Stars December 2nd from 6:00 - 10:00 pm at The Sagamore Supper Club. The tickets includes five course dinner curated by celebrity chefs, star mixologists, DJ, and a live fashion show.
Tickets: $250 per person, please make a reservation here.
19th Annual Sagamore Brunch December 5th from 9:00 - 11:00 AM. Ticket includes unlimited mimosas, crepes, live performances, art tours, and more.
Tickets: $100 per person, please make a reservation here.
Visit the Sagamore's site for more information.