Tweet
The Bass Reopens Sept 16
Remember the good ol' days when we were able to explore museums and experience art in person? Good news! The Bass, Miami Beach's contemporary art museum, has announced its reopening to the public on Wednesday, September 16 at 12 p.m.
Following the safety standards issued by the Centers for Disease Control and Prevention (CDC) and the World Health Organization (WHO), along with Miami-Dade County and City of Miami Beach guidelines, The Bass is prepared to welcome visitors back to the museum once again after closing in March 2020 due to the COVID-19 pandemic. With new policies in place to ensure the health and well-being of the museum's guests and staff members, The Bass reopens with adjusted hours, new exhibitions, returning favorites and more.The museum's adjusted opening hours are Wednesday through Sunday, 12 p.m. to 5 p.m. Museum members are also invited to visit the museum during reserved members-only hours from Wednesday, September 16 to Sunday, September 20, 11 a.m.-12 p.m. daily, RSVP required.
WHATS ON VIEW
The Bass is also pleased to announce the opening of new exhibitions and projects, as well as the return of previously over view exhibitions.
Open Storage: Selections from the Collection
On Long Term View
Encompassing the Silva and Paresky Galleries, Open Storage presents over seventy works from the museum's collection and works on loan, comprising recent contemporary acquisitions, objects on view for the first time in a decade, as well as works historical works from the museum's founding collection. Facilitating dialogues across time, Open Storage comprises contemporary works of varying media, including photography and painting, which draw connections with paintings and three-dimensional works from the 16th and 19th centuries. These works also span geographic areas between the North and South American, European and African continents. Installed in dense, salon-style groupings, the works explore themes pervasive throughout art history into the present day, including portraiture and the construction of identity, maternity and the divine feminine, and depictions connecting spiritual and everyday life.
The Willfulness of Objects
On Long Term View
The Willfulness of Objects presents a selection of works from The Bass' collection, many newly acquired, by artists who utilize found, altered, recycled, or transformed everyday objects as their materials to explore facets of human nature, history, and the surrounding environment. The exhibition includes works by Allora & Calzadilla, Abraham Cruzvillegas, Paola Pivi, Mika Rottenberg, Adrian Villar Rojas, Danh Vōand Haegue Yang, among others.Working with existing or familiar items—pearls, a gasoline pump, a commercial freezer, and a satchel of potatoes—these artists create works that encompass diverse media, scale and formats varying from sculpture, painting and assemblage to wallpaper and video. Spanning the entirety of the museum's 2nd floor, the works investigate a range of social and formal issues including: an incumbent future filled with material detritus and natural disasters, the volatility of freedom, the fragmentation of political andcivic bodies, and the alchemic possibilities of art. Each work invites us to ponder the legacy and malleability of forms, and their meaning.
Art Outside
On Long Term View
Art Outside, an iterative public art exhibition initiated by the museum and conceived in the spirit of a socially distant world, is a collaboration with the City of Miami Beach Art in Public Places, Miami Beach Urban Studios–FIU, The Wolfsonian–FIU, and the W South Beach. Art Outside takes the form of curated parcours, expanding beyond The Bass' Collins Park campus to multiple partner locations throughout South Beach, including South Pointe Park, Pride Park, the Miami Beach Convention Center Campus, The Wolfsonian's north-west exterior, and Lincoln Road.The program offers residents and visitors the opportunity to see and experience a network of public artworks ranging from monumental sculpture, neon fixtures, to sound art and video projections. In addition to promoting a sense of connectivity, works on view evoke poetry and nature, while exploring themes like the effects of consumer culture, climate change and lost love. Many of the works are on permanent or long-term view. Additional artworks and partner locations will be added as the exhibition progresses. For visitors to explore the exhibition, an interactive map, details on each artwork, including artist interviews, video footage and more, are available at www.artoutsidemb.org.
Mickalene Thomas: Better Nights
Through January 31, 2021
Originally scheduled through September 2020, Mickalene Thomas' immersive exhibition is back on view and extended through January 2021. Inspired by the local New Jersey play 'Put a Little Sugar in my Bowl' organized and performed by the artists' mother, friends, and family as well as the parties hosted by the artist's mother in the late 1970s, Mickalene Thomas:Better Nights is an installation that transforms the galleries into an immersive art experience.The installation embodies an apartment environment, conceptually reconstructed according to the domestic aesthetic of the period, including faux wood paneling, wallpaper and custom furniture reupholstered with the artist's signature textiles. An extension of Thomas' artistic universe, the installation incorporates both work by the artist and a curated selection by Thomas featuring the work of emerging and prominent artists of color, with the prop-like tableau echoing the collage-like compositional style of Thomas' paintings.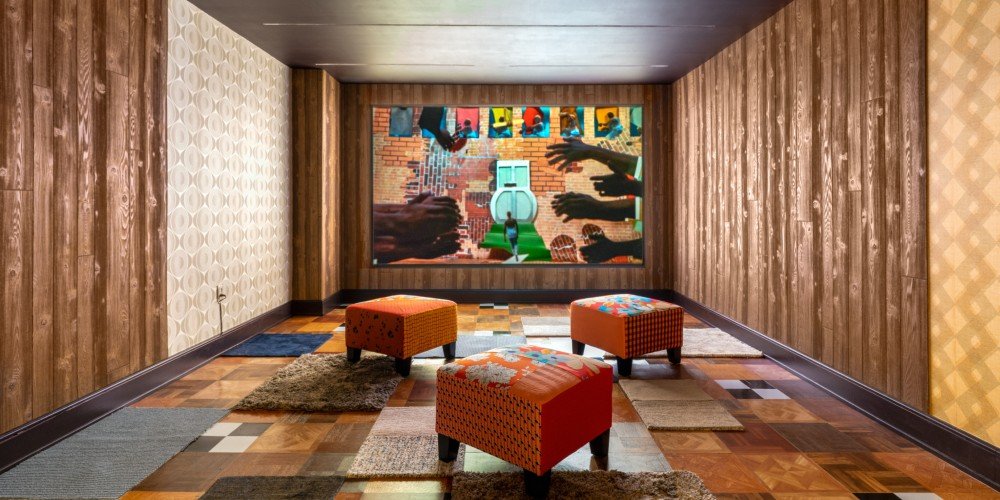 During public hours, walk-in visits to the museum are welcome, and online ticketing is available. At this time, timed-entry ticketing will not be in place, however the museum will operate at a significantly reduced capacity to ensure physical distancing is adhered to. The following visitor guidelines and safety protocols are now in place at the museum:
●In an overabundance of caution and to ensure social distancing measures are followed, the museum is operating at 10 percent capacity, with only 25 visitors permitted into the museum at a time.
●Gallery occupancy is also limited per space, and enforced by our guest services associates.
●Visitors are encouraged to purchase tickets in advance, although walk-in visits are welcome. Credit or debit card payment methods are preferred; however, cash will be accepted.
●All visitors and museum personnel are subject to a touch less temperature check upon entering the museum.
●All visitors (ages 2+) and museum personnel are required to wear face masks or cloth coverings that cover the nose and mouth at all times. Entry to the museum will not be permitted without an adequate and properly worn face covering.
All visitors and staff must maintain a distance of at least six feet from one another while inside the museum.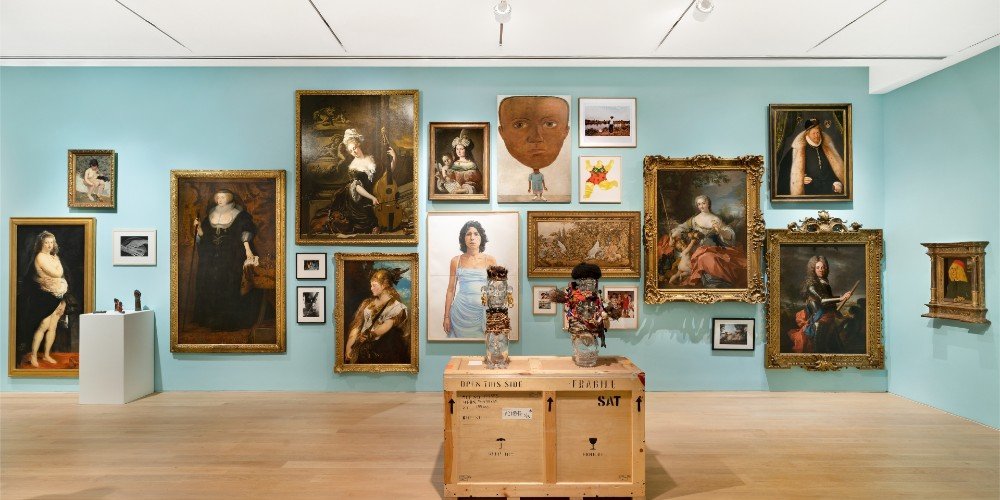 Protective plexiglass barriers installed at the reception desks and at the café.
The building is sanitized thoroughly each day, and high traffic areas such as bathrooms, elevator call buttons, railings, door handles, etc. are sanitized every hour.
Limited menu and no on-site dining at the museum café. Only take away and to-go items are for sale at this time, and food/beverages must be consumed outside of the museum.
All guests and staff members are encouraged to wash hands frequently. Sanitizing stations are located throughout the building for regular use.
Guests are required to follow directional signage inside the building to maintain social distancing.
Printed materials temporarily unavailable, however digital versions will be accessible during your visit.
Hospital-grade HEPA air filters are in use throughout the facility and are changed and monitored frequently. HEPA filters are high efficiency filters that typically capture over 99.5% of all particulate pollution, including pollen, viruses, bacteria, and mold.
Our complimentary bag and coat check services are operating, but will be self-service. We are unable to store oversized bags or luggage. Please leave these items at your home, hotel or in your vehicle at your own risk.
●Until further notice, groups of 6 or more are not permitted.
●Public-facing museum personnel receive daily temperature checks and CDC-recommended COVID-19 symptom screenings. Each staff member working from the building is required to test negative for COVID-19 before the reopening.
As part of the museum's reopening, artist Carlos Amorales collaborated with designer Janet Martínez and partnered with NGO WIEGO (Women in Informal Employment: Globalizing & Organizing) to design reusable face masks, which will be available to guests for free with the purchase of admission(while supplies last)
For more information about The Bass' reopening, please visit www.thebass.org. Until further notice, all museum programming will be offered in a virtual format. The museum will assess the return of in-person events and programs in the coming months. Additional information about the museum's ongoing virtual resources can be found here.