THE BASS OFFICIALLY UNVEILS MIAMI MOUNTAIN DURING ART BASEL
By: CultureOwl
|
11/16/2016
|
Visual Arts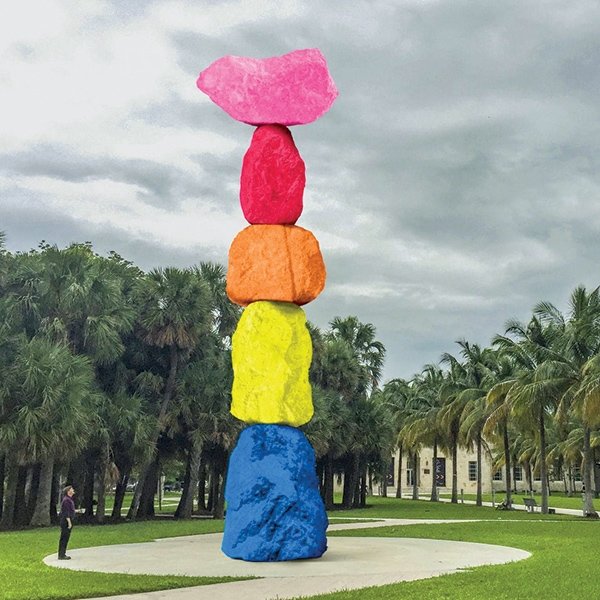 The Bass, Miami Beach's contemporary art museum, announces the arrival and unveiling of Ugo Rondinone's Miami Mountain, newly installed in the south- east corner of Collins Park in Miami Beach. An unveiling celebration and press conference will take place during Art Basel Miami Beach on Wednesday, November 30.
Mediating between geological forma- tions and abstract compositions, Rondinone's Miami Mountain consists of five, Nevada-sourced limestone boulders, each boasting a different fluorescent color, stacked vertically to a total of 41 feet high. Commissioned by The Bass, Miami Mountain is the latest work in Rondinone's mountain series and the first of its kind to be acquired by a museum.
"Art has the power to inspire and activate a community,"
The work extends Rondinone's long- running interest in natural phenomena and their reformulation in art. The new sculpture is the newest addition to the museum's permanent collection, commissioned and acquired through The Bass Acquisition Fund, and part of the museum's most recent acquisition initiative dedicated to international contemporary art. "Art has the power to inspire and activate a community," comments Executive Director Silvia Karman Cubiñá. "With Miami Moun-tain, The Bass presents our collection beyond the walls of the museum, to be enjoyed by Miami Beach residents and visitors, and to engage with every passerby."
"Miami Mountain is the most exciting piece of public art ever unveiled in Miami Beach! The positive response on social media has been overwhelming"
George Lindemann, President of The Bass' Board of Directors, says "Miami Mountain is the most exciting piece of public art ever unveiled in Miami Beach! The positive response on social media has been overwhelming. When the fence is down and the sculpture is officially part of our landscape, we think #miamimountain at #thebass will be one of the must-have selfie shots in Miami Beach."