There wasa time when self-taught artists such as Purvis Young were called "outsider artists." The art world did not quite fathom how to identify those whose obsessive dedication to color, line and material did not generally coincide with "isms" in standard art-history books. Moreover, these artists accomplished superlative feats of the imagination without formal training.
A culturally arrogant term, "outsider" no longer clings to Young's art and career like stubborn lint. The late artist's powerful work distinguishes permanent collections of national museums. It's imbued with a fervent need to underscore social injustice, a need rooted in protest movements of the 1960s. In these polarized days of the 21st century, stained by bigotry and gun violence, Young's art remains painfully relevant.
Sure to polish his reputation even further are showings of Young's work this year in Miami and at the Venice Biennial in Italy, the pinnacle of art-world prestige. The grand, sometimes controversial, international showcase spotlights arguably the most compelling art for its time.
At the Palazzo Mora for this year's Biennial, a gathering of Young's multimedia work from the 1980s, organized by Skot Foreman Gallery in New York, is on view through late fall. In Miami, the Rubell Museum in Wynwood is presenting "Purvis Young," with over 100 mixed-media paintings by the artist, who died in 2010. The show opened in December during Art Basel Miami Beach to much acclaim.
Accompanying the Rubell exhibit is a 364-page, hardcover catalog with 254 color plates and several essays. It revisits the story of how Don and Mera Rubell met Young in his Wynwood warehouse studio in 1999. Afterward, the family purchased the contents of Young's studio, including more than 3,000 paintings, hundreds of works on paper and many artist's books. The Rubell Museum has since donated 493 paintings to museums across the country.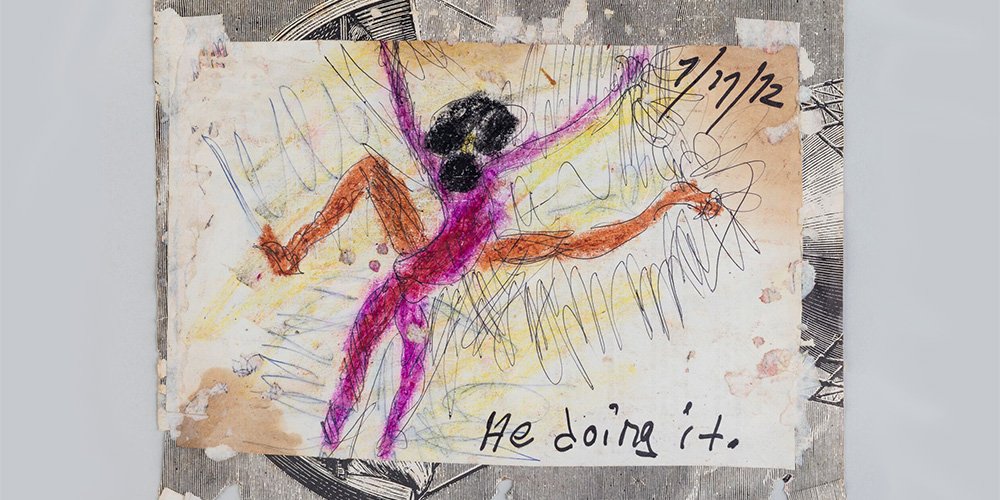 Meanwhile, ICA Miami is presenting "Purvis Young: Drawings," which opened May 16 and runs through Oct. 27. It features 19 works from roughly 1969 to 1984, with drawings from its own collection combined with loans from the Rubell Museum and Miami-Dade Public Library's permanent art collection. The drawings, in various media on paper and other surfaces, reflect the practice of an artist who found many of his rough-hewn materials on the street and liked to incorporate into his art pages from discarded ledgers and books. This selection is curated by Gean Moreno, who contributed a scholarly essay about Young's art to the Rubell show's catalog.
Purvis Young's "Man With Eye," a mixed-media work from 1975, is on view at ICA Miami. Image courtesy ICA Miami.
Strangely, the ICA exhibit is far less engaging than the ongoing survey at the Rubell, and not just because it is so much smaller. The drawings on view here rarely convey Young's pulsing sense of color or the visceral impact of his calligraphic sense of line. That distinctive, roving line summoned dynamic portraits of places and faces in Overtown, where he spent years chronicling desperation, injustice and tenacity. His art "isolates the poetry of poverty, the life of the street, the cosmos of despair," as artist César Trasobares writes in his essay "Purvis Young: Me and My People," republished in the Rubell Museum catalog.
Yes, Young's signature images and themes are apparent in the selection of drawings at ICA Miami. They illustrate the contrast between violence-plagued, inner-city streets and pregnant women with swollen bellies, who evoke the hope and risk of new beginnings amid an urban landscape scarred by vast gaps between haves and have-nots.
But too often, compositions appear muddled, hastily crowded and blurry, bereft of the intensity that makes the current selection of paintings at the Rubell Museum so commanding. For example, in "Another Killing Last Night," from 1978 and rendered in crayon and ink, the crush of barely discernible, scribbled figures looks oddly tame despite the grim, immediate subject.
An exception is "Man With Eye," from 1975 and showing one of Young's wraithlike figures with arms outstretched but uncomfortably tethered to a giant blue eye. Its power derives from the drawing's surreal economy of line. Two other affecting drawings highlight, in wavering paint strokes, the plight of immigrants navigating tumultuous waves beyond Miami.
The lukewarm effect of the show makes it imperative that art lovers visit the stunning Purvis Young exhibit at the Rubell. Even if you have already seen it, it's well worth another look before the exhibit ends June 29, when the museum itself will close in preparation for its relocation to Allapattah.
An ardent Miami Dade County Public Library patron and fan of public television and radio, Young gave himself a wide-ranging education in art, history and current events. He painted and drew striking allusions to wars, troubled race relations and refugees.
Forever curious, Young was intrigued by Chicago's short-lived but influential Wall of Respect in 1967. The project gained national attention for its mural of black heroes painted on a building's facade in an impoverished neighborhood. It arose from ongoing struggles in the civil rights movement and included portraits of figures such as Malcolm X and Aretha Franklin.
Inspired by the Wall of Respect, Young created his own short-lived, large-scale mural in the early 1970s in Overtown. He painted his now classic, provocative scenes on found metal and wood scraps, nailing them to boarded-up houses in an area known as Good Bread Alley, named for fragrant Bahamian bread once available there. Young's mural was visible from the then recently completed I-95 overpass in Miami. Thus, his unique story of Miami began in earnest. It continues still.
"Purvis Young: Drawings" is on view through Oct. 27 at ICA Miami, 61 NE 41st St. The space is open 11 a.m.-7 p.m. Tuesday-Sunday. Admission is free. Call 305-901-5272 or go to ICAMiami.org.
ArtburstMiami.com is a nonprofit source of theater, dance, music and performing-arts news.