Naples Art Association to Host Preview Reception of Two Upcoming Exhibits
By: CultureOwl
|
04/30/2019
|
Visual Arts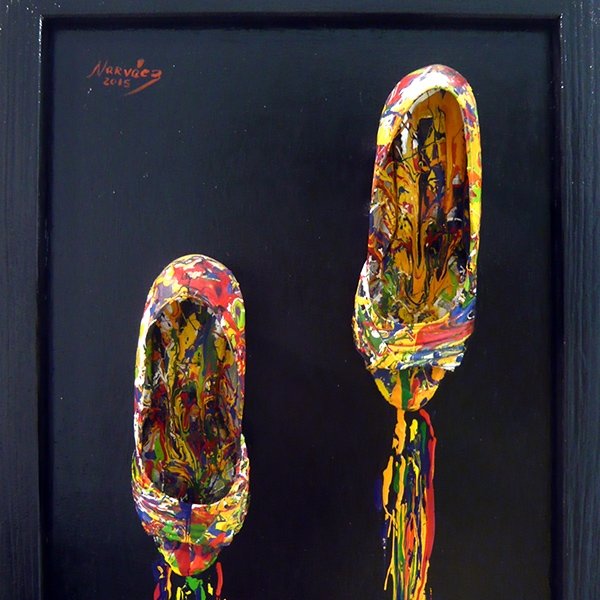 The Naples Art Association (www.NaplesArt.org) - a non-profit organization whose mission is to expand cultural opportunities, broaden education, and enrich Southwest Florida through the visual arts – is pleased to announce two upcoming exhibitions. Passionately Repurposed: Art from Recycled and Found Materials and There is a Song in My Art will both be on view December 10 through January 21 at the Naples Art Association, located at 585 Park Street in Naples.
A special Preview Reception for both exhibits will be held on Friday, December 9 from 5:30 p.m. to 7:30 pm. Admission is free for Naples Art Association donors and not yet donors are just $10 per person.
Passionately Repurposed is an exhibition of artwork created from recycled materials and found objects and will be on view in the Frederick O. Watson Gallery. Recycling is the reprocessing of materials into something new and includes the actions of reclaiming and altering. A found object is a natural or discarded object found by chance and held to have aesthetic value. Artists known for working with discarded and found objects include Joseph Cornell, Marina DeBris, Marcel Duchamp, Louise Nevelson, Pablo Picasso, Robert Rauschenberg, Leo Sewell, and Michelle Stitzlein. Naples-based art professional, Janice Paine, will serve as juror and select artwork for the exhibition. There are seven cash awards, including Best of Show $500, First Place $250, Second Place $200, Award of Merit $150, and three Honorable Mentions of $100.
Paine has fostered appreciation and participation in the visual arts, while serving as an art critic, art journal editor, arts program manager, and assistant curator in Wisconsin and Florida. As program manager for education services with the United Arts Council of Collier County, Paine develops and administers arts enrichment after-school programs for elementary and middle school students. Paine has written and published on art for more than 30 years for many local and national publications. She earned a Master of Arts degree in art history from the University of Delaware and a Bachelor of Arts degree in American studies/literature from Reed College in Portland, Oregon.
For more information about the Passionately Repurposed exhibit, please visit www.naplesart.org/event/passionately-repurposed-art-from-recycled-and-found-materials.
Presented by the Southwest Florida Fine Craft Guild (SWFFCG), There is a Song in My Art will feature two and three-dimensional work, ranging from mixed media to jewelry to woodworking, ceramics, and fiber art, and will be on display on the ground floor and second level at the Elizabeth & William Barrick, Millicent and Charles Marshall, Elizabeth & Alan Harris, John H. & Lucile Harris, and the Minnesota lobby galleries.
The mission of the SWFFCG is to encourage high standards of performance and accomplishments in fine crafts. Guild members achieve this mission by means of participation, promotions and education through shows, exhibitions, demonstrations, and art scholarships.
For more information about the There is a Song in My Art exhibit, please visit www.naplesart.org/event/there-is-a-song-in-my-art.
About the Naples Art Association
The Naples Art Association is a respected and award-winning non-profit organization that has served and enriched the community by championing education, interest, and involvement in the visual arts in Southwest Florida since its inception in 1954. The Naples Art Association serves as a catalyst for individual artists of all ages and skill levels and continues to inspire all who visit to live and think artistically. A working art center, the Naples Art Association creates unique opportunities for local artists and guests as well with a full calendar of events each season, including special exhibitions featuring local and national artists; Art in the Park—Naples' oldest outdoor art show; three of the top five outdoor art shows in the U.S., including the Naples New Year's Art Fair, the Naples National Art Festival, the Downtown Naples Festival of Arts; For the Love of Art—Naples Art Association's annual art celebration fundraiser; Goddess Night—an evening of friendship, empowerment, education, and philanthropy for women; ARTScool summer arts education program for kids; over 100 various classes and workshops for all levels; and a myriad of collaborative outreach programs with area non-profits. Linking visual arts creators with those that love it, the Naples Art Association also offers its space for rental for anyone looking to host an event in a unique venue. The Naples Art Association is located at 585 Park Street in Downtown Naples and is open to the public with no admission charge from 10:00 a.m. to 4:00 p.m. Monday through Saturday. For more information about the Naples Art Association, please visit www.NaplesArt.org or call 239.262.6517.