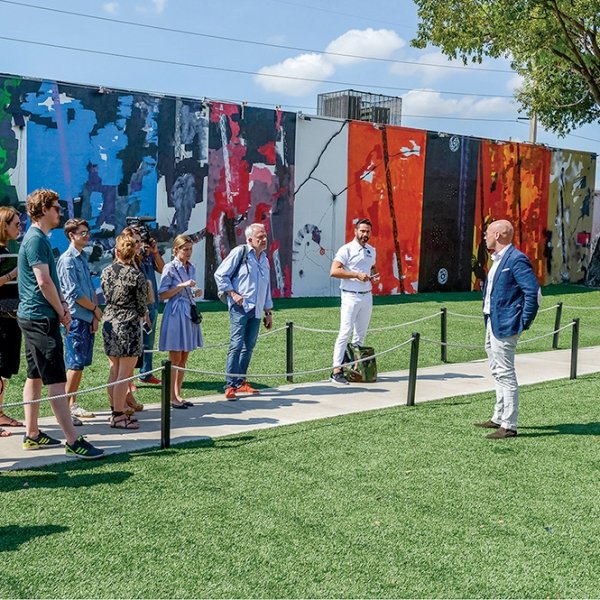 By Sebastien Laboureau, International Art Consultant, CEO and Founder of MoonStar Fine Arts Advisors Urban Art Specialist for Fine Arts Auction Miami
Nowadays, street art is everywhere, including galleries and auction houses. Originating as a form of visual art created in public locations and often featuring unsanctioned organic works, the term gained popularity during the Graffiti Art Boom in NYC in the early 80s. Now known as Urban Art, this movement has evolved to include many other techniques beyond graffiti, such as stencils, wheat-pasted poster art, sticker art, bombs and spray painting, various street installations, and video projections, including mapping.
because of its socially relevant content, infused with aesthetic value, which raises awareness of political and social issues, and whittles away at barriers of discrimination, while sharing a sense of beauty with the public. All across urban areas all over the world, Urban Art is now a sought after commodity, with many building owners actually seeking out urban artists to cover their walls with art.
With more than 100 walls created by artists from all over the world, the Wynwood District in Miami has become a true mecca for Urban Art. Visionary Tony Goldman was the first to create an open-air museum comprised of entire walls painted by Urban Artists, known as Wynwood Walls. Now, with over 80,000 international visitors attending more than 20 art fairs in Miami Beach and Miami during Art Week, in addition to the exciting year-round art scene, which includes more than 50 art galleries and private collections, and the revival of Downtown, notably with the world-acclaimed new PAMM museum, Miami has truly become a global cultural and urban hub.
With Urban Art selling frequently at auctions in galleries, Art Week is the ideal time to discover new artists and purchase exceptional artwork by major street artists at a fraction of the cost of works by Andy Warhol or Roy Lichtenstein. The street art of today will be the pop art of tomorrow!
Sebastien Laboureau
Sébastien Laboureau holds a degree in Civil Engineering from Ecole des Mines de Paris and a Master of Science in Accounting and Finance from the London School of Economics.
He benefits from an international experience in Management Control (at AXA Group) and Investment Banking (Mergers and Acquisitions at Goldman Sachs). Long-time, art enthusiast and experienced art collector, he is the Founder and Chief Executive Officer of MoonSar Fine Arts Advisors, an independent art consulting agency located both in Miami and Paris, with partners in Latin-America and Asia, trusted advisor of private collectors, and various institutions all over the world. He is the Vice-Chair of the board of trustees of the Arts and business Council of Miami. He is notably the Strategic Art Advisor of Institut Van Gogh, in Auvers-sur-Oise, the Curator of the new Pullman Miami Airport, and of France Pavilion, and the Urban Art Specialist for Fine Arts Auction Miami, the leading auction house in Miami.
As a respected and independent expert on the art market, he is a keynote speaker to various private banks, family offices and public institutions, he travels around the world to give lectures and conferences on the art market, and give interviews to prestigious newspapers.