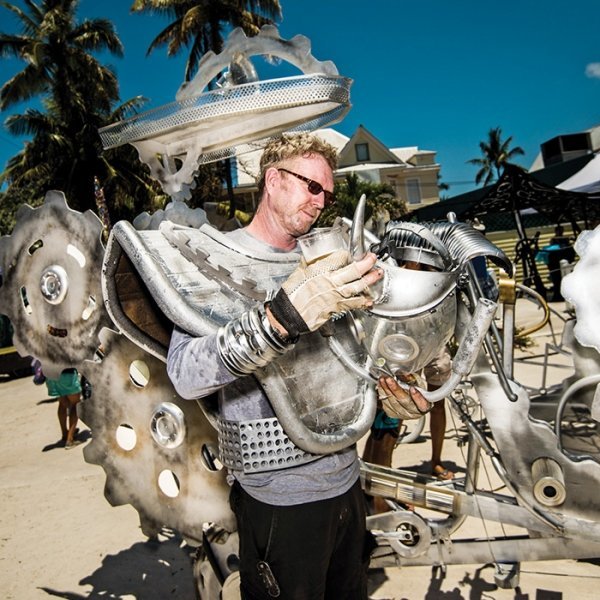 The Florida Keys provide a natural artistic landscape: Lush tropical palm trees lining the ocean's edge, as well as the deep, fiery, orange, pink and purple hues unfolding across the skyline during the Key West Sunset Celebration at Mallory Square. It seems only fitting that Key West should be a tropical haven for manmade art as well, brimming with events, art walks, and museums. As we commemorate travel in this issue, we thought we'd explore a couple of Key West's artsy gems, and inspire you to seek out some of these artistic treasures during your journey of discovery.
Events
Second Annual Papio Kinetic Sculpture and Art Bike Parade
May 5-7
Get ready to flex those artistic muscles! The Key West Art & Historical Society invites artists, builders and assemblers to put their creative and engineering genius to the test for the Second Annual Papio Kinetic Sculpture and Art Bike Parade, set for May 5-7, and sponsored by the Monroe County Tourist Development Council.
"This event is open to anyone, regardless of age or artistic level, willing to create a sculpture or an art bike," says KWAHS Executive Director Michael Gieda. "The Papio Parade's ultimate purpose is to offer a family-friendly event that reflects and promotes the artistic culture of the Florida Keys." Teams of any number and age are welcome to enter this pedaled or pushed sculpture parade.
Inspired by, and named for, the late Keys artist, Stanley Papio, a humorous rebel metal-artist who explored the value of recycled materials long before it was hip to be rusty, the full weekend of kinetic revelry kicks off at the Custom House Museum on Friday, May 5. The opening features a presentation on Stanley Papio and kinetic art from 6:00-7:00pm, followed by a reception on the porch. The parade itself launches at 12:00pm on Saturday, May 6, followed by a beach-party celebration at the Southernmost Beach from 1:00–3:00pm. Things wrap up on Sunday, May 7, with a Papio Picnic and Kinetic Kids Day at Fort East Martello Museum from 11:30am-3:00pm, featuring a tour of the Papio Collection at noon, with family-friendly activities and food & libations for purchase. Entrance to the museum that day will be free.
Studios of Key West
The Studios of Key West is a professional non-profit cultural organization that promotes multidisciplinary arts, provides artist-in-residency opportunities for artists worldwide, and maintains long-term studio spaces dedicated to Florida Keys artists. Through classes, performances, lectures, gallery exhibits, partnership projects, and special events, the Studios unites Pulitzer Prize-winning authors and world-renowned artists with local audiences and art practitioners at all stages of their creative careers. Upcoming exhibition highlights include Margo Ellis, a forty-year quilter and fabric arts innovator, presenting her latest text works on April 6-25 at the XOJ Gallery, and RePurposed Kids, a series of vintage doll heads and Singer sewing machine drawers by Karen Luknis at the Project Gallery, April 7-28. And don't forget to visit The Studio's Open House, the first Thursday of each month!
Art Walks
Key West offers several regular neighborhood gallery strolls that are magnets for anyone who appreciates art. Walk on White is one of the most famous of these, taking place on the third Thursday of each month on White Street, from Southard to United streets, and proceeding onto Truman Avenue. The popular evening features exhibitions and receptions at galleries, shops and occasionally other venues.
The Island City's famed Duval Street, known for its eclectic galleries, comes alive the first Friday of each month during the Upper Duval Street Stroll. This Art Walk features art exhibitions, receptions and culinary offerings. Art aficionados can explore galleries, boutiques and food & wine emporiums at their leisure.
The Historic Seaport District Art Walk is held on the first Thursday of each month, on Caroline and Greene streets, a historic Key West neighborhood, which is part of a lively art and design district, spotlighting galleries and merchants.
Museums
No visit to Key West would be complete without a visit to Hemingway Home and Museum (hemingwayhome.com), a registered national historic landmark. The museum offers guided tours of the author's home, writing studio and Key West's first swimming pool. Don't forget to keep your eyes peeled for the six-toed cats roaming the premises. These felines are the original descendants of Hemingway's own pets!
For those who are in strict vacay mode, and are just trying to squeeze in a little art between tanning sessions in paradise, there are many other historical museums and attractions to check out, including the Audubon House & Tropical Gardens (audubonhouse.com), and the Mel Fisher Maritime Museum (melfisher.org), which showcases gold, silver and treasure recovered from shipwrecks in the New World, for all the Pirates of the Caribbean fans out there!
With so much to offer, Key West is a definite must-add to any Floridian's bucket list, particularly if discovering a new cultural tropical paradise right in your own backyard appeals to your inner art lover!