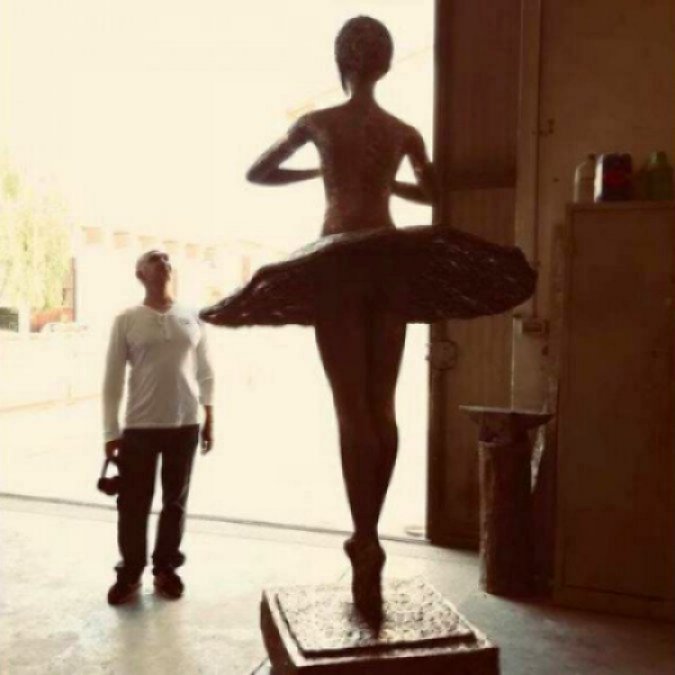 Aqua ArtMiami, the premier gathering spot for collectors, curators and art lovers to discover fresh talent, is pleased to unveil new works of the Russian Ballet by internationally celebrated artist Kevin Berlin, on December 5-9, 2018, at 1530 Collins Avenue Miami Beach.
The solo exhibition will feature Berlin's highly anticipated new body of new work, HOPE DIES LAST. The Aqua Art Miami exhibition showcases the worldwide premier of Berlin's new monumental bronze sculptures "Dying Swan" and "F*** You Ballerina."
"I am so happy that Kevin is bringing his ballerina sculptures to the AQUA Art Miami fair" said Grela Orihuela, the director of the AQUA Art Miami fair. "The moment I saw the images of him at work on these bronzes in his studio, I knew I wanted the works to be prominently featured at the main entrance of the fair because they are so compelling and provocative. This is the first time they are exhibited and I know our guests will engage with the work, both with the beauty of the sculptures and with the bold ideas they express".
Berlin's paintings focus on the interior and secret lives of ballet dancers – depicting their hidden thoughts in sensual black and white paintings, sculpture, and works on paper. HOPE DIES LAST stems from time the Artist spent studying ballet dancers in 2015, working from a makeshift studio on Nevsky Prospect in Saint Petersburg, Russia, where he had the opportunity to interview 14 ballet dancers and learn their innermost fears, desires, and thoughts. These new Ballet works reflect the private thoughts not of the Artist, but of the dancers themselves.
Berlin has worked with some of the most famous dancers and theaters in the world including Kirov Ballet, St. Petersburg, Russia and the National Opera and Ballet in Kiev, Ukraine. His monumental portraits in cast bronze and glass have been posed for by Anastasia Volochkova, Maestro Luciano Pavarotti, and Maestro Valery Gergiev. Berlin's most recent ballet exhibition, "The End of the World," took place at the Florence Dance Center in Florence, Italy in 2017. He first entered the world of classical ballet 2003 when he was invited to spend a year backstage with the Kirov Ballet, personally working with over 40 dancers, and then creating renowned paintings, including "The Last Thing That Does Is Hope," "The Happy Ending," and "Fear of Falling."
SOLO EXHIBITION | MONUMENTAL BRONZE SCULPTURE, PAINTING, WORKS ON PAPER
Aqua Hotel, 1530 Collins Avenue Miami Beach