Follow the Yellow Brick Road to The Frank for The Wizard of Oz
By: CultureOwl
|
06/04/2018
|
Visual Arts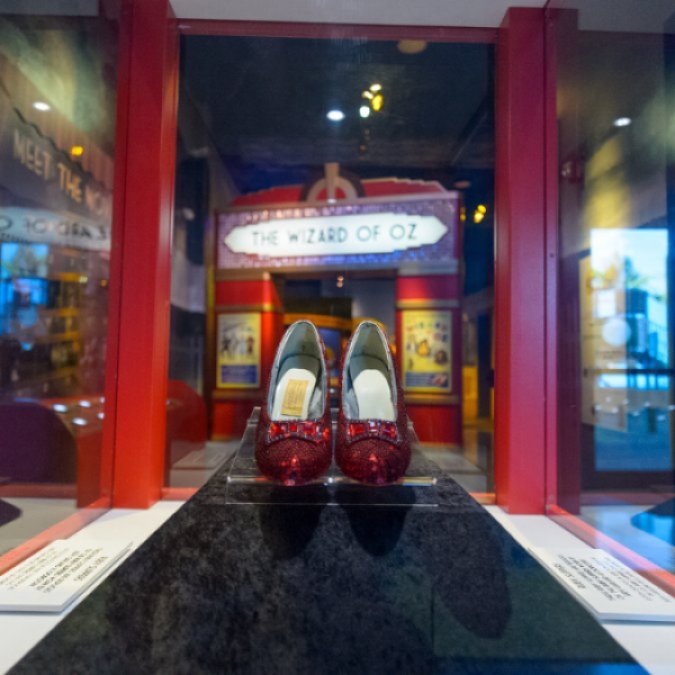 Dorothy, Toto, Scarecrow, Tin Man, Cowardly Lion, and The Wizard of Oz have all landed in Pembroke Pines as The Frank art gallery presents The Wizard of OzTM, a family-friendly interactive educational exhibit. Created by Miami Children's Museum and licensed by Warner Bros. Consumer Products, the exhibition will open with a reception where guests will be the first to experience The Wizard of Oz and will be treated to a vocal performance of "Somewhere Over the Rainbow." The opening reception is free and open to the public from 6 to 9 p.m. on Thursday, June 7.
The Wizard of Oz is on display through August 18. Admission is $5 per person.
Visitors will embark on a multi-sensory exploration of the iconic Land of Oz as they travel over the rainbow to experience the magic of this film classic. In the only licensed educational exhibit from Warner Brothers, visitors will participate in a fun-filled journey of self-discovery by using literacy, visual and performing arts, investigations of light and science and much more. They'll travel from the Gale Farm along the Yellow Brick Road to the colorful land of Oz and explore Munchkinland, The Crossroads, The Witch's Castle and The Emerald City before returning home to Pembroke Pines.
The Frank's Chief Curator Joshua Carden has combined The Wizard of Oz exhibition with contemporary artwork by Jason Aponte, Franklin Gonzalez, Gabriele Gutwirth, Aaron Miller, Brian Reedy and Santiago Rubino.
"We always welcome the opportunity to collaborate with Miami Children's Museum and especially in presenting this fun, engaging, educational exhibition," said Carden. "As a part of The Wizard of Oz, we invited artists to submit work inspired by the classic film for an opportunity to be featured. The six artists that were chosen are extremely talented and we're excited to have them as part of this extraordinary exhibition."
As part of The Wizard of Oz, various workshops, lectures and events are offered throughout the summer. For more information, visit https://www.thefrankgallery.org/events.
The 3rd Space exhibition wall at The Frank, designated for exhibiting work from the community-at-large, will feature work from participants in the Free@TheFrank art workshops and art classes.
Guided tours of The Wizard of Oz are available. The Frank is located in the Charles F. Dodge City Center in Pembroke Pines at 601 City Center Way. Hours are Tuesday through Saturday, 11:00 a.m. to 5 p.m. For more information about The Frank, call 954.392.2120, email thefrank@ppines.com or visit thefrankgallery.org. Follow The Frank on Facebook and Instagram at The Frank Pembroke Pines.
For more information about each artist visit:
Jason Aponte http://www.jasonaponte.com/
Franklin Gonzalez https://www.instagram.com/aesthetically_frank/
Gabriele Gutwirth https://www.gabrielegutwirth.com/
Aaron Miller http://www.aaronjmiller.com/
Brian Reedy https://www.instagram.com/brianreedy/?hl=en
Santiago Rubino http://www.santiagorubino.com/