'FLOODZONE' ON VIEW AT LITTLE RIVER'S DOT FIFTYONE GALLERY
By: CultureOwl
|
10/21/2020
|
Visual Arts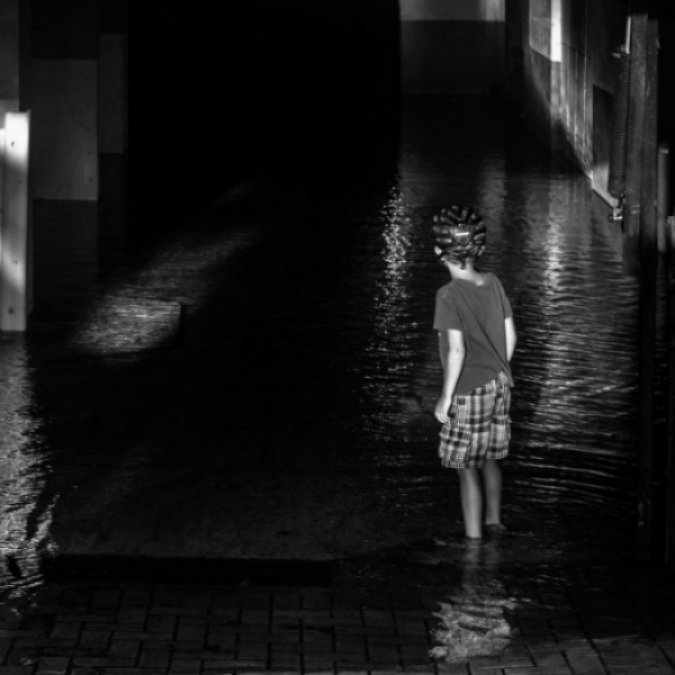 By Nicole Martinez
Anastasia Samoylova phones into this interview from her balcony in Miami Beach, a frequent perch since it's the only vantage point from which she can spot a glistening sliver of ocean.
"I'm almost always sitting in this spot, because it's what I've always dreamed about and was never accessible to me," she says.
Born in Moscow, Samoylova settled in Miami four years ago, after moving to the United States in 2008 to pursue her Master of Fine Arts degree. She had been working as an academic and freelance photographer in the Midwest, but Miami's vibrancy resonated with her after a stint in the Fountainhead Residency.
The wide, blue horizons of her newly adopted home contrasted sharply with her formerly landlocked surroundings, and Samoylova was acutely drawn to the fact that the urban and organic intertwined cacophonously in Miami: She observed how wild, moldy overgrowth sprouted from swollen concrete; how water seeped out from sewer drains on a sunny day, eventually soaking it up like a sponge; how billboards and magazine ads displayed a sublime pastel luxury and failed to register the murky toll of overdevelopment. These images jarred Samoylova, but she noted that no one around her seemed to pay it much mind.
"Realizing that climate change was a major threat to Florida was very experiential for me," she says. "It seems like for Floridians that grew up here, it wasn't such an obvious thing – or at least, there were things that were happening that were too subtle for them to notice."
As such, her arrival to Miami represented a radical shift in her practice, as she turned away from studio-based work and toward something that was purely observational. Amassing images collected from sojourns into local neighborhoods over the course of a year and a half, Samoylova created "FloodZone," a photo book that has since morphed into a solo exhibition at the University of South Florida in Tampa. A capsule exhibition, also entitled "FloodZone," is currently on view at Little River's Dot Fiftyone gallery, which predominantly showcases contemporary artists working across Latin America.
The exhibition, which opened on June 18, can be viewed through Sept. 14 both in person and online on the gallery's website at Dotfiftyone.com. Because the gallery is employing social distancing measures – such as limiting the number of people in the space – organizers recommend making an appointment. Visitors are required to wear masks, and hand sanitizer is provided at the front desk.
In "FloodZone," Samoylova's documentary images capture a slice of Floridian allegory both physical and metaphorical, alluding as much to the marked dissonance of its environment as they do to the psyche of the people who inhabit its terrain. Her photos construct a mirage in which the future is imminent and yet doesn't represent an immediate threat, where humans keep moving, building and boating without ever reckoning with their paradise's impending demise. They display a tug of war between man-made construction and the natural world – the former's persistent intervention and the latter's re-emergence in the most unlikely places.
Atypical of her practice, Samoylova's observational approach was predicated on preliminary research about Miami's most at-risk communities, examining both the threat of climate change and climate gentrification as critical issues affecting the region's societal framework. From there, she shot what stood out.
"I only shoot what draws my attention," she says. "I like to keep things really open and layered to where this quality of surface and content is translated into the work."
Images like "Roots (2018)" – exposing a tree's underground maze after it was ripped out by gale-force winds – demonstrate the push-and-pull fragility of our ecosystem. "Concrete Erosion (2019)" and "Painted Roots (2017)" similarly allude to the power struggle that exists between man and nature, with plant matter emerging out of concrete. Others, like "Flooded Garage (2017)" and "Staircase at King Tide (2019)" depict inundations alarming to most, yet commonplace for the average Floridian.
In "FloodZone," Samoylova draws a parallel between the capitalist nature of photography and that of the landscape in which she works: "Photography has very much to do with the conquest of environment. You're always creating an imagined reality, and that's how Florida was developed," she says.
Her perspective presents the complexity of the issues at play – the communities that stand to be displaced; the nature that constantly faces destruction and abuse; and a way of life that is slowly being lost.
What: Anastasia Samoylova's "FloodZone"
When/where: On view through Sept. 14 at Dot Fiftyone, 7275 NE Fourth Ave., #101, Miami; or dotfiftyone.com. Due to social distancing measures, making an appointment is recommended.
Cost: Free
More information: Call the gallery at 305-573-9994 or email dot@dotfiftyone.com
ArtburstMiami.com is a nonprofit source of theater, dance, visual arts, music and performing arts news.