Fine art at Boynton Beach's International Kinetic Art Event inspires new technologies
By: CultureOwl
|
01/10/2017
|
Visual Arts
Art and tech combine at Boynton Beach's 3rd biennial International Kinetic Art Exhibit and Symposium, Feb. 3-5, 2017. The City's signature event gives attendees opportunities to interact with more than 75 kinetic artworks, have one-of-a-kind visual art experiences and purchase kinetic art. During the weekend event, downtown Boynton Beach, from Boynton Beach Boulevard to SE 1st Ave., and along east Ocean Avenue, from Seacrest Boulevard to Federal Highway, will come alive with art that moves. These works include fine art pieces powered by solar, wind, lights, robotics, water, gravity and more. The event will also feature kinetic-inspired exhibits, community projects, meet-and-greets with kinetic artists and a lecture series.
Kinetic art relies on movement for its effect. One of the best-known kinetic art forms is the mobile created by sculptor, Alexander Calder. However, modern kinetic art incorporates many forms of movement. Some of the infinite possibilities of kinetic art will be showcased during this exhibition. There will be a total of 16 iconic outdoor art works by kinetic artists, featuring Tom Brewitz, Anthony Castrovono, Kevin Duval, Paul Daniel, Craig Gray, John King, Jim LaPaso, Beju LeJobart, Darren Miller, Stefan Radu Cretu, Don Redman, Amos Robinson, Ron Schroer, Elayna Toby Singer, and Doug Taylor. The artworks include solar-robotic "Moonflower," several graceful wind-driven kinetics like "Revelation" and "Ying Yang," large colorful industrial looking sculpture like the "Kiko-Cy," the whimsical "Winds of Wine," a corkscrew-like kinetic artwork, and "Dudali Salsa," a giant dancing exhibit. Several of these kinetic artworks are already installed in east Boynton Beach, along east Ocean Avenue, between Seacrest Boulevard and Federal Highway.
The City's signature event will also introduce new fine art and technology fusions. On Saturday, February 4th and Sunday, February 5th, a Romanian kinetic artist will install an exhibit that has never been seen before in the United States. The artwork merges art with solar and mechanical kinetics to create a piece that is unique to Boynton Beach. Throughout the event, attendees can view the kinetic art on a self-guided tour, or with the aid of docent volunteers. In addition, the event will feature more than 60 indoor kinetic art displays, ranging from the light-activated, interactive, self-moving and motorized. There will also be scheduled opportunities for attendees to meet many of the artists and discuss kinetic art.
Boynton Beach's 3rd biennial International Kinetic Art Exhibit & Symposium also includes informative presentations for attendees to learn more about the kinetic art form. Presenters include working kinetic artists and educators Noam Ben-Jacov, Eleonora Nicoletti, Anthony Castrovono, Ron Jaffe, Stefan Radu Cretu, PhD, Ralfonso, and Don Redman. The presenters will discuss many aspects of kinetic art, including the history, different forms, use of technology and the future of kinetic art.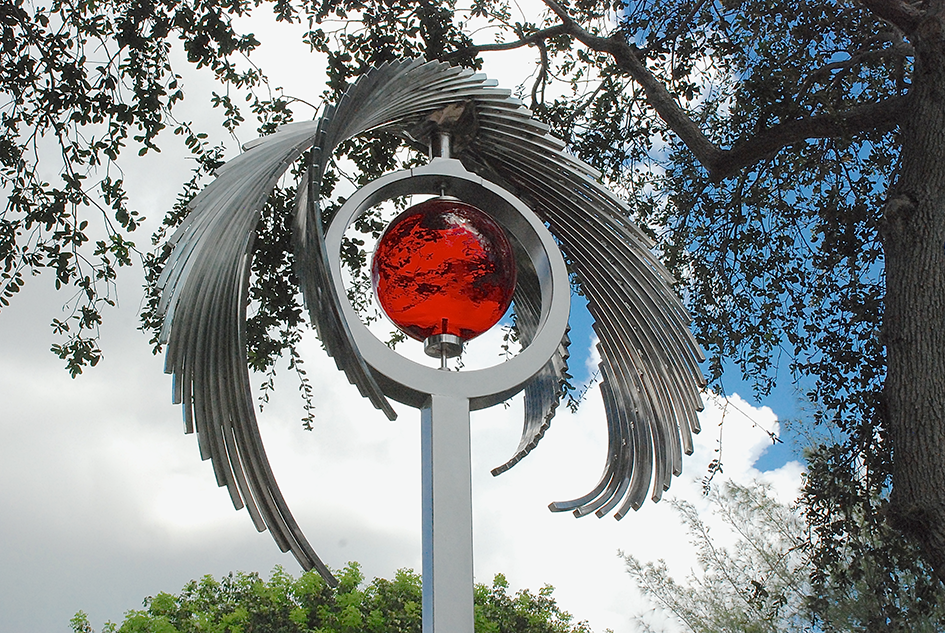 The 3rd biennial Boynton Beach International Kinetic Art Exhibit & Symposium concludes with an artists' awards ceremony on Sunday, Feb. 5. For a complete schedule of events and venues, visit www.IntlKineticArtEvent.org.