Tweet
El Espacio 23
The art scene continues to grow each year in Miami. New developments such as El Espacio 23 further supports the idea that Miami is the hub for all things art. El Espacio 23 is an art space dedicated to advancing South Florida's arts and culture ecosystem.
Leading philanthropist, entrepreneur and contemporary art collector Jorge M. Pérez announced that their Inaugural Exhibition will open December 4th, just in time for Art Week 2019. Located in Miami's emerging Allapattah neighborhood and housed within a repurposed, 28,000-square-foot warehouse, El Espacio 23 serves artists, curators, and the general public, with regular exhibitions, residencies and a variety of special projects.
"This new center was born from the belief that at the core of any of the world's great cities, is a thriving community of artists and creatives," said Pérez. "This is a project 40 years in the making, and I look forward to inspiring and challenging visitors to think beyond the scope of their personal worldviews, while also cultivating the artists and curators of tomorrow."
Through its various programs, El Espacio 23 will allow South Florida residents and visitors to experience the Jorge M. Pérez Collection. Regarded as one of the world's most extensive private holdings of contemporary art, the collection is made up of several thousand works from some of the most well-known artists of recent times.
"I remain whole heartedly committed to supporting The Pérez Art Museum Miami and see Espacio 23 as an extension of that mission. The Museum's curatorial team has done an incredible job at positioning the museum and our city as an international cultural destination and this new space will allow us to build upon that work through experimental exhibitions and programming focused around the specific interests of the collection," added Pérez.
Named after its location on Northwest 23rd Street, El Espacio 23 includes three apartments reserved for residency programs, as well as shared work space, and a variety of exhibition and storage areas. The year-round programming will include a series of 6-8-week residencies for artists and curators across various stages in their career, with a diverse range of disciplines and ethnic backgrounds. The arts space will also host a series of activations by artists working in the surrounding Allapattah community, with the intention of establishing long-term relationships with its neighbors. Chosen because of their engagement with the community, the first set of artists activations will be presented by Alberto Baraya, Raimond Chaves and Gilda Mantilla and Susana Pilar Delahante.
El Espacio 23's inaugural exhibition— entitled Time for Change: Art and Social Unrest in the Jorge M. Pérez Collection— uses art to explore the conflicts and contradictions of contemporary society, as well as analyze historical events and reframe them within the present. An interest in the marginalized, the marginal and the margins (of society, of history) is what brings together the works in the exhibition. Envisioned by Colombian curator Jose Roca, in collaboration with Pérez Collection stewards Patricia M. Hanna and Anelys Alvarez, the show will feature close to 100 works by over 80 artists from around the world. Many of the works in the exhibition, due to their size of complexity, have never been exhibited and will be shown together for the first time.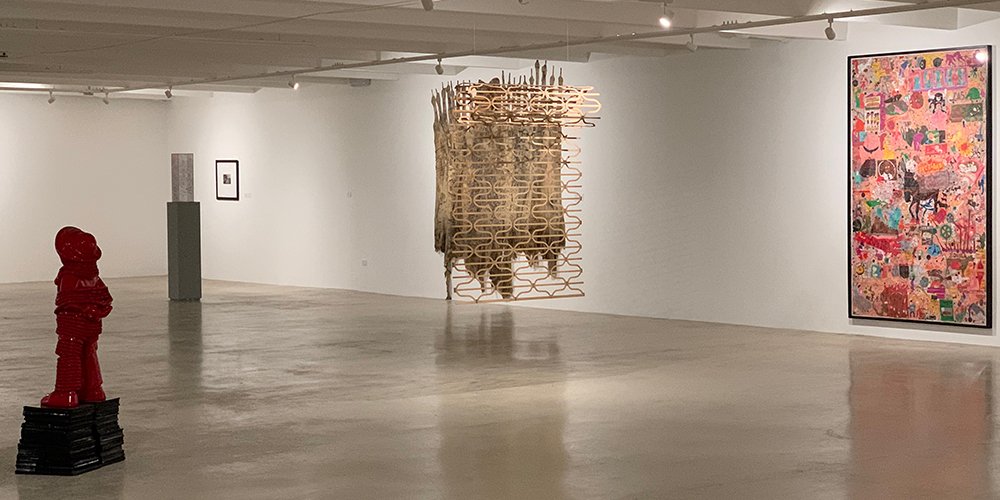 Time for Change is structured around themes, or "nuclei," that organically establish a dialogue and correlations amongst the pieces yet are not necessarily contained by an argument. These themes include:
Entangled Histories features works by Michelangelo Pistoletto, Doris Salcedo, Fernando Bryce, Ai Weiwei, Sandra Gamarra as well as William Kentridge's most recent video installation, and proposes essential questions: How do we remember as a society? Who is forgotten by history, and for what reasons? How is a traumatic event inscribed in the (social) body?
Extraction and flows examines displacement of peoples, as well as the exploitative justifications behind forced expatriation and includes a monumental installations by Barthelemy Toguo along alongside works by Eugenio Dittborn, Alfredo Jaar and Claudia Coca, and Eduoard Duval Carrie, among others.
Artivism: art in the social sphere, includes works by Gilda Mantilla/Raymond Chaves, Rikrit Taravanija, Carlos Motta, Glenda Leon and many others, focuses on political unrest and public protest on the streets, an essential expression of democracy which has been diminished in our reduced public sphere.
State Terror includes two large scale pieces by Carlos Garaicoa and Alejandro Campins in addition to works by Tania Candiani, Fernando Sánchez Castillo, Gonzalo Fuenmayor alongside other artists, and signals how, in a world of real-time generalized surveillance, protest is countered with repression and violence.
Spatial Politics reflects on social control through spatial segregation, examining modern architecture and its role in creating segregated communities--structures to house the "undesirable," namely immigrants, people of other races, classes and nationalities and includes works by artists such as Teresa Burga, Rene Francisco Rodriguez, Mikhael Subotzky, Fernanda Fragateiro, Kiluanji Kia Henda and Samuel Levi Jones.
Emancipatory Calls summons viewers to reclaim the beauty of our differences, understanding that a more just society can only be built on respect for one's right to be different. Highlights from this section include: Tracey Rose, Rashid Johnson, Ana Mendieta, Kara Walker, Firelei Baez and Ana Maria Devis.
Espacio 23 will be open to the public from 9AM-5PM during Art Week 2019. To learn more about the El Espacio 23, please visit www.elespacio23.com.