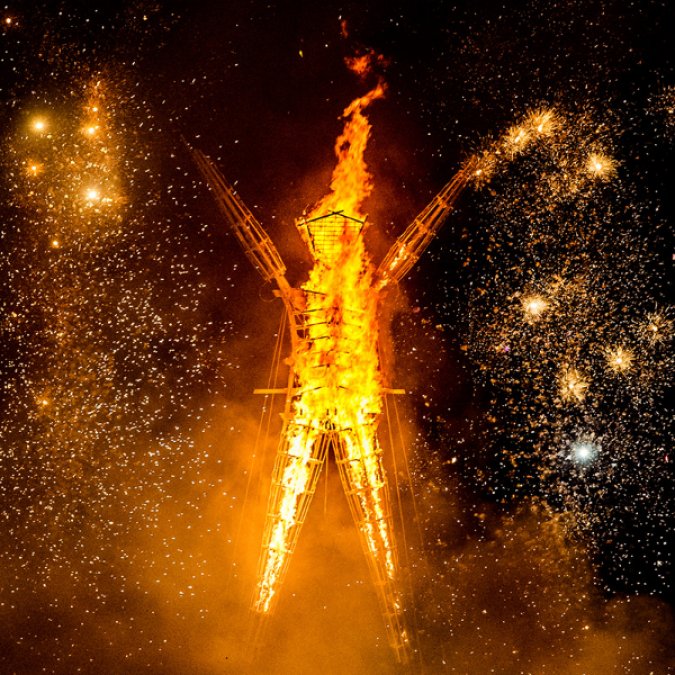 - By Petar Petrov -
Describing Burning Man to someone who hasn't experienced it is like narrating a dream you've had – not even the most specific details, imaginative metaphors, or eloquent words could ever capture something that eludes even its own creator. But we try anyway, because even though the memory becomes vague, a tinge of the euphoric feeling lingers, and we desperately try to unlock it so it washes over us again in its magic.
That's what Burning Man is – the dream that finally managed to escape the fantasy realm and spilled over into our world, where a radical, all-inclusive society can revel in the magical, neon-lit fruit of its communal efforts - one of its 10 founding principles.
People who go to the fleeting town called Black Rock City in Nevada where Burning Man takes place aren't referred to as tourists, visitors, or attendants, but as its population, fellow Burners. And how could they not – after all, they are the ones who build it and take it apart once the week-long utopia is over. Because Burning Man isn't a festival – it's the most wondrously distorted version of a real, functioning society you can imagine. A society that may be wild and free, but is anything but frivolous, and year after year channels its madness into a city that can not only put even the most imaginative multimillion-dollar Hollywood film sets to shame, but has even been recognized as one of the six cities on Earth that can serve as a blueprint for settlements on Mars as it's built swiftly among a harsh, barren desolation with great care for the ecosystem.

The ticket to the "event" is the only thing Burners purchase as money hold no value in Black Rock City, gifts do – gifts as eclectic as the people they come from, given in exchange only for the mutual joy they bring.
Gifting, like communal efforts, is another one of the 10 founding principles, the other 8 being: radical inclusion, decommodification, radical self-reliance, radical self-expression, civic responsibility, leaving no trace, participation, and immediacy. Each of these principles is an indispensable cornerstone of Burning Man and its philosophy, and removing even a single one of them would cause everything to collapse. Without radical inclusion and self-expression, freedom and unity would be lost, without the leave-no-trace credo, Burning Man would take a heavy toll on the environment, without civic responsibility, this choreographed chaos would spin out of control and cost lives, without communal efforts, none of it would be possible.

If the word "radical" seems to be a recurring theme in Burning Man's philosophy, consider this – what started on a San Francisco beach in 1985 with two friends building and burning a human effigy on the spur of the moment, has now grown into a worldwide cultural phenomenon, borderline religion, which 70,000 followers gathered to celebrate last year in the middle of the desert, sheltered from the extreme weather conditions and dust storms by nothing but tents and cars. That kind of movement doesn't gain momentum with minor, superficial actions you see on social media, but with a radical belief in something greater.
So, what do Burners do on the "playa," as the remains of the dried lakebed on which Black Rock City sits upon is referred to? Pretty much anything their hearts desire and their imaginations envision. The playa becomes a blank canvas of self-expression, a sight of some of the wildest, grandest, most otherworldly art installations you could ever hope to see. There's a particularly strong emphasis on interactive art, which people can somehow engage with, activate or become an element of, as it embodies the idea of inclusion.
Artists can find fellow Burners to collaborate with and even apply for grants for more elaborate projects prior to Burning Man. Everything has to go through the ARTery, Burning Man's art commission, which oversees all installations and makes sure of their safety. Pretty much the same process applies to the Mutant Vehicles, which are a step (or more) above being "simple" art cars as they incorporate fire and/or other hazardous elements, and therefore need to be licensed by Burning Man's Department of Mutant Vehicles (DMV). The result is a safe wonderland of neon lights and art.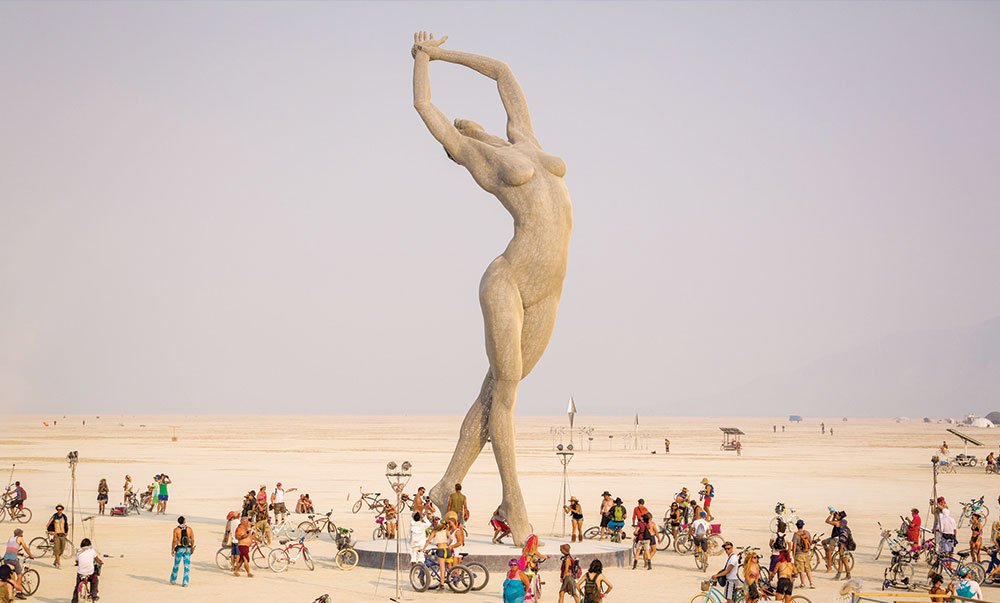 Music that spans the electronic genre spectrum permeates Burning Man as well, with the exceptions of certain areas designated for quiet time. One such place is the Temple, the counterpoint of all the revelries that gives Burners another layer of meaning, a solemn place where the deep, cosmic spirituality of the whole experience is honored. Where walls can almost literally speak with Burners' written parting words. Once the Temple burns, so do Burners' mental constraints and psychological barriers.
On the last day, the giant human effigy that is the Burning Man is burnt to the ground, a symbolic act that gets people laughing, crying, or releasing any kind of energy that has been trapped inside of them.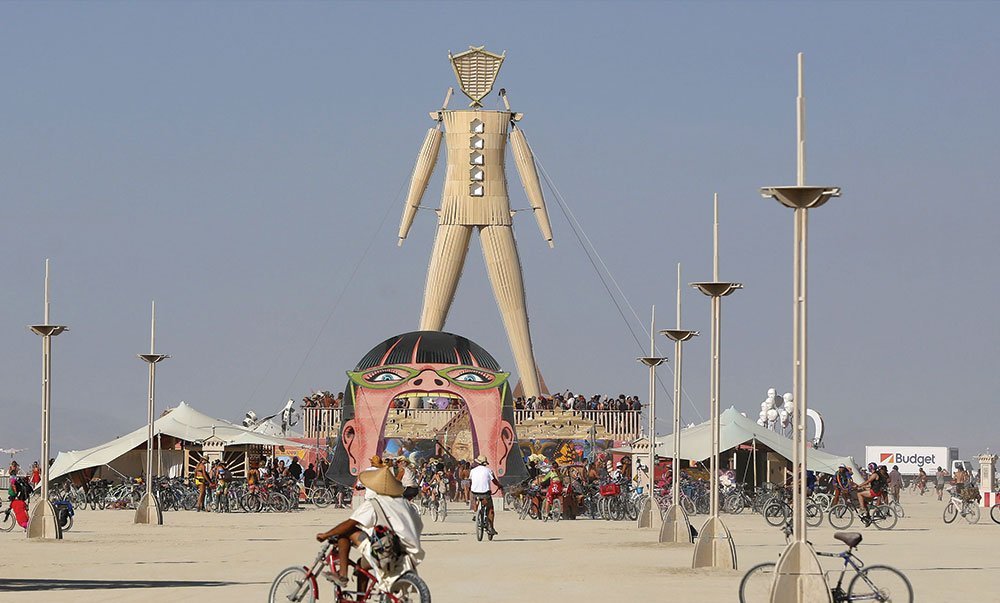 After a week, Black Rock City and everything in it disappears without a trace, burnt or taken back to the real world as a token of a fleeting dream. However distant though, Burning Man's afterglow never ceases to illuminate the paths of Burners around the world.
Burning Man is by far the most outrageous Festival you can attend, but here are some others to consider:
Floating Lantern Festival, Hawaii – an evening of honoring loved ones and generating hope for the future on Memorial Day on O'ahu's south shore.
Aespia Festival, UK – a celebration of art and escapism in secret woods near London.
Borealis, a festival of light, WA, USA – a multi-sensory collaboration between technology and light art that transforms landmark buildings into virtual reality extravaganzas.
Underwater Music Festival, Big Pine Key, FL, USA – where the love for music and the deep-sea diving interflow.
World Bodypainting Festival, Austria – a collision of bodypainting, music, fashion, shows, and parties, considered the founding festival of the bodypainting movement.