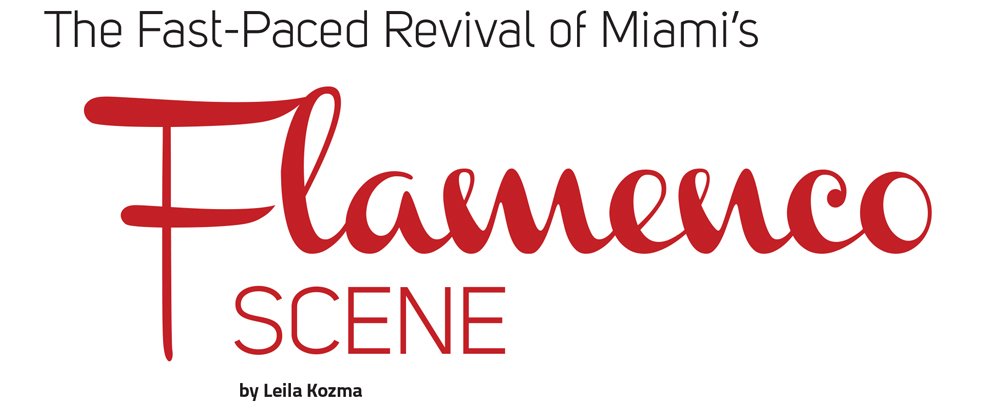 The origins of flamenco dancing are both old an mysterious. Some would argue that the sizzlingly energetic, exuberantly theatrical dance originates from 15th century Andalusia. Others would vouch that tracing its origins is a trivial quest: the contemporaneous iterations are much more worthwhile. This is the school of thought Ilisa Rosal, the founder of leading Miami-based dance studio Flamenco La Rosa subscribes to. Mixing the traditional exquisitely delicate movements, fierce golpe (or footsteps), carefully-timed palmas (hand-clapping) and stirring pitos (finger-snapping) with more upbeat, modern influences ranging from hip hop, ballet, and Afro-Haitian elements, is Rosal's forte. She has established her studio as the pioneer of a radically new approach to the curiousity-inducing dance. Rosal insists on immersive experiences, staging casual, lively shows where every member of the audience plays an integral part. Swearing by a communal ethos, her dancers take pride in spreading the joy of physical movements, eager to demonstrate their unmatched craftsmanship via improvised scenes. For them, flamenco is a celebration of emotional sentiment, a self-expression of the highest order. The juerga, or collective jamming sessions have proven just as vital for the development of the team as the ardous preparation sessions and choreography lessons that go into a full-length, pre-scripted show.
This is the sensibility most-frequently associated with flamenco. Originally performed at café cantantes, smoke-filled locales where the young and the old could gracefully display their finest moves to the zealous applause of the entire community. The dance has always been a collective affair. Traditionally performed to the frantic, frenzied beats of Gypsy guitar music, flamenco has offered an opportunity for people from every walk of life to meet and have a fantastic time together.
While La Rosa shows encapsulate an ethos of hedonism, joyfulness, and euphoria, world-renowned dancer Clarita Filgueiras of Flamenco Puro adheres to a different methodology. Raised in a household of professional dancers, Filgueiras was one of the lucky few who learned to tap her shoes before she could walk. A living and breathing embodiment of flamenco, the artistic director of her eponymous ensemble is a firm believer in precision, strenuous training and rigorous compositions. Known for razor-sharp choreographies, Filguerias specializes in the most-demanding and hardest-to-learn type of flamenco, the bata de cola. Loosely translated as long train dress, the bata de cola calls for perfectionism and diligence with every movement. The only solo dancer in Miami to earn a qualification in the genre, Filguerias has received a wealth of awards for her extraordinary shows, including the Florida Folk Heritage Award and the Dance Miami Choreographer's Award, while she is also the former recipient of an artist residency organized by HistoryMiami Museum. The newest-addition to the dynamically-growing flamenco scene in South Florida is A Nuestro Ritmo, a fiercely powerful show bringing together a trailblazing attitude, multicultural allusions and an international cast. Brimming with expertly-staged Guajiras, Cuban folk songs capable of evoking heightened emotional complexities, Soleares, the most prevalent flamenco music, and Alegrias, jaw-droppingly fast-paced, animated guitar solos, the dance-cum-music affair is bound to amuse both aficionados and those new to this genre.
There's no shortage of exciting shows. As the city esteemed for its rich, abundant nightlife and upbeat entertainment options, Miami remains the second-largest cultural mecca of flamenco dance, barely beaten by the its birthplace, Spain.