The Hollywood ArtsPark Experience is quite the musical experience!
By: CultureOwl
|
05/10/2019
|
Performing Arts
South Florida music lovers are in for a treat as the Hollywood ArtsPark Experience, presented by the Hollywood Community Redevelopment Agency and produced by The Rhythm Foundation, re-launched. This free, family-friendly, early evening event is an open-air oasis of musical genres from across the globe offering something for everyone to enjoy.
By Daisy Cabrera
On May 5, Chicano Batman - one of the absolute coolest bands coming out of Los Angeles – performed hits from their latest album, Freedom Is Free. They've toured with Alabama Shakes and Jack White, played Latin Alternative Music Conference, Bonnaroo, Coachella and Ruido Fest, and even appeared on Conan. The group (Bardo Martinez, Eduardo Arenas, Carlos Arévalo, Gabriel Villa) jammed a generous heaping of funk, romantic pop, old school indie, psychedelic indie, vintage soul, groovy oldies, edgy alt-rock and Brazilian Tropicália. And, the crowd went wild – showering the ensemble with roses as frontman Bardo Martinez jumped offstage to greet fans. The fantastic opening set was by none other than the high energy, soul and funk local outfit - Jason Joshua & The Beholders. We spoke with The Rhythm Foundation's Executive Director, James Quinlan about the re-launch of the Hollywood ArtsPark Experience series that has brought thousands of people to the venue between 2012-15. "Hollywood ArtsPark Experience is a significant opportunity for The Rhythm Foundation. We are excited to present culturally important programs which have a strong popular appeal in the best outdoor venue in Broward County," said Quinlan. "It was so rewarding to have heard from many in the crowd at the event that they were happy The Rhythm Foundation is back in the Hollywood ArtsPark Amphitheater. We are honored to partner with the City of Hollywood and by the trust in our programming and production on these free events!"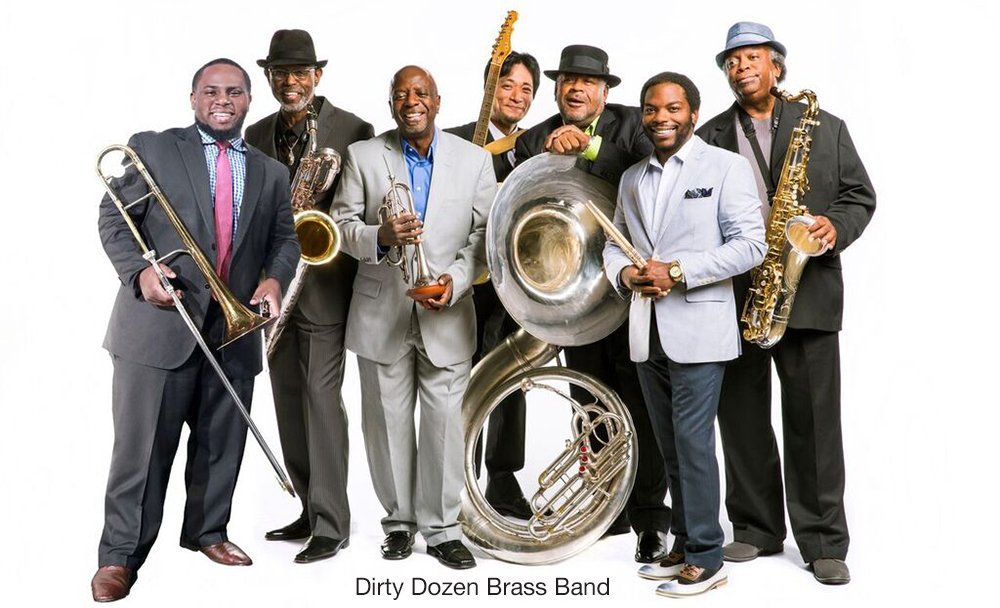 Next up is the Dirty Dozen Brass Band set to take the stage on May 11. Celebrating over 40 years since their founding, the New Orleans-based group has taken the traditional foundation of brass band music and incorporated it into a blend of genres including Bebop Jazz, Funk and R&B/Soul. The band describes their unique sound as a 'musical gumbo,' which they have brought to five continents and more than 30 countries, 12 studio albums and collaborations with a range of artists from Modest Mouse to Widespread Panic to Norah Jones. Forty-plus years later, the Dirty Dozen Brass Band is a world famous music machine whose name is synonymous with genre-bending romps and high-octane performances. Expect a powerful opening set by Inez Barlatier, the local Haitian artist who draws inspiration from African, Afro-Caribbean and Afro-Latin cultures. Jazz hands! "We want to attract the broadest range we can within the four shows in the series. We want them all to be family-friendly, but each makes a statement toward their own demographic," shared Quinlan. "The headliner needs to have a base following to fill the venue, with a unique cultural offering to attract those who are willing to try the experience. We also love this opportunity to showcase great emerging local talent to open for these events."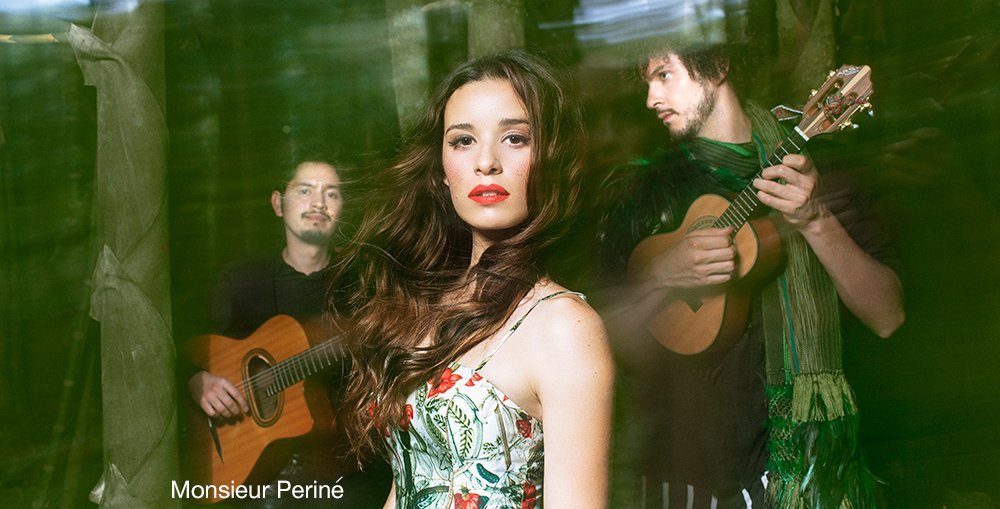 On June 15, the Bogota-based Monsieur Periné brings an enchanting performance to the event. The hip band travels the world mixing elements of eclectic and funky Afro-Colombian sounds with tango, bolero, cumbia, pop and danzón. The group plays traditional instruments like charango, bandoneon and Latin percussion while vocalist Catalina Garcia sings in Spanish, English, French and Portuguese. Winning a Latin Grammy for "Best New Artist" in 2015, they received a Grammy nomination for Best Latin Rock, Urban or Alternative Album and Latin Grammy nominations for Album of the Year, Record of the Year, and Song of the Year. Don't miss this one. Since 1988, The Rhythm Foundation has presented top-notch international music and diverse programming for the enjoyment of our local audiences. And, there is no slowing down this non-profit. "This is a great period of stabilization and focus for us with the North Beach Bandshell and Hollywood ArtsPark as solid platforms. We plan to use them in creative ways to continue to push the boundaries cultural and popular presentation," Quinlan added. Last, but certainly not least, mark your calendar for June 22 as the incomparable Afro-Cuban musical maestro Chucho Valdés (son of the legendary Bebo Valdés) takes center stage. This equally world-famous jazz genius, pianist, composer and arranger (who has enjoyed a career spanning over five decades) embarks on his new modern jazz piano meets danzón-mambo project, Jazz Batá - comprised of piano, congas, maracas, guiro, acoustic bass, and batá. Batá is a drum shaped like an hourglass that is used during Yoruban santeria practice. The evening begins with a magnetic opening performance by the local Cuban folklore group, Cortadito. Bring your dancing shoes! The Hollywood ArtsPark Experience takes place at Hollywood ArtsPark Amphitheater, 1 Young Circle in Hollywood. There's also plenty of food and drink available onsite.
To learn more about this incredible series, and RSVP for free, visit: https://www.rhythmfoundation.com/