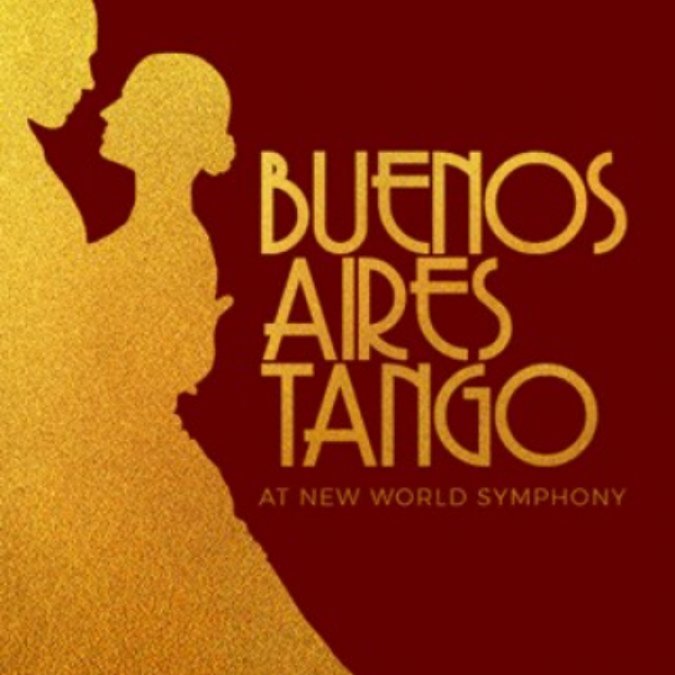 New World Symphony, America's Orchestral Academy, rings in the new year with Buenos Aires Tango - an interactive tango experience at the New World Center!
Join the fun Friday, January 7th at 7:30 p.m. Conceived and curated by first-year NWS Cello Fellow Isabel Kwon, this intoxicating program combines a concert with an introductory dance class, social dance demonstration and a post-concert milonga (social tango dance party). Enjoy a lively selection of both new and traditional tango, waltz and milonga repertoire, featuring guest artists Héctor del Curto and Alex Roitman on bandoneon and Pablo Estigarribia on piano. Tickets are $25 and include a post-concert milonga for the local tango community.
Prior to the performance, guests can participate in a pre-concert dance class led by Analía Centurión and Diego Blanco in the Truist Pavillion at 6:30 p.m. This class was designed with beginners in mind to learn the basic steps of tango and experience its elegance and romanticism. In order to have the best experience, shoes with leather soles that allow for pivoting are recommended. Immediately following the performance, guests are invited to a social dance demonstration in the Atrium. Local tango dancers will keep the evening going with a post-concert milonga from 9:00 p.m. -- 1:00 a.m.in the Truist Pavillion which audience members are welcome to observe. Music for the post-concert milonga will be provided by DJ Lore Diez from Las Pebetas Milonga. Complimentary wine will be served for guests courtesy of Total Wine & More.
"The world of tango has been eye opening for me and my attitude as a musician has changed since I first discovered it at Stowe Tango Festival in 2016," said Cello Fellow Isabel Kwon. "It was amazing to see the audience engagement in a tango concert; people having a blast with the music, clapping in reaction to what was going on stage, and dancing during or after concerts in the milonga. I'm so excited to have the opportunity to bring this project to New World Center and Miami."
This event is an NWS BLUE Project (Build, Learn, Understand, and Experiment), made possible with support by the Maxine and Stuart Frankel Foundation and NWS's Fund for New Ventures.
NWS's BLUE program is a combination of leadership and entrepreneurship training and hands-on experimentation that provides NWS Fellows with a comprehensive skill set to complement their musical training. These projects allow all Fellows to pursue musical activism based on their personal interests with their own original initiatives, from concept to execution. These special projects guide their continued development, while demonstrating music's ability to have a positive impact on the community and benefiting South Florida programs and businesses.
For more information, visit click here.