MDC Live Arts Tackles Climate Change through Epic Performance Installation: Holoscenes
By: CultureOwl
|
11/18/2015
|
Performing Arts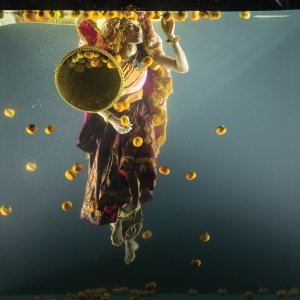 Miami Dade College's (MDC) Live Arts will present Holoscenes on MDC Wolfson Campus, Kyriakides Plaza, from 10am - 4pm on Wednesday, Dec 2; and from 2 pm - 8pm from Thursday, Dec 3 - Saturday, Dec 5th during Art Basel Miami Beach. The provocative performance art piece will be active in six-hour time blocks, and is free and open to the public.
Created by arts visionary and TED Senior Fellow, Lars Jan, to "make people feel climate change in their gut, rather than just understand it," Holoscenes is an epic performance-installation that embodies the trauma of flooding and explores the evolution of human endurance and habitual behavior in the context of natural catastrophe. It is a visceral, cross-disciplinary project born out of the widely shared concern that our troubled relationship to water will become the central issue of the 21st century.
Holoscenes will activate Kyriakides Plaza with an elevator-sized aquarium filled and drained by a custom hydraulic system. Viewable from 360 degrees, it will be inhabited by performers conducting everyday behaviors (e.g. selling fruit, getting dressed, reading a paper, tuning a guitar)—curated via a global open-call submission process. As water rises and falls, the performers strive to continue their activities, swimming to the top for air, diving down, and adapting to the new environment. Hydrophones allow audiences access to sounds inside the aquarium, which then become part of Holoscenes' otherworldly soundscape. To deepen the impact of this project, MDC Live Arts is organizing public conversations that stimulate forward and collaborative thinking around climate change and our relationship to water with Earth Ethics Institute at Miami Dade College, The Idea Center at Miami Dade College, Emerge Miami, and other partner organizations.
About LARS JAN
Lars Jan is a director, writer, artist, and the founding artistic director of EARLY MORNING OPERA (EMO), a genre-bending performance + art lab whose works explore emerging technologies, live audiences, and unclassifiable experience. This performance is a part of the Live Arts In Focus series, which offers powerful programs tackling today's pressing topics.
WHAT: MDC Live Arts Presents: Holoscenes Created by Lars Jan; produced by MAPP International Productions
WHEN: Wed, Dec 2 from 10 am - 4 pm; Thu, Dec 3 - Sat, Dec 5 from 2 pm- 8 pm
WHERE: Kyriakides Plaza, MDC Wolfson Campus 300 NE 2nd Ave, Miami, FL 33132
To learn more about the 2015-16 MDC Live Arts Season, call 305-237-3010, or visit mdclivearts.org