Art can evoke many feelings, tapping into our senses, evoking powerful memories and sensations. In this month where we celebrate love and romance, we thought we'd share our top ten romantic art picks that stirred our passions and made us yearn to be with that special someone. Hopefully, you'll find some inspiration to not only experience these creations in person, but also travel to exotic locales on a romantic adventure!


1. "The Kiss"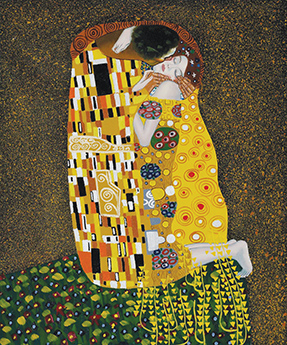 Most will agree that a kiss is one of the pinnacles of romance, bestowed upon that special someone and stirring a wide range of emotions. This work of art, painted by Austrian Symbolist painter Gustav Klimt between 1907 and 1908, depicts a pair of lovers entwined in a passionate embrace, draped in colorful robes, obviously influenced by contemporary Art Nouveau style. And the fact that it's currently on display at the Österreichische Galerie Belvedere museum in the Belvedere palace, Vienna, is the perfect excuse for a romantic getaway to go see it.
2. "In Bed the Kiss"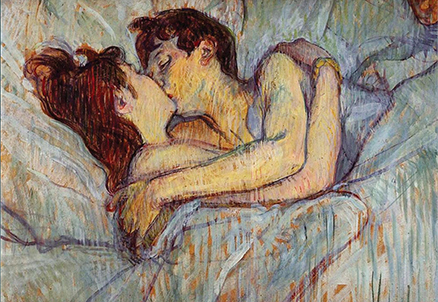 Completed in 1892 by post-impressionistic painter, Henri de Toulouse-Lautrec, this painting captures an erotic moment betwen two women locked in a kiss that embodies passion and romance. You can feel the rumpled sheets enveloping the bodies, which pull into each other in a powerful embrace. Unfortunately, this painting is part of a private collection so you'll have to make do with a reproduction (which can me romantic in and of itself)!
3. "The Fisherman and the Syren"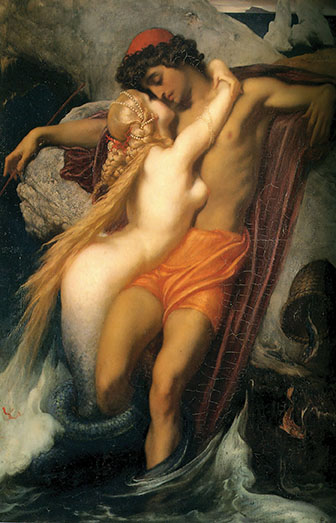 Mix mythology and sensuality and what do you get? This stunning oil painting by Frederic Leighton, completed in 1857, is the perfect synthesis. We just adore the soft tones, the contours of the bodies, evoking a deep passion that resonates off the canvas. Catch it at the Bristol City Museum and Art Gallery, Bristol, UK.
4. "Pysche Revived by Cupid's Kiss"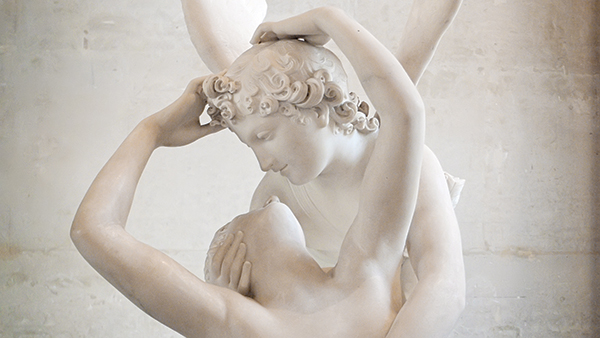 Speaking of mythology, the story of Cupid and Psyche is a popular tale, chronicling how Pysche travels to the Underworld to bring back a flask to Venus, opens it despite instructions, and falls into a death-like sleep (Snow White and Sleeping Beauty obviously never read this). Antonio Canova's 1793 sculpture perfectly captures that magical, romantic moment when Cupid awakens Psyche with a kiss. Yet another great reason to visit the Musée du Louvre in Paris!
5. "The Kiss"
This 1889 marble masterpiece, by French sculptor Auguste Rodin, depicts a 13th-century Italian noblewoman, who falls for her husband's younger brother. The story goes that the two were discovered and killed by the husband before they could share their first kiss, evoking the story of Lancelot and Guinevere. Adultery aside, can you say romantic overload? You can experience it for yourself at the Musée Rodin in Paris.
6. "El Beso"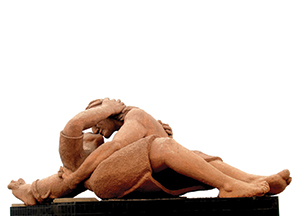 This enormous statue brings new meaning to the term "public display of affection." On display at the Parque del Amor (Love Park – think "Lover's Lane) in Lima, Peru's Miraflores district, the work was inaugurated on Valentine's Day, 1993 and is said to represent its Peruvian sculptor, Victor Delfin, and his wife. Stone may be cold, but in this case, it looks pretty hot!
7. "Le Printemps (Springtime)"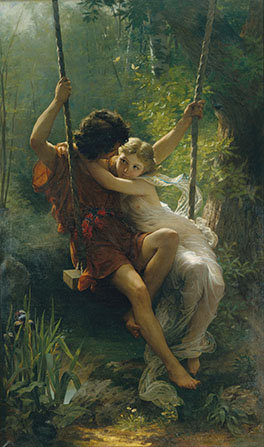 Okay. We just love this 1873 oil painting by Pierre-Auguste Cot. It perfectly captures the joys of young love, as the adorable couple is perched on a swing during spring, a time of freshness and rebirth. The colors are exquisite, and it reminds us of when we were young (which wasn't that long ago)! Discover this work of art at the Metropolitan Museum of Art in New York City.
8. "Danse a la Campagne (Country Dance)"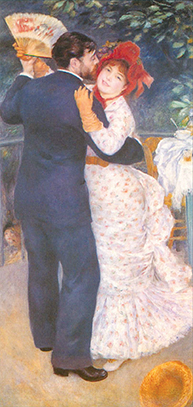 Let's face it. Dancing can definitely be quite the romantic experience, which is why we chose this 1883 oil on canvas painting by Pierre Auguste Renoir. The couple looks so happy and lost in each other. We also love the nice little touches, like the messy table and the man's hat on the ground, which evoke carefree feelings as they twirl to the music. The next time you're in Paris, visit the Musée d'Orsay and give these two a whirl.
9. "Kiss by the Hôtel de Ville"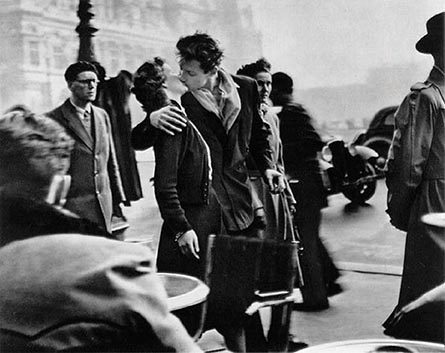 We just can't get enough kissing! Perhaps his most famous image, this photo by Photographer Robert Doisneau taken in 1950 for a spread about Paris lovers for Life magazine, captures a sensual moment of two lovers sharing a passionate kiss on the streets of Paris, ignoring the bustling passerby around them. We think it's time to head on over to France with that special someone and re-enact this photo. What do you think?
10. "LOVE"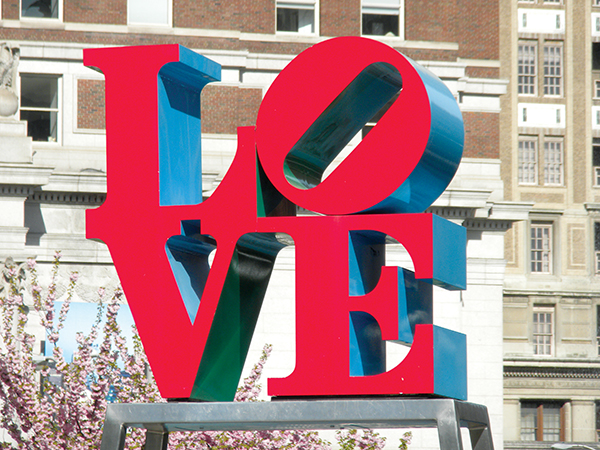 Of course, we couldn't do a piece on romantic art and not include American artist, Robert Indiana's, iconic pop art image. The original piece, made of COR-TEN steel, resides at the Indianapolis Museum of Art in Indiana. But the piece has been reproduced and displayed all over the globe, proving you can never have too much love in the world!