Actors' Playhouse: 30 years of excellence and splendor
By: CultureOwl
|
12/17/2018
|
Performing Arts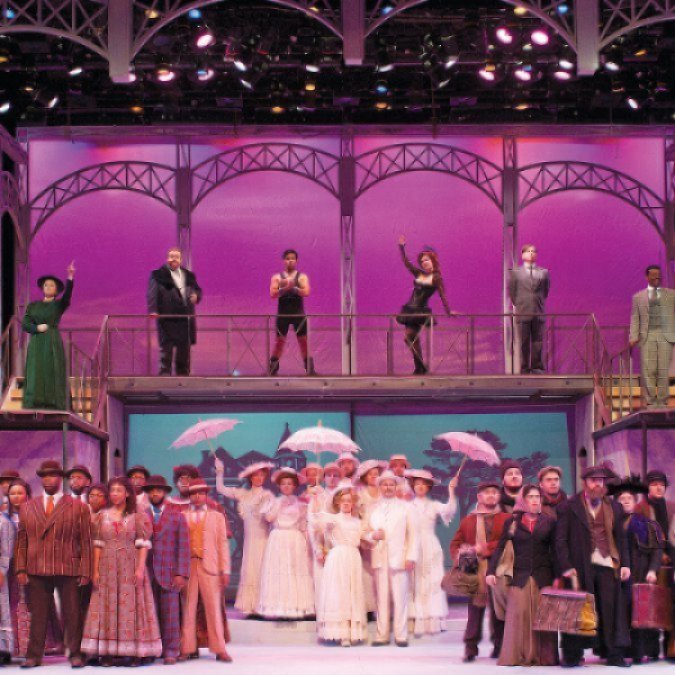 By Petar Petrov
Few states are blessed with a regional theatre like Actors' Playhouse, with a vision powerful enough to translate its artistic programs into tangible enhancements of the overall quality of life in its City of Coral Gables. This year, the award-winning theatre marks the third decade of being a symbol of absolute excellence on all levels – eclectic, multi-cultural shows, devoted community outreach, and outward splendor.
Proto Credit: Diego Pocoví
Actors' Playhouse is one of 14 major cultural organizations in Miami-Dade County and the largest self-producer of critically acclaimed dramatic and musical theatre for adults and children in South Florida. But even after 156 Mainstage productions, 140 Children's Theatre productions, 85 Carbonell Awards (the South Florida equivalent of the Tony Award) for artistic excellence, and a South Florida's Theatre Company of the Year Award, the theatre hasn't deviated from its 30-year old agenda – "to enrich South Florida's cultural vitality with the highest caliber classic and contemporary live theatre productions and to provide comprehensive educational outreach programs to multi-cultural audiences and a supportive and creative work environment for Florida-based theatre professionals," all while preserving "the identity of its home venue, the historic Miracle Theatre," as Barbara S. Stein, Executive Producing Director puts it.
A Christmas Carol, the Musical - Photo Credit: Alberto Romeu
The Miracle Theatre plays a central role in Actors' Playhouse historical significance as the magnificent Art Deco former movie house would have long disappeared into oblivion had it not been for Stein and her husband, Chairman of the Board Dr. Lawrence E. Stein's resourceful stewardship, which led to the partnership with the City of Coral Gables in 1995 to renovate the historic landmark. As a result, Actors' Playhouse has a three stage performance space at its disposal - a 600-seat Mainstage, 300-seat Balcony Theatre, and a 100-seat multi-purpose Black Box space.
Balcony Theatre - Photo Credit: Diego Pocoví
The visionaries behind Actors' Playhouse wanted to harness local development from the beginning:
"Regional theatres are an integral part of the theatre landscape, providing cultural opportunities for all," said Actors' Playhouse Artistic Director David Arisco. "The industry provides a breeding ground for new works and emerging authors, composers, actors and artists. It also benefits the economics of our communities by employing regional talent, designers, builders and administrators who work year-round to produce exciting productions that enrich our cultural vitality." But being a regional theatre hasn't confined Actors' Playhouse's ambitions within the realm of small-time, undemanding productions one bit.
We pride ourselves on having fostered over eight world premiere musicals and plays over the years,Stein says.
Million Dollar Quartet - Photo Credit: George Schiavone
In fact, few establishments could ever be as fluid as Actors' Playhouse, borrowing the best from the worlds of both regional theatre and Broadway, while keeping a firm grasp on its identity. As a regional theatre, Actors' Playhouse takes advantage of the room for creativity, opened up by the lack of millions of dollars-worth of risk, yet it does so wisely, telling the kind of stories that would have an impact on local audiences.
"We are currently working with Havana Music Hall LLC to develop a large-scale world premiere production planned for Broadway. We engaged this project based on the creative team that will develop the new work in South Florida as well as in New York, and the nature of the project and how it relates to the interest of our large Hispanic community," Stein shares.
Mainstage - Photo Credit: Diego Pocoví
This approach has given birth to many diverse and memorable shows over the span of Actors' Playhouse's rich 30-year history, and choosing a favorite proves nearly impossible for Stein.
"Actors' Playhouse has had the opportunity to produce so many exciting productions that include new works, Tony Award-winning shows, and prolific plays/musicals that may not tour in South Florida, but are just as important for our community to experience," she explains. "I will say that the big name productions like Les Misérables, Miss Saigon, August: Osage County, Evita and Joseph and the Amazing Technicolor Dreamcoat are among the community's favorites, and mine too."
"Productions like Next to Normal, Once, On the Town, and Floyd Collins are more artistic and cutting edge, yet tell a serious story about life as we all may experience one way or another," Stein continues. "Each has a powerful impact on our ideas and understanding of history, people and the human condition."
This is what makes Actors' Playhouse a true theatrical gem - it fosters creativity and innovation while preserving its rich history and identity. It is an integral part of the local community, yet delivers world-class theatrical entertainment. Kudos to the Playhouse professionals for keeping the tradition of superb regional live theatre alive!
West Side Story - Proto Credit: Alberto Romeu