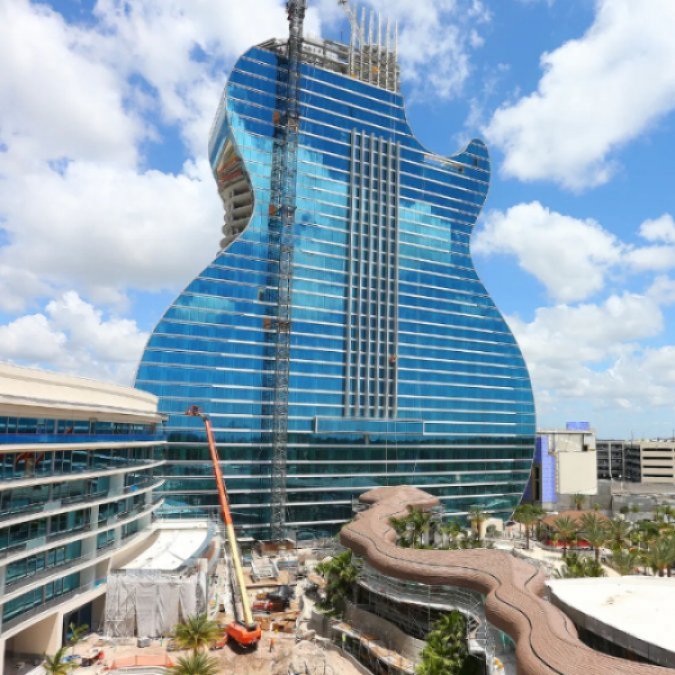 We all have seen the iconic guitar shaped hotel known as the "Guitar Hotel" at Seminole Hard Rock Hotel & Casino Hollywood! This incredible project that's been in the works announced another entertainment destination as part of its massive $1.5 billion expansion!
The development of a 44,000-square-foot, indoor-outdoor complex is dubbed as DAER South Florida. It is the second location and continuation of the DAER franchise, in a partnership between the Seminole Hard Rock Hotel & Casino Hollywood and MLS Nightclubs.
Mirroring the most popular club trends from Los Angeles, New York, Las Vegas and beyond, DAER South Florida features three different entertainment venues – nightclub, poolside day club and rooftop destinations. Although DJ-driven pool parties have long been essential to the entertainment scene in South Florida and especially in South Beach, DAER South Florida will fully embrace the day club pool party entertainment trend that has become a magnet for millennials who visit Las Vegas, Los Angeles, New York and other metropolitan tourist destinations.
The new complex will feature a 21,130-square-foot day club boasting a resort-style pool and two dipping pools, dotted with 13 private cabanas, daybeds, a DJ booth with a 40-foot LED screen, bar, hot tubs and bungalow VIP sections. Lush landscaping and marine tank pools will add pops of green and blue against neutral marble, granite and wood textures.
As the sun goes down, guests will gravitate to the adjacent DAER Nightclub. With 18,800 square feet of indoor space, South Florida's newest hot spot will include an 11,120-square-foot venue, 45 VIP gaming tables featuring blackjack, baccarat and other popular table games, and a high-performance LED centerpiece developed by world renowned lighting designer Steve Lieberman of SJ Lighting. A massive, folding glass window will allow the venue to quickly become a flexible indoor-outdoor space. Both venues will have a state-of-the-art Function One sound system.
A 4,000-square-foot rooftop club completes the complex, featuring a dramatic view overlooking the new lagoon and pool area, including the Bora Bora villa experience.
All three venues will feature a lineup of the world's most sought-after DJs and performing artists, plus state-of-the-art audiovisual technology and bottle service. The game-changing venue will offer the perfect backdrop for bachelor/bachelorette parties, private events and everything in between.
"The iconic Guitar Hotel will be home to a world-class nightclub and day club entertainment venue, DAER South Florida," said Matthew Minichino, Vice President of Nightlife and Day Life for Seminole Hard Rock Hotel & Casino Hollywood. "DAER will be a vibrant entertainment destination that will attract celebrities and guests from throughout the nation and around the globe."
The Nightclub will be open Thursday, Friday and Saturday from 10 p.m. The DAER day club will operate Saturday and Sunday from 11 a.m. to 7 p.m.
For more information on Seminole Hard Rock Hotel & Casino Hollywood, visit www.TheNewHardRock.com.